The health industry has been steadily booming for the past few years. Its immense popularity among consumers has slowly attracted the attention of corporations looking to invest and innovate. One such corporation is Alphabet Inc., which happens to be the parent company of Google.
Alphabet's experimental research group, X, has been working on a project for three years to monitor symptoms of depression. This project, known as Project Amber, attempted to use electroencephalography (EEG) to identify a single biomarker for depression.
Electroencephalography is a technology that measures patterns of electrical activity in the brain. To go along with this, the company has tried its hands at a new brain-monitoring hardware resembling a swim cap, as well as various accompanying instruments to analyze the data.
The research group X also planned to make the technology available to the broader community by publishing the code behind its hardware and software designs.
Dr. Tammy George, an associate professor with the School of Kinesiology and Health Science, shares her thoughts on the increasing reliance on technology within the medical world.
"While I am not opposed to studying brain activity in the context of mental health, I am weary that these types of technologies perpetuate the idea that mental illness is something that is located within individuals' minds and bodies, and by extension requires ubiquitous solutions. Rather, the challenge is to think about how mental health is also a function of our contemporary sociocultural context.
"I am weary that these types of technologies perpetuate the idea that mental illness is something that is located within individuals' minds and bodies…"
"When we think about high rates of depression and anxiety within the student population, we need to consider how the values of productivity, competition, and narrow understandings of success are manifested within the university institution itself, rather than a lack or deficit within the individual," continues Dr. George.
This opinion was reflected by the wider medical community, which is why the research team shifted their focus from pursuing objective diagnosis of mental health to using technology as a way to capture how patients fare in between medical visits and perhaps even predicting future episodes of depression.
Saniya Ahmed, a fourth-year kinesiology and health sciences student, shares her thoughts on using technology to tackle mental health related issues.
"One major downside that comes to mind will be the standardizing of which readings are considered normal versus severe. I don't think it's appropriate to rank mental health severities since each person's struggles are personalized to their own self, thus, this 'competitive' nature of mental health should be taken into account when using this device as a diagnostic material," says Ahmed.
While the three-year project left its goals largely unmet (the primary reason being thought of as the lack of a single biomarker for anxiety and depression), the Alphabet team themselves took some time to reflect on their endeavour in a blog post, explaining where they think they could have improved along with some areas to consider for future mental health projects.
The team explained that through the process of development, they found value in combining both objective and subjective data. The use of objective metrics for mental health was definitely seen to be valued by clinicians, according to Alphabet, but not to replace the subjective methods of asking about peoples' experiences and how they are feeling.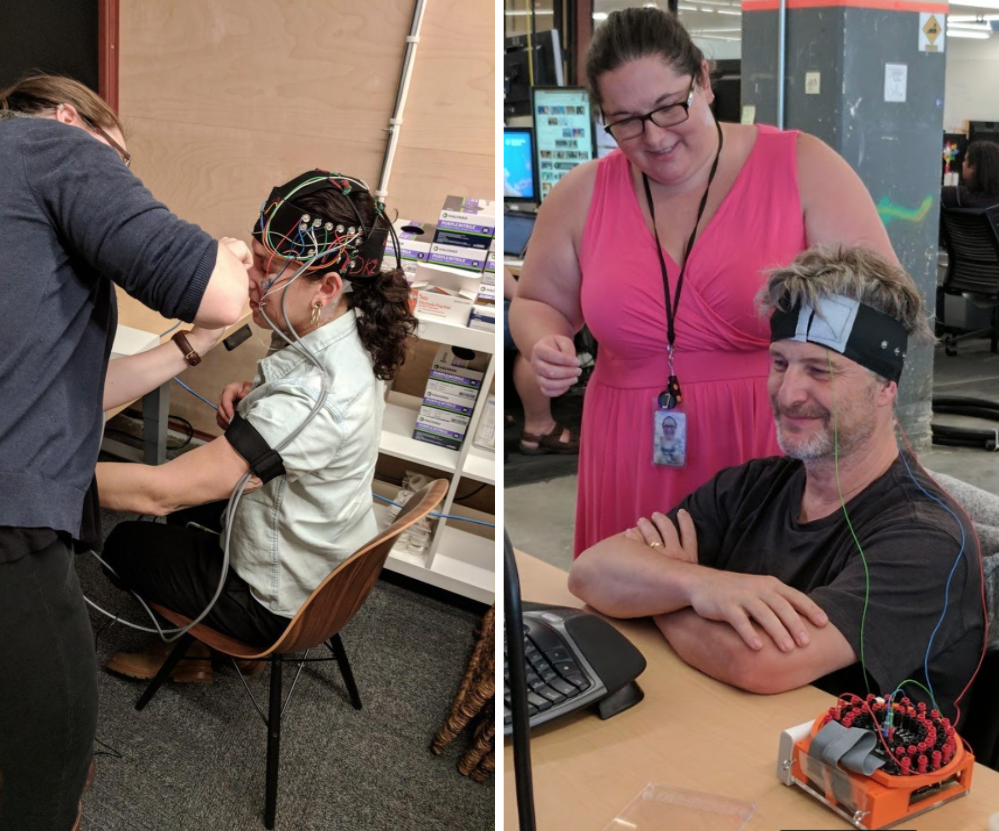 Hardware engineer Gabriella Levine (left), neuroscientist Sarah Laszlo (right) testing early Amber prototypes. (Courtesy of Alphabet Archives)
Additionally, the team indicated that this tool was designed to be a diagnostic aid for clinicians. However, after talking with those in the field such as physicians, psychologists, and counsellors, they already felt confident in their ability to diagnose and get an initial reading on a patient. 
Interestingly though, a new potential use emerged: "There was a notably strong interest in using technology as a tool for ongoing monitoring — capturing changes in mental health state over time — to learn what happens between visits," said the Alphabet researchers.
Clinicians asked if they could send the EEG system home so that patients could retake the test and do it from the comfort of their own home. Great interest was garnered in EEG's predictive attributes. These are all important factors for the scientific community in general to ponder for any future innovations in this field.
Tanaz Fouladirad, a fifth-year kinesiology student believes that using technology to monitor mental health may turn out to be a catch-22. She believes that a device measuring mental health may also come with a negative aspect.
"Using technology to aid in monitoring mental health issues may actually lead people to commit obsessive behaviours by constantly checking the app," says Fouladirad.
Project Amber X might be a lesson for all the corporations looking to invest in health related technology. Maybe not all problems can be solved with fancy gadgets and sophisticated codes.