THE FRIGHT FACTOR
Mahdis Habibinia, Editor-in-Chief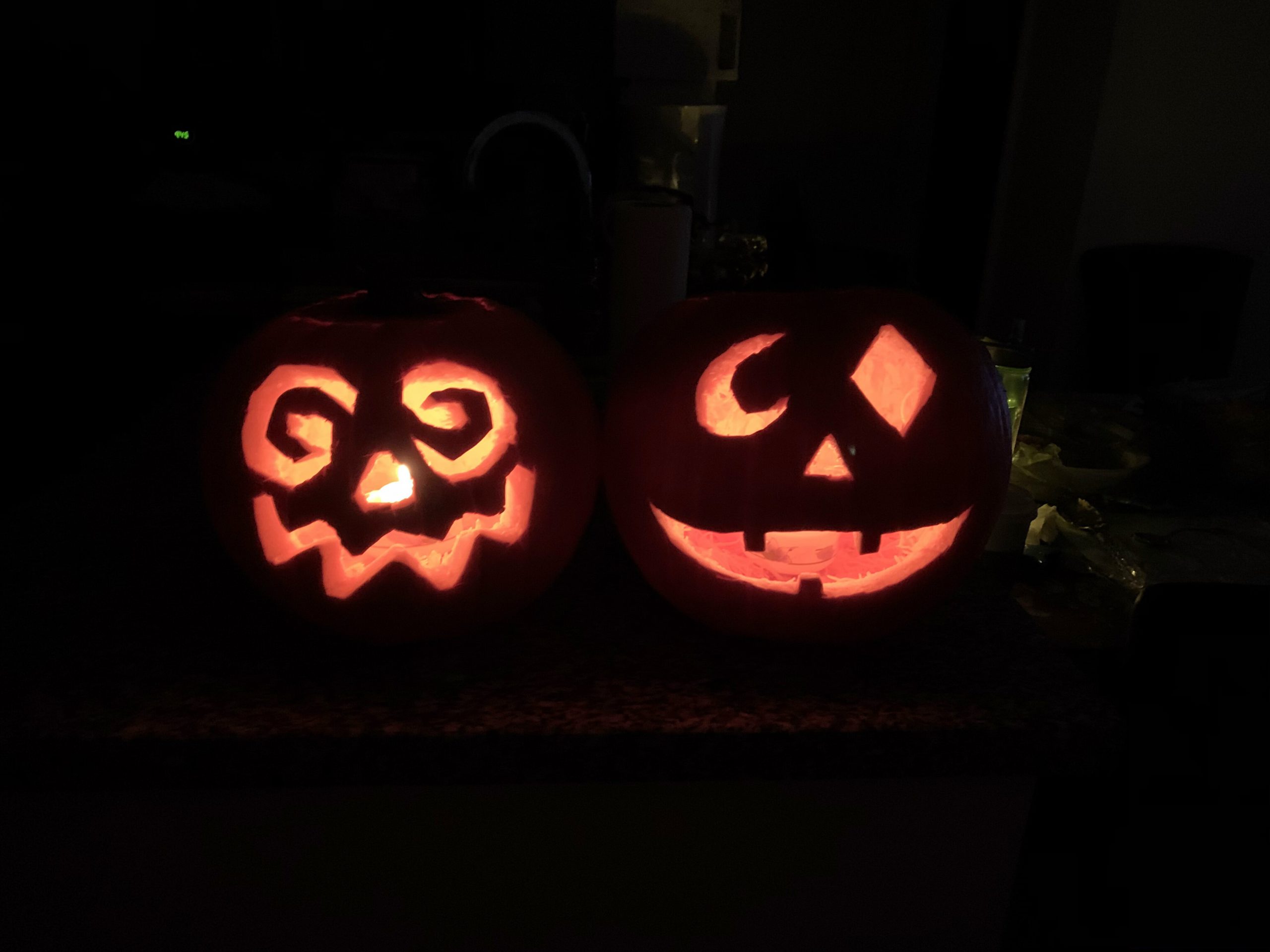 Halloween pumpkins carved while marathon watching the Saw series…where they carve up other stuff. (Courtesy of Mahdis Habibinia)
As a Halloweenie, you can imagine my disappointment in finding out that the most exhilarating time of the year was rendered obsolete by the COVID-19 — which, for me at least, is the scariest Halloween yet. However, one of my all-time favourite traditions every year was a different kind of scare: haunted houses! Casa Loma's Legends of Horror, Screemers, terrifying escape rooms — name it and I was there. Granted, if you ask my friends they will tell you I shriek my lungs into pneumothorax every time, but I live for the experience! This year, however, I'm indulging in a virtual, at-home experience including online escape room games (yes, they are a thing, and yes, there are creepy ones best played with the lights off), and horror movies in the dark with friends (or while carving pumpkins)! As long as I get my Halloween fright this year, the holiday may not be completely dead (pun not intended) after all.
---
SPOOKY, BUT LOWKEY
Victoria Silman, Managing Editor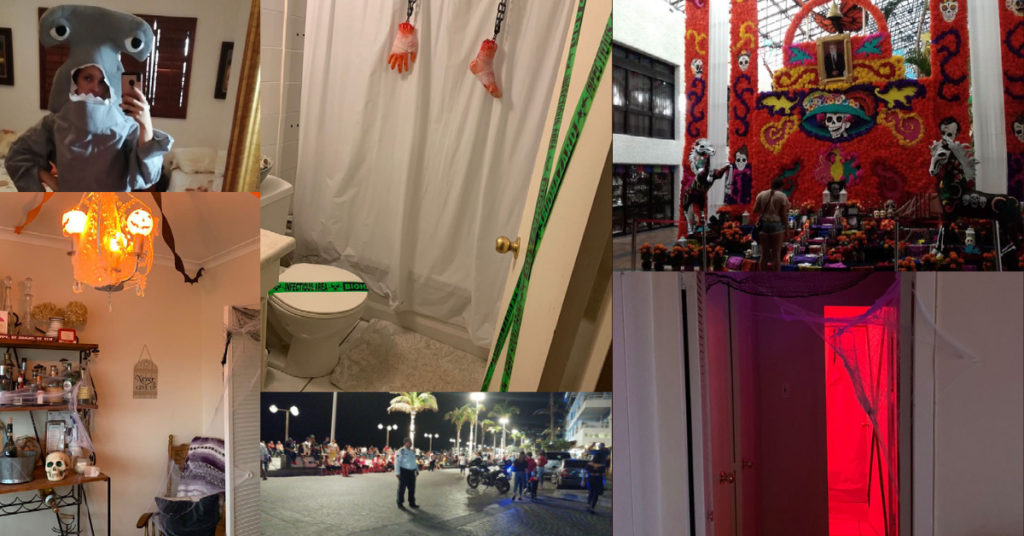 Shark costumes, parties, and travelling were 2019's Halloween theme. (Courtesy of Mahdis Habibinia and Victoria Silman)
Every year around this time, I am usually in the works of planning a Halloween bash. My roommate and I would probably be returning from Value Village or the Dollar Store, where we would pick up all the things we need to decorate. We'd be changing the lightbulbs to black, green, and red, and we'd be decorating the apartment to the nines. We'd be sending out invites to all our friends, and researching the best bar to go to around 11 p.m. to save our neighbours from all the noise. And, we'd be preparing the best jello shots you've ever had. Last year, we celebrated on the weekend prior to Halloween, and we made our way down to Clinton's at Bloor and Christie. On Halloween, I was in Mexico with my mom, dressed in a shark costume and handing out candy to children (as they sang Baby Shark to me, which made me regret everything). The next day, I also had the honour to celebrate Día de Muertos with the local Mexican community. But, this year we will create new memories, even if they are toned down. We might play some horror video games, or, perhaps watch some scary movies, carve some pumpkins, and bake some of those delicious Halloween Pillsbury cookies. Halloween is one of my favourite holidays, and even if it may look different this year, we can still make it special.
---
LONG LIVE SPOOKY SEASON
Jonathan Q. Hoidn, Copy Editor
Just a couple of boneheads. (Courtesy of Jonathan Q. Hoidn)
Alas, Spooky Season is coming to a close, and it's time to reflect on the spookiness in our souls, the horror on our home TVs, and the darkness within the depths of our own minds — wait, you don't do that on Halloween? What DO you do on Halloween? That's what this article is about, discussing what we do on Halloween? You're telling me that people treat Halloween as a one-day thing and NOT a month-long spectacle like it deserves? Did the event's in the movie Trick or Treat ever actually happen? Is The Nightmare Before Christmas not based on a true story? Do people watch scary movies ONLY on October 31st and not year-round? Is Spooky Season even a real thing? Am I going crazy or is my whole life just a lie!?
Jokes aside, I watch Halloween with my family every year.
— R.I.P. Spooky Season 2020. You will be missed.
---
MET GALA HALLOWEEN
Sakeina Syed, News Editor
Is it just me, or did the word "Halloween" have an apostrophe in it before, as in, Hallowe'en? I'm not sure where the apostrophe went, but it was one of the things that fascinated my eight-year-old self about the holiday. It just seemed so mysterious and magical…what purpose did an apostrophe in the middle of two of the same letters serve? No one knew. Where is the apostrophe now? No one knows. Spooky.
At any rate, everything about Halloween — clearly including grammatical minutiae — has always enchanted me, as someone who doesn't personally partake in the festivities. With my cultural background, trick-or-treating wasn't really something my family chose to participate in. The idea of taking candy from strangers is something that scared my Indian grandparents far more than any costumes we could ever come up with! So for me, Halloween is like the Met Gala — I have the most fun judging everyone's costumes and envisioning elaborate ones of my own. (And enjoying the discounted candy the week after).
---
FROZEN HALLOWEEN
Sarah Garofalo, Assistant News Editor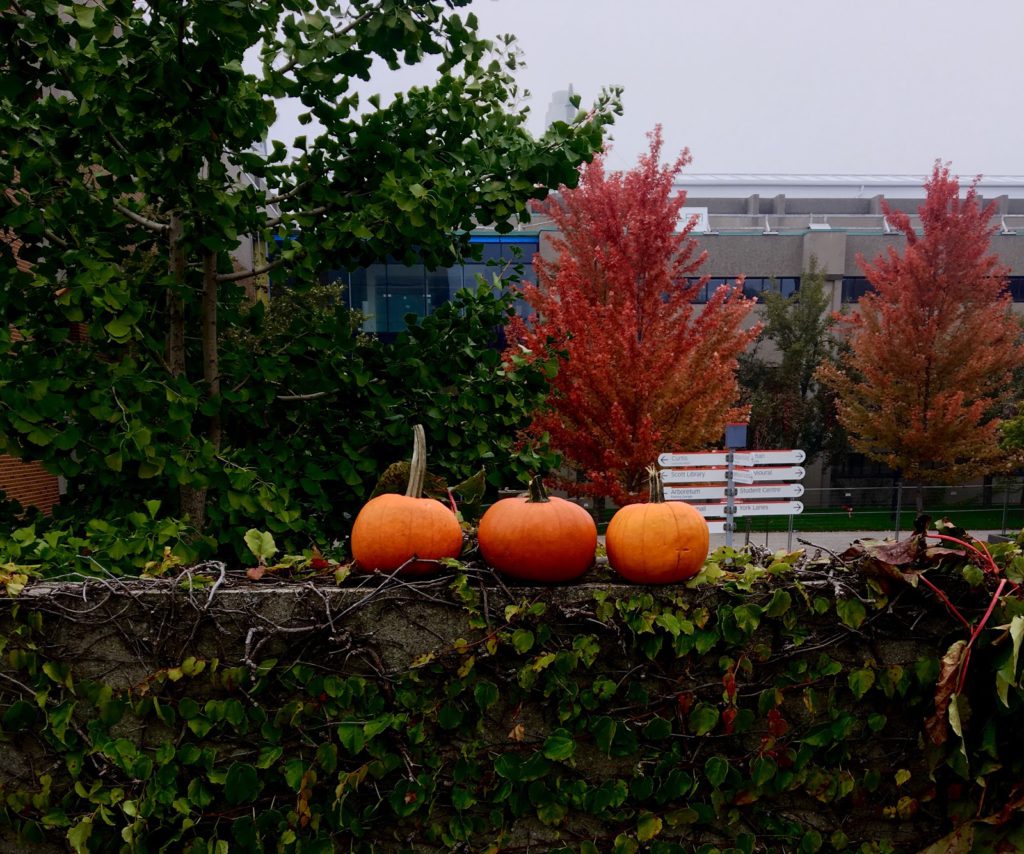 Taken last year on campus right before Halloween, because nothing says 'spooky' like a miniature pumpkin photoshoot. (Courtesy of Sarah Garofalo)
Living in Northwestern Ontario, Halloween has always been a testament to how long you can bear to walk in the sludge outside, and go trick-or-treating in snow before calling it quits due to frostbite and numbed fingers. Despite all that, my frozen Halloweens are some of my favourite childhood memories, even when I had to wear snow pants and a parka over all of my cute costumes. Over the past three years, with living in Toronto, I've gotten the chance to experience a warmer, more social Halloween at York. You can walk outside in your insufficient costume without being camouflaged with snow, and you can wear heels outside without worrying for the safety of your toes. Because of COVID-19, I am back in my snowy town, surrounded by an incredibly disappointed family. Halloween was always my family's favourite holiday; we'd dress up our house like it was a Blumhouse set. We're all disappointed that we can't live it up spooky this year, but we're admittedly happy that I am home to be able to experience a good ol' fashion below freezing Halloween.
---
A HOMEBODY HALLOWEEN
Shivam Sachdeva, Health Editor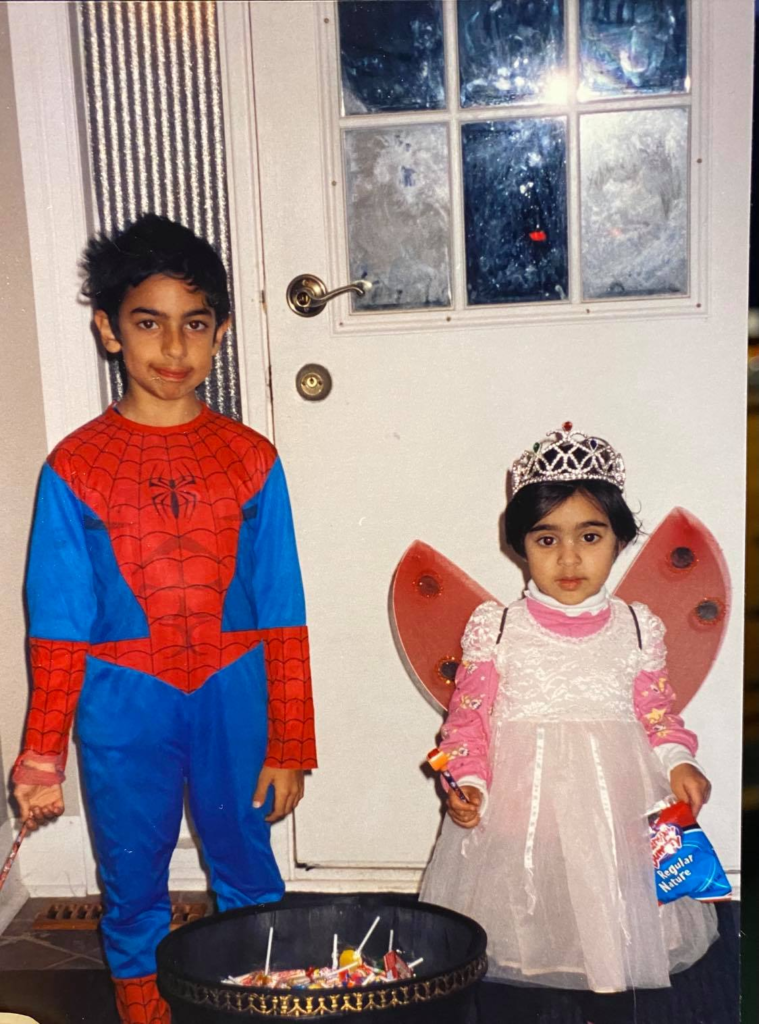 A little throwback to about 15 years ago when my sister and I were about to venture off trick-or-treating. Big credit to my parents for being able to stop us from fighting for two seconds and pose for a picture. (Courtesy of Shivam Sachdeva)
Halloween has been a pretty eventful time of year for me since as early as I can remember. Whether it was the innocent days of dressing up in a costume I'd planned months in advance or being taken trick-or-treating by my parents, or even all the fleeting memories captured inside bars and house parties years later, the 31st of October has always been far from dull. This year however, as we all know, the usual celebrations won't be possible. But rather than sulk about what cannot be, I am trying my best to accept the situation simply for what it is: a pause on life. The more social activities of Halloween have gone on for years before this pandemic and there's no reason to think they won't continue once we're out of this mess. This year, I've put up some Halloween decorations around the house to keep the spirit up as much as possible, but the holiday will likely be a lot more laid back and family-oriented than it has been before. Scary movies, board games, and lots of candy will likely be on the agenda. And though it isn't what I would have expected going into this year, I am looking forward to all of it.
---
HALLOWEEN CANCELLED…TWICE!
Sergiy Slipchenko, Sports Editor
Halloween was not something we celebrated or even heard of in Ukraine. When my family moved to Toronto, in October of all months, I had quite the puzzling experience. I was suddenly immersed into the spooky atmosphere already well underway at school. I was already frightened of school as I didn't know English and everything seemed foreign to me — the fact the walls were plastered with paper cutout witches, skeletons, and gravestones was not helping. Eventually I understood what the holiday was about so I was able to relax and enjoy the traditions — pounds of free candy were certainly persuasive. Although I enjoyed the holiday, it never caught on as a yearly tradition. Many years went by and I have yet to properly go trick-or-treating, until this year — or so I thought.
My three-year-old daughter was excited to go in her Elsa dress (after some negotiation I got picked as Kristoff instead of Olaf). We planned to go out and reap free candy, and quite honestly I was excited to go out for the first time as well. Unfortunately, the news of COVID-19 resurging crushed those dreams and I was dreading how to explain to a three-year-old that it may not be safe to go this year. However, just a week before Halloween, fate did its thing and disappointment was avoided…kind of. After watching a "scary" Halloween episode of her favourite cartoon, she has condemned "Lalloween" (as she calls it) and decided we will be skipping it in favour of Christmas. So while you celebrate at home with pumpkins, scary movies, and candy, you now understand why my living room has a christmas tree, christmas music, and a strict ban on all Halloween paraphernalia. Hopefully next year the allure of candy will outweigh any fear and I will finally get to go trick-or-treating.
---
MY SPOOKY SEASON BIRTHDAY
Céleste A. LaCroix, Arts Editor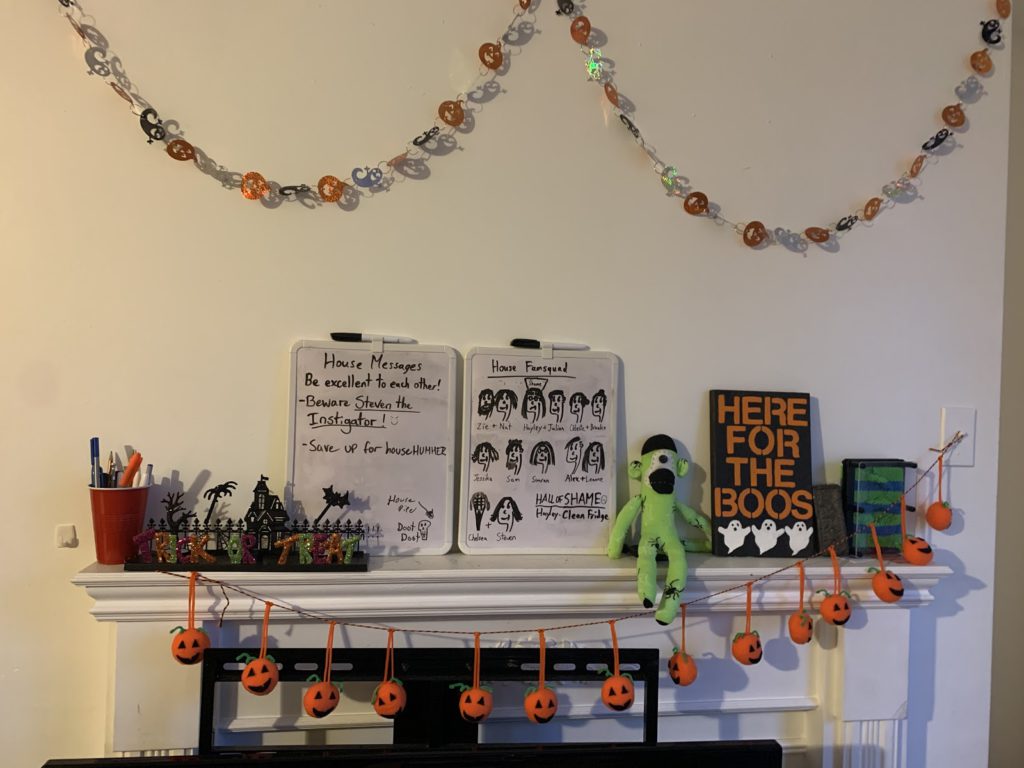 Some brief decorations in my house since our celebrations haven't happened yet. (Courtesy of Céleste A. LaCroix)
While Halloween has been cancelled around the world, it seems like my roommates didn't get the memo. I'm not sure if it's their Halloween spirit or if they're just trying to make my Halloween birthday feel special, but the second our Friends-giving dinner was over, they turned our whole house into a miniature Halloween Haunt. Believe me when I say it, theatre kids do not take decorating lightly. Halloween happens to be only a day away from my birthday, so naturally, I've hosted the Halloween parties every year since I stopped trick-or-treating. The only difference this year will be the size. Instead of inviting over half my program and filling my house with strangers, I'll be celebrating both my birthday and Halloween with my roommates and girlfriend. We've been planning activities like pumpkin carving and costume contests because apparently the global pandemic is no match for Spooky Season. I have no doubt that this year will be different, but certainly not less special, as my friends made sure of that.
---
FROM WALLOW'S EVE TO ALL HALLOWS' EVE
Bhabna Banerjee, Creative Director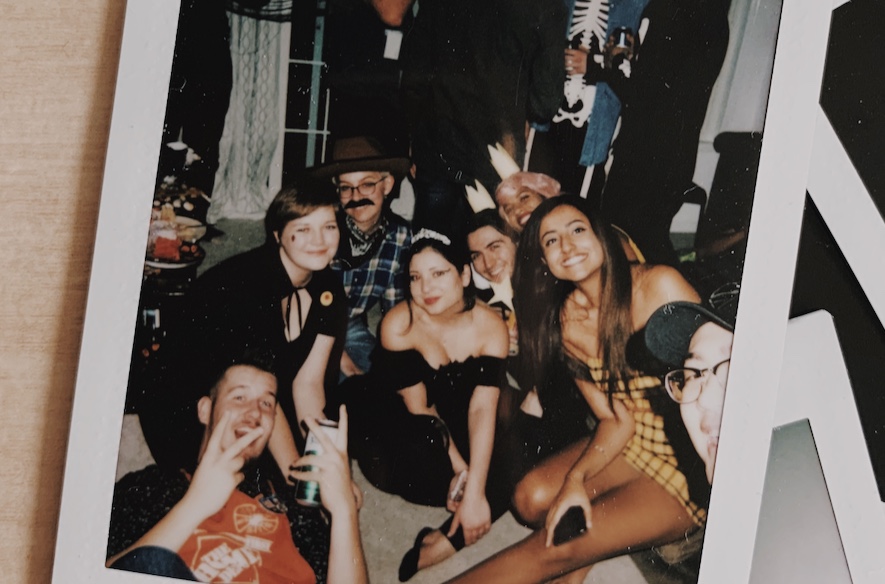 Our Film & TV themed Halloween party, 2019. (Courtesy of Bhabna Banerjee)
Fairly new to the country, the excitement of this day didn't quite strike me for the longest time. Perhaps, it was because the holiday coincided with my father's birthday, or that it coincided with the largest festival in my culture — each Halloween spent here meant that I was missing the two most important days of my year, thousands of miles away from my family and friends. And no surprise there, but pretty much every year, I chose to wallow. It's clear that in my short time here I haven't created any traditions, but after three years of avoiding this day, last Halloween I finally gave it a try to spend the day with my friends rather than alone on my couch (even though this might have been the spookier option). I commuted an hour to attend a good ol' Village Halloween party that a group of film kids religiously hosted, and not only was I pleasantly surprised, I was also transported to the most extraordinarily decorated house (apparently film kids too, do not take set decoration lightly). To stay on-brand, we spent the night dressed as and talking about film characters, and I left quite happy after having a chance to channel my inner Cher Horowitz. Granted, this year I'll be back to my old ways of spending the holiday cooped up on my couch alone, spooked out by absolutely everything going on outside. I now have fond memories of this holiday to hold on to, from a time that was spent here, with a new (and pretty amazing) family.