It wouldn't be unwarranted to say this school year is going to be difficult. Things are changing in ways we have never experienced before, and getting through your degree can be difficult and mentally draining even on the most normal of days.
Nobody owns a crystal ball (if you do, please send it my way), and not knowing what the future holds—especially amid COVID-19—can cause severe stress, instability, and uncertainty.
Most classes are being conducted remotely, the student centres are closed, campus restaurants are shutting down, and York is even removing the seats from benches around campus. If the York community wasn't stressed or concerned, it'd be a little unusual.
Despite the fact that the university is not raising tuition prices, at least not for domestic students, the York community is facing a challenging time of great changes with the way their university experience will unfold.
One of the biggest concerns between students and faculty is moving forward with a completely remote year. Thus, I have read your concerns, done a bit of research, and have tracked down many of the ways the York community is adjusting to life with COVID-19.
ONLINE LEARNING
Paul McLaughlin, a course director in the professional writing department, says he has his own concerns with moving into the semester remotely.
"I believe in-person teaching is a vital part of my professor-student relationship with them," McLaughlin says. "Fortunately, I had all my fourth-years last year so at least I know them as individuals. When I teach a third-year class next term I will not have that advantage, and I am concerned that they will be a small face on a screen. That's not how I would ever want to teach anyone."
According to fourth-year theatre student, Céleste LaCroix, her concerns mainly revolve around accessibility.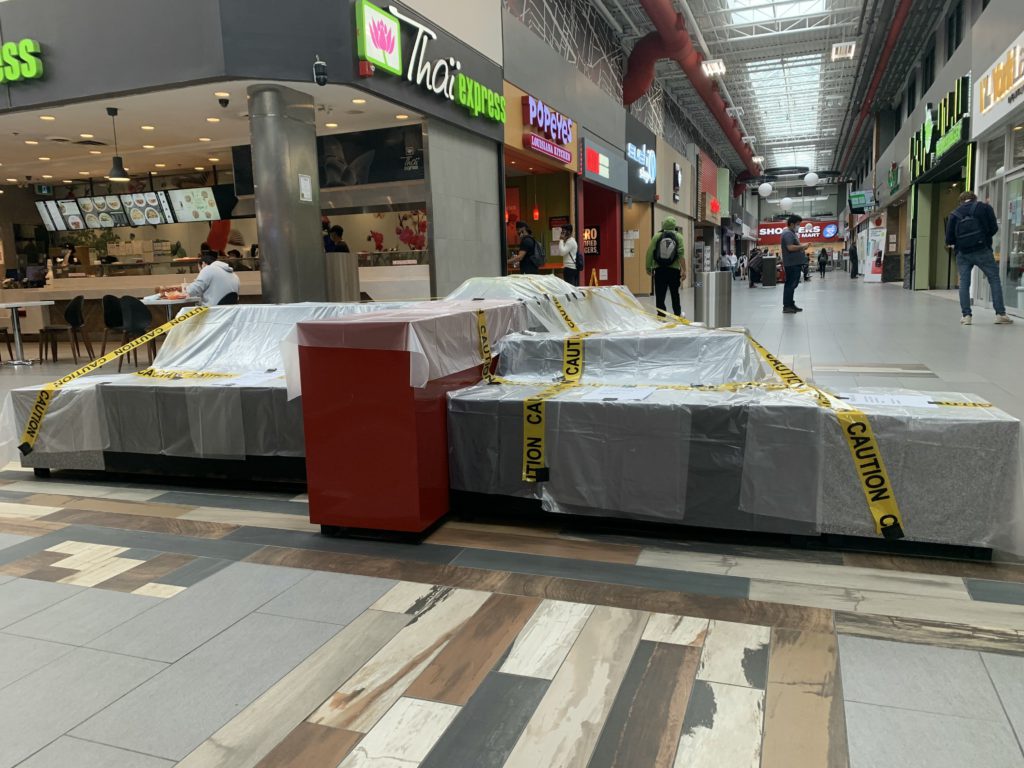 York Lanes has closed off benches to encourage social distancing and limit the spread of COVID-19. (Photo Credit: Mahdis Habibinia)
"My girlfriend, for example, has completed a full degree with the laptop she has now, but since learning has gone entirely online for her new program, she has had to purchase a new computer that can keep up with zoom and so on. This was an expense she was not prepared for and her university offered little to no help," LaCroix says.
As for Leanne Connor, a fourth-year devised theatre student, she is concerned with making the most of her degree.
"As a theatre major with 90 per cent of my classes in studio, which also depends on studio time in order to learn and gain experience in my preferred career field, I am extremely concerned about what I will be missing out on in a typical year syllabus," Connor says. "The theatre world is very 'hands-on' work and not getting the proper teaching/experience for that is very concerning."
As a theatre major as well, LaCroix shares this predicament.
"I am also especially affected by remote learning as a theatre major. My last year in the program is supposed to be the most important with the largest projects and the best opportunities and my department is certainly not prepared to maintain this in the online format. We are even being asked to include our peers in our quarantine bubbles to prepare and complete assignments. I am worried this academic year is going to let me down," LaCroix says.
    "I've struggled maintaining connection for both my laptop and phone while eight other people in my house attend their classes using the same Wi-Fi."
Concerns about technical issues are also prominent between faculty and staff; the eClass outage during the first week of classes was the perfect example of this.
Connor says she is concerned "about not getting the full lecture information because of technical issues with eClass or wifi spottiness.
"Just this week we experienced the first eClass technical failure and it was stressful not being able to access the assignments I needed to complete in the time," Connor says.
She adds: "I've also had to use my phone for Zoom because my laptop doesn't have a camera and I've struggled maintaining connection for both my laptop and phone while eight other people in my house attend their classes using the same Wi-Fi."
McLaughlin states that his teaching style is going to be greatly impacted by moving to remote learning. "My teaching style is to interact with students in my classes and I am concerned that Zoom won't make that an easy thing to do," he says. "As someone who has endured Zoom meetings, I know how hard it is to focus and how easy it is to get distracted. So I will have a lot of empathy for my students; I don't expect them to be riveted by what I have to say."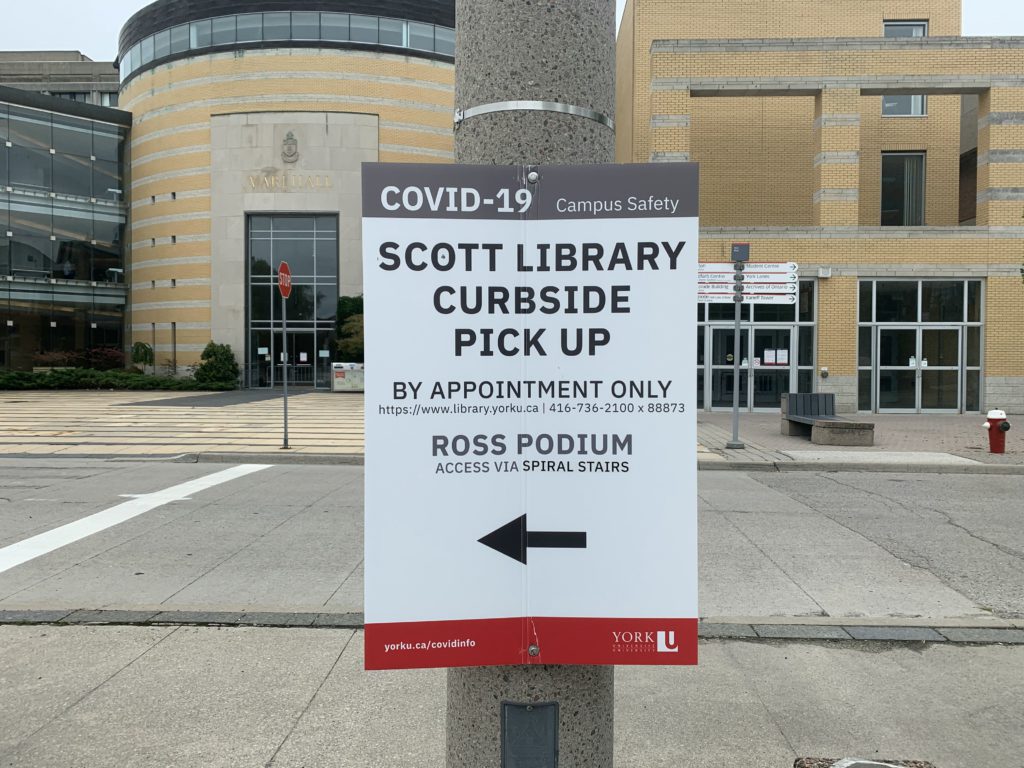 Scott Library is offering curbside pick up for students who need to access their resources. (Photo Credit: Mahdis Habibinia)
Of the various factors remote-learning lacks in comparison to in-person schooling is the ability to study in distraction- and stress-free environments, such as quiet libraries and private study rooms.
"An issue I have personally is the lack of private space and learning-oriented environments. I live with my partner and I have not been able to actually be alone for the entirety of any of my meetings or classes which prevents me from creating the environment I need to be productive," LaCroix says.
LaCroix further adds that other students she knows are co-living with roommates and family. "The effects this will have on their learning feels inconceivable."
While moving towards in-person classes seems a far-off fantasy, York is changing the way they operate to mitigate the impact on their students by adjusting their services to be available for the community via virtual mediums.
Regarding services within the community, LaCroix, says: "To be honest I don't know anything about what the university is doing to support students through the pandemic and with remote learning. I feel like I can recall emails from the university about resources and information about emergency student benefits but nothing specific comes to mind."
    "York is supporting faculty and instructors by providing them with additional tools to help prepare for the move to virtual learning."
According to Deputy Spokesperson Yanni Dagonas, York is offering a wide array of services to assist the community in adjusting to remote learning.
"The full student experience also extends beyond our students' classes. An extensive variety of supports are available to our students. From online self-service options, live person chats, peer mentors connections, virtual check-ins, virtual coffee chats, we continue to offer services that support our students' academic success, well-being, community building and provide global opportunities," Dagonas says.
He adds: "We are also supporting our faculty and instructors by providing them with additional tools to help prepare for the move to virtual learning."
Regarding these resources for faculty, McLaughlin says the options are extensive. "The university has provided endless resources to help all of us adjust to remote teaching; in fact, there are so many I get a tad overwhelmed," McLaughlin says. "I'm not great with technology but I'll survive, as mostly what I'll be doing is conducting Zoom classes. However, I will be making myself available to my students for one-on-one telephone meetings or through email."
However, there are some things that students, like Connor, would like to see moving forward with remote learning.
"I would really like to receive more information on Zoom etiquette/navigation or the different servers that are being used for teaching methods, such as Gather and Discord. I feel like there has been so much self-learning and I'm not sure if I'm missing out on anything that would help me better navigate my classes," Connor says.
While most classes are being conducted remotely, Dagonas says there are a handful of courses that are being taught in-person.
MENTAL HEALTH
Mental health is also on the minds of students going into the new year. Connor says the uncertainty surrounding the new semester is something she is concerned about.
"While so much has changed in the way that I will be learning this year, I also wonder what all this will do to my physical and mental health," she says.
Connor adds that staring at a computer screen has affected her rest, adding to mental health concerns.
"White light has been hindering the amount of melatonin I need in order to get a good night's rest. I feel so keyed up at the end of the day that I've adopted unhealthy sleep schedules," Connor says.
"York is trying to mitigate financial stress by reducing some costs associated with university life."
Learning remotely is going to be an adjustment for many students, and mental health is on the minds of many like Connor.
LaCroix says she can attest to this through observing her friends over the past months.
"I cannot deny that I have seen major declines in my friends' mental health as the impending doom of an uncertain school year closes in on them," LaCroix says. "A lot of students, like my roommates, are already navigating the pandemic by themselves and they are having trouble coping with the added stress of a disorganized school year."
The financial obligations students are burdened with could also play a huge role in impacting student mental health. Connor adds that this is true in her case.
"During the first few months of the pandemic I was living at home with my family and didn't have to worry too much about finances, but now that I am back in Toronto and living on my own, I worry about the added stress and debt that will be added to this year, especially since I couldn't find work for the first four months of the quarantine," she says.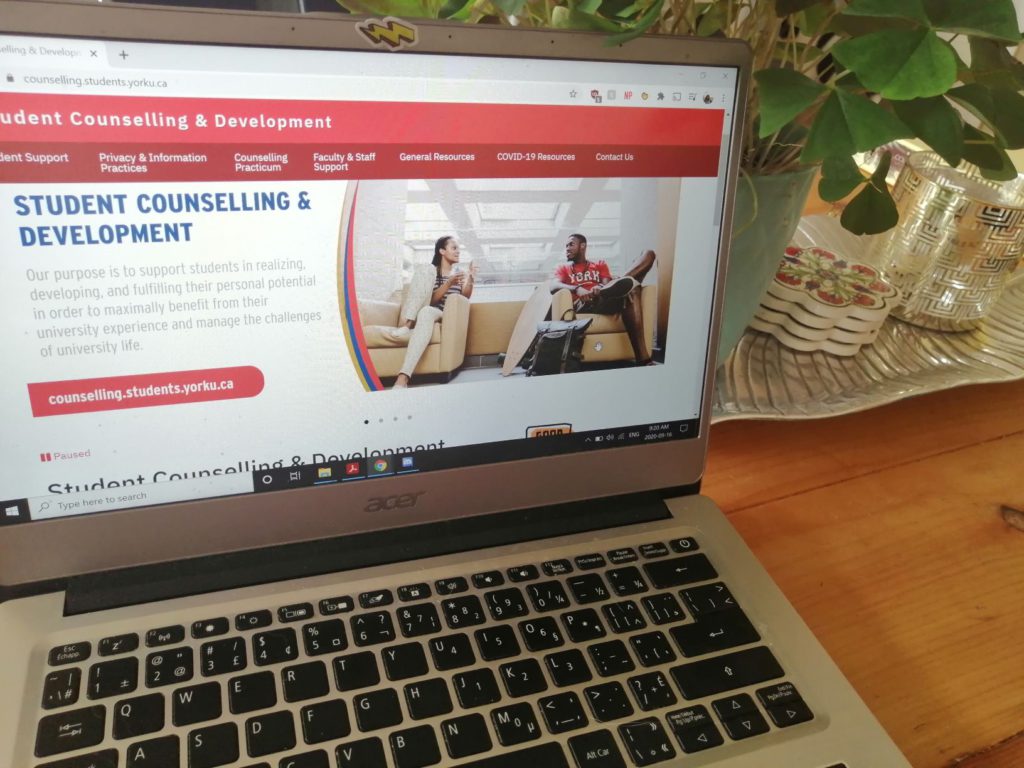 Among many resources, Student Counselling & Development is available online. (Photo Credit: Victoria Silman)
Dagonas says York is trying to mitigate financial stress by reducing some costs associated with university life. "Some supplementary fees, such as fees for athletics, have been reduced to reflect current circumstances."
In light of the difficulties surrounding the recent months, Student Counselling & Development services are doing all they can to make themselves available for students.
Director of Student Counselling & Development Lori Walls says the service has been adapted to be accessible online, but in-person counselling is also available. "Since the university moved to working remotely, we adapted our services to the virtual world," Walls says.
Walls also wants to assure that students are being offered all the same services Student Counselling & Development offered prior to COVID-19.
"We continue to offer walk-in counselling (now same-day service), ongoing counselling, group counselling, and support groups via an encrypted computer platform," Walls adds.
For students that are struggling and need help, Walls strongly encourages making an appointment with a counsellor, which can be done so through the Student Counselling & Development website.
Connor adds that other services are also available, including a hotline for the Centre for Sexual Violence Response, Support and Education.
Furthermore, "financial support is ready and responsive to help remotely, so it is nice to know that I can receive support in those ways, should I need it," Connor says.
INTERNATIONAL STUDENTS
COVID-19 has considerably affected international travel. Here in Canada, strict restrictions have been put in place to prevent the spread of the virus, so it's no surprise international students are bearing the brunt of changes to university life at York.
Associate Director, International Student and Scholar Services, Woo Kim, says York International has received many concerns about remote-learning from international students. 
"For international students travelling from abroad, York is covering the cost and providing resources for those who must undertake the mandatory 14 day quarantine."
"We have heard concerns about time differences for students in synchronous courses, access to stable internet connections, access to appropriate technology, and connecting to the wider York community, amongst others," Kim says.
Despite this, York has implemented a series of changes to extend services to international students.
"The university is providing many supports for international students including increasing our capacity for immigration advising, a financial award for international students, virtual orientation and transition events, regular virtual community building events throughout the course of the summer and fall," Kim says.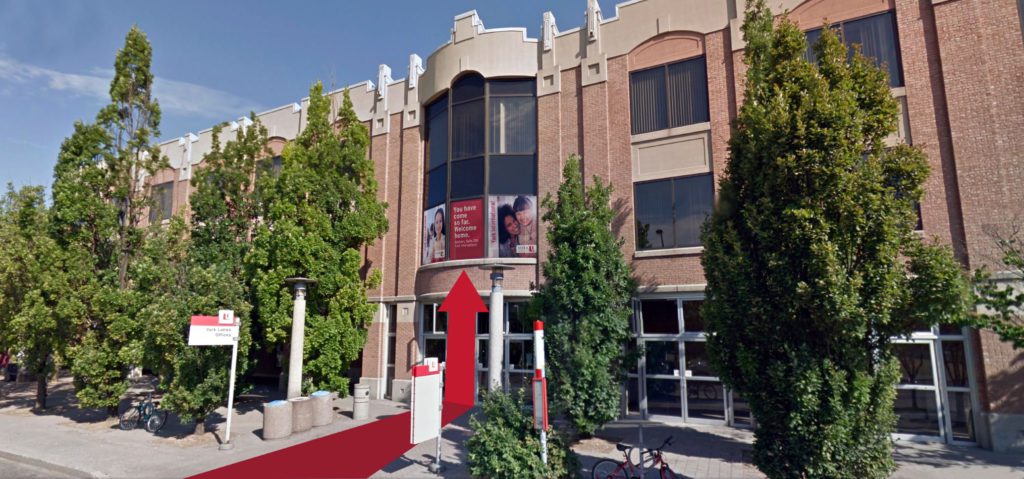 The location of York International in York Lanes. (Photo Credit: York International)
In addition to this, Kim says York International, along with other faculties and departments within York, are dedicating additional services for international students, including academic advisors, more online webinars, and Q&A sessions.
Along with the support York has in place, the Canadian government has allowed exemptions for international students coming to Canada for school.
According to Kim: "Immigration, Refugees and Citizenship Canada has put forth guidelines for those who are exempt from current travel restrictions. International students who have a study permit or study permit approval issued on or after March 18, 2020 are exempt from the current travel restrictions. They must also demonstrate that they have a non-discretionary reason to travel."
Kim says this exemption includes students that are returning to continue their studies in Canada. "York has been issuing entry support letters to international students who have non-discretionary reasons to come to Canada for their studies," Kim adds.
For those travelling from abroad, York is covering the cost and providing resources for those who must undertake the mandatory 14 day quarantine. Kim says this includes a detailed quarantine plan to present to the traveller's airline and Canada's border control, meals, hotel reservations near Pearson Airport, daily check-ins with students, and "support for students' physical and mental health and wellness."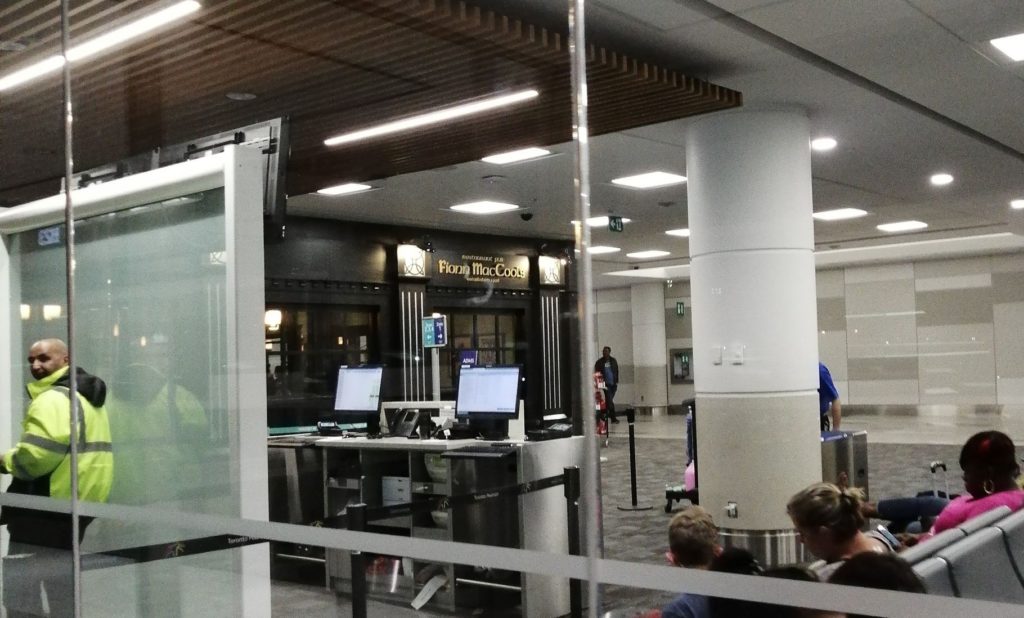 Pearson Airport back in February, just as COVID-19 was becoming prominent. (Photo Credit: Victoria Silman)
On top of the considerable changes, Dagonas confirms international student tuition will be increasing as initially planned.
"We are also proceeding with a planned 10 per cent increase to international student tuition. The increase, approved by the York Board of Governors in February 2019, will maintain our competitive rates and compares favourably to other comparatively sized institutions in Ontario," Dagonas says.
However, Dagonas says York is also implementing measures to help international students continue their studies.
"During this period of uncertainty, we recognize the additional challenges faced by international students and the financial commitment they make to pursue post-secondary studies," Dagonas says. "To mitigate and reduce the impact of the increase to international students during this difficult time, all international students, new and continuing, will be receiving a financial award of $2,000 towards fall/winter 2020-2021 tuition."
CHILD CARE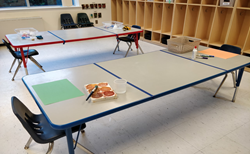 Physical Distancing: Visual cues are being used to reflect the importance of physical distancing. (Courtesy of Mabel Davis) 
There are many students, staff, and faculty that rely on child care services at York. There may be concerns among the community, as some outbreaks have been reported since child care centres reopened at the beginning of August.
Mabel Davis, the executive director of the York University Co-operative Daycare Center (YUCDC), says the organization is taking every precaution they can while following public health guidelines.
"YUCDC is dedicated to protecting the health and safety of our children, our staff and the York community," Davis says. "We are continuing to closely monitor this new virus and basing our responses and actions on the recommendations from Toronto Public Health, the Ministry of Health, the Ministry of Education and members of our Joint Health and Safety Committee."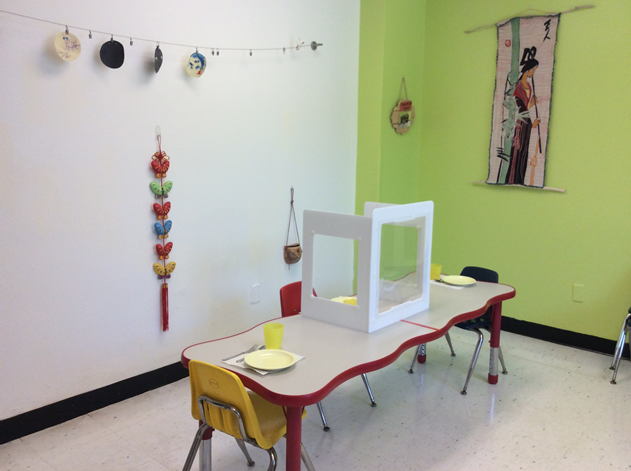 Mealtimes: With some modifications of our food safety practices, there is no longer anymore self-serve or the sharing of utensils. Meals are being served in individual portions to our children by our educators. (Courtesy of Mabel Davis)
According to Davis, the YUCDC is a childcare facility that services the York community. They reopened August 5 for full-time toddler, preschool, kindergarten, and school-age childcare, which was restricted at the time to 33 kids. Davis says on September 8, as phase two of their reopening commenced, the YUCDC was able to reinstate their infant program, while also increasing their capacity to 53.
Currently, they are open from 8:00 a.m. to 5:00 p.m., an hour-and-a-half discrepancy from pre-COVID-19 hours.
At the moment, Davis says the YUCDC has implemented various COVID-19 protocols in line with public health recommendations, including: enhanced cleaning and disinfecting of toys, furnishings, equipment and frequently touch surfaces; increased usage of personal protective equipment including, but not limited to, face masks and shields, gloves, and blankets to hold infants and toddlers; temperature checks in a screening area; designated cohorts of educators and children; physical distancing in work and play areas; and reduced operating hours to facilitate cleaning and screening protocols.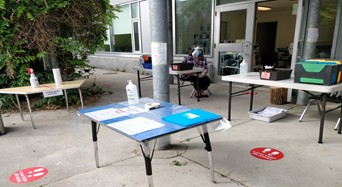 Screening Area: Our screeners actively screen and take the temperatures of our children, staff, and visitors prior to entry to the Centre. (Courtesy of Mabel Davis)
Many in the York community may be concerned about COVID-19 and childcare services, but Davis has advice that rings true not only for those seeking childcare, but the community as a whole.
"Be mindful of the importance of maintaining a welcoming and caring environment where children and families continue to experience a sense of belonging," Davis says.
MOVING FORWARD
The year 2020 is a learning curve. COVID-19 blindsided the world and uprooted the economy, our lives, and our sense of comfort. While cases continue to climb and the future is unclear, the school year goes on.

Shopsy's has shut down, but is being replaced by Timbers Lodge Social Grill. (Photo Credit: Mahdis Habibinia)
Dagonas says York is planning to provide various virtual experiences for students, "including convocation, programs and opportunities so students can meet other students, celebrate milestones together and find support."
Connor joined frosh to help onboard first-years into their new life at university. While it was done completely remotely, Connor says she feels the experience helped alleviate stress for incoming students.
She states: "I will say this though, while this frosh was not the one I expected to happen, I am still very grateful that it happened the way it did. Sure, life was turned upside down, but we can adapt. Instead of thinking that it's too hard to do, which I'm sure the thought had crossed the minds of the orientation leaders more than once, the focus was pin-pointed on how we were going to be able to pull it off."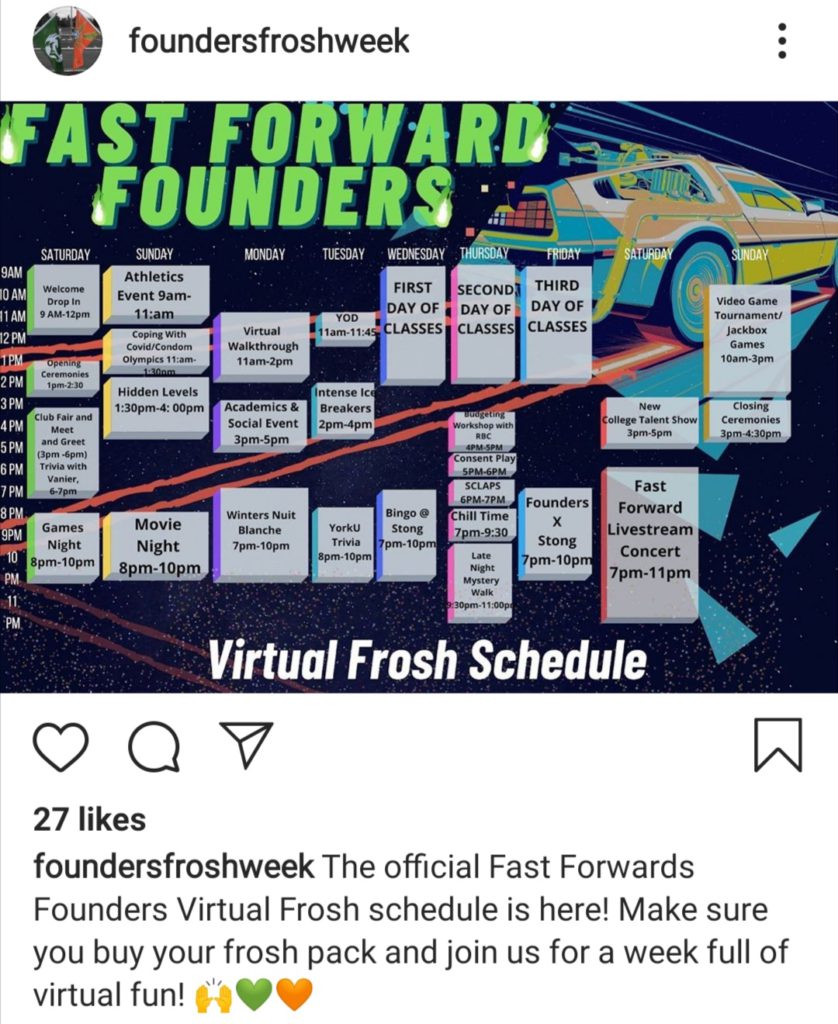 Frosh at York was held virtually. (Photo Credit: Founders College / Provided by Victoria Silman)
LaCroix shares this sense of enthusiasm, stating: "In terms of community, I am excited about how the new challenges with remote learning have brought people together, educators and students alike."
For McLaughlin, helping his fourth-year students succeed is a priority. "As my class this term is comprised of fourth-years, my goal will be to help them complete the course, and do well in it, as best I can," he says.
McLaughlin adds: "I have no idea how it's going to go as this is totally unchartered territory. I will say that my attitude, at this point anyway, is to be as supportive and understanding of their needs as I possibly can be. I never had to deal with any of this madness when I was a student. I am deeply sorry that they have to."