Kimia Ghomeshi is going through her masters in environmental studies at York, pursuing an education like anyone else on campus.
In her spare time, she partakes in protests against environmental injustice, corporate greed, and the abuse of First Nations' rights. In one case, she went all the way to Parliament Hill on September 26 to protest the tar sands industry.
"Canada is nowhere close to being an environmental leader," she says. "This leads me to believe [Canada] is one of the most polluting countries in the world."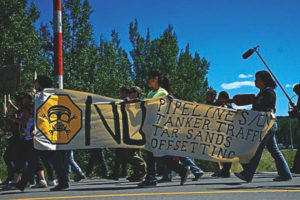 Ghomeshi first became passionate about environmental issues when she attended the United Nations climate change conference in Copenhagen, and has been involved with grassroots organizations and First Nations activist groups ever since.
She is especially passionate about speaking against the Keystone XL pipeline project proposed by TransCanada. The project would expand pipelines carrying crude oil from Northern Alberta to as far as refineries in Texas.
The project, if given the green light, would cut through First Nations land.
"The much bigger social statement being made here is that we will literally go to the ends of the earth to sustain our path to oil without regard to its consequences," says Sarah Yankoo, president of the Aboriginal Student Association at York.
Ghomeshi believes the government is just not willing to make the investments to find alternatives to crude oil.
"I would commit to a full moratorium […] and create a federal energy efficiency plan," she says, discussing her personal methods of resolution. "I would also be making an apology to the First Nations."
Canadians, she says, have been violating indigenous rights by using First Nations land to extract and process crude oil without consent.
"It's illegal and it's just not acceptable," says Ghomeshi. "Its implementation is a health concern […] it pollutes the Athabasca watershed."
The watershed pollution would directly affect surrounding First Nations communities.
The next big event to target the tar sands issue will be at the United Nations Framework Convention on Climate Change in late November.
"We're not saying shut it down tomorrow," she says. "However, we need a commitment today."