DISCLAIMER: Stories and images published in this week's issue under satire (with the exception of advertisements) are purely satirical and created purely for entertainment and/or parody purposes. They are not intended to communicate any accurate or factual information. Some names used in Excalibur's satire stories are fictional, and any resemblance to actual persons or entities may be purely coincidental.
---
Animal attacks have increased by a whopping 115 per cent in the GTA since the start of the pandemic due to mask-, glove-, tissue-, and plastics-littering. Excalibur sat down with some of the victims of these attacks, animal experts Steven Badall and Jayn Irlose, as well as others for the full scoop.
Karen and Daren Doyle were on their monthly husband-and-wife hoarding spree when, on the way back to their caravan, they decided that the trash bin three-feet away was too far of a walk for disposing of their gloves and masks.
"I noticed the beady eyes and striped tail before Daren did," explains Karen. "I ran into the passenger seat, but it was too late for my husband, because he was wearing two gloves on each hand his littering took a bit longer. The raccoon, which came out of nowhere, was clutching onto Daren's leg with our gloves in its mouth and clawing away!"
"We went straight to the emergency room to get my rabies shot — which was extremely inconvenient because I had to wear another two sets of gloves," adds Daren.
Badall and Irlose explain that in direct succession with these types of attacks comes a key finding in their anthropological research. Apparently, common enemies in the animal kingdom, pets and wildlife alike, come together in unison every week for what appears to be an uprising in progress.
Cats, mice, dogs, squirrels, raccoons, birds, insects, and many more alike from the city have been gathering in a landfill every week — behind dumpster #3 — between the hours of midnight and dawn to discuss the implementation of their species-specific attacks on litterbugs city-wide, according to the animal experts' observations.
"We believe this is their way of protesting direct property damage to their habitats and ecosystems," explains Badall. "Chipmunks can be seen wearing hollow walnuts as hard hats. Wild rabbits are often carrying signs on literal leaf-lets, if they don't eat them before the attack. Insects are marching in unprecedented succession to lay their eggs inside people's cars, purses, and glove boxes. Even cats are sharpening their claws."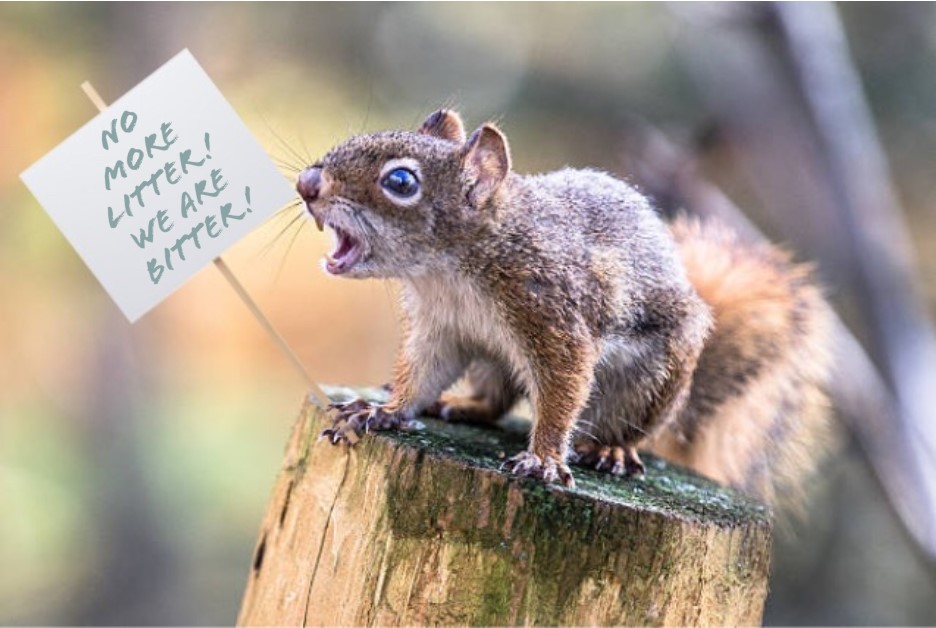 "But what's most interesting are the birds," adds Irlose. "We have observed them eating over 20 times their usual meal consumption in an effort to stuff their stomachs and digestive systems to, well, remain 'locked and loaded' since they have substantial aerial range compared to their comrades on foot."
Richard Paisley — homeowner, proud dog dad, and well-known litterbug in North York — says his Golden Retriever now "body checks me and knocks my 6'4" ass down if I so much as even throw my tissues on the sidewalk."
Paisley recounts of a recent incident when his dog wasn't around and he tossed his Lysol wipes behind a tree. Before the napkin could even hit the floor, Paisley says he was hit from above with a "wretched and foul splat" then heard the sound of flapping wings in the distance.
Ontario's ministry chief of veterinary and wildlife Paul Waland has confirmed that all pets brought in by their owners across the city of Toronto for these strange behaviours received a full workup and no abnormalities were detected.
"However, two observations were made across the board during every workup," explains Waland. "Strangely high blood pressures, even for pets known to be lazier such as cats, were found, and veterinarians also reported receiving a small wink from said pets upon their departure from the clinics."
Badall explains that, based on his and Irlose's research, this is an explicit sign of guilefulness and possibly an indication of the duper's delight.
Badall and Irlose are to meet with Waland and his ministry tomorrow to discuss their findings. Waland hopes to develop a plan of attack in response to this potential uprising because god forbid humans should keep the environment clean.
"I just hope these animals can be brought under control so I can live in my city in peace," says the Doyles. "Without any interruption or nuisance affecting the very environment that I am trying to live my life in!"
The ministry of veterinary and wildlife also believes there is a ringleader in the midst, since animal kingdoms usually function through a social hierarchy. While the ringleader's identity and species currently remains unknown, for now the ministry refers to it as "The Toothy Tyrant."
Due to reasons relating to precarious work, Excalibur was unable to reach the GTA's animal population for comment at the time of publication. As for pet owners' animals, Excalibur was advised by Badall and Irlose not to seek comment from them so as to not disturb the covert espionage operation currently underway.