After jumping over York's hurdles, the fencing club claims feat most varsity sports haven't this year
Aileen Ormoc
Staff Writer
@excalweb
When I began writing this article, my initial thoughts on fencing were mixed: half indifferent from my lack of knowledge and half comical because of its representation in TV and films. The image conjured in my head looked something like The Mask of Zorro meets Pirates of the Caribbean. But after speaking with the Legion Fencing Club @ York, I've learned that not all fencers walk around with sword in hand, making challenges to the death.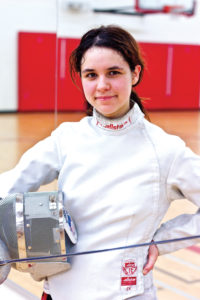 Derived from the art of swordplay, fencing came to be known as a sport during the 16th century. It was most popular in European countries like France and Italy.
Fencing requires a combination of both strategy and skill. Kayla Lambie—head sabre coach, tournament coordinator of the club, and OUA gold winner—explains that the key to becoming a good fencer is always being 10 steps ahead of your opponent. You need to know how your opponent will react and then make your next move based on that. Rather than trying to take your opponent's head off from the start, Lambie stresses sticking to your plan of action based on strategy, not impulse.
There are three styles and weapons of choice—foil, épée, and sabre. With foil, you poke the torso and have the smallest weapon. In épée, the sword is big and you can hit your target anywhere on the body. Sabre uses a middle sized sword where you slash the opponent above the waist with the edge of your sword.
The Legion Fencing Club @ York—which has been around for years—has gone unnoticed for some time now. According to the club's president, James McColl, York has not recognized the club as a varsity team for over 10 years. It is clear, he says, that York's lack of support for the fencing club is in part due to York's lack of belief in the legitimacy of the sport.
"You have to be a varsity team to compete at OUAs," says Lambie. "So since we got kicked off varsity status, nobody was actually allowed to compete."
This year, however, York granted non-varsity teams the opportunity to compete in the OUA fencing championships. Lambie won first place and took home gold in the women's individual sabre event while the men's épée team won fourth place.
Along with complete lack of recognition, not having varsity status has also limited the club's ability to publicize themselves. They are on the university's website under York clubs, but it does not garner the same amount of attention given to York's varsity teams.
More students would know fencing is offered at York, argues Horia Soltani, vice-president of the club, if they were on sports front pages and had the same support.
"[Funding from York] would push for more students and fencers to compete," she says. "That will showcase more of York's fencing team among universities." She adds that teams with varsity status from other universities receive funding from the university and alumni. Without that status, it's a lot harder to fund the club.
Taking up this sport in Canada is painfully expensive, especially for a student on a tight budget. Each member pays for their own expenses, including flying out to tournaments, hotel stays, gas money, and so on. The club agrees this is where York can step in.
Recruiting more students to join is a top priority for the club. Given the sport's lack of popularity, students are often hesitant to give it a try.
Prior experience is not needed to take up fencing, says Lambie. "You gain the skills by coming to practice and practicing."
To spread awareness, the team tables on campus and has demos to showcase the art of fencing. There are a number of upsides to joining the club, ranging from getting the firm rear end you've always dreamed of, to being a part of a unique community.
"It's almost like a family of people," says Soltani. "It's a sport where you build friendship and help each other out. Obviously you want to improve as a fencer, but you have the back of your friends. You help each other grow in the art of fencing."