Playing shorthanded, Lions prove that they've still got the magic
Lewis Chaitov
Staff Writer 
@excalweb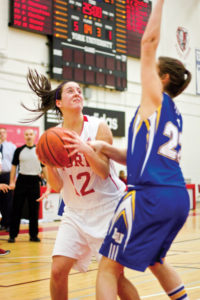 The Lions won a very important game with a close score of 50-49, defeating the scrappy Laurentian Voyageurs. The mighty seven of the women's basketball team won a game that put the Lions in the playoffs for the second year in a row. The record for the team currently stands at seven wins and 11 losses.
The ladies had a lot to prove Friday night with both of their starting guards, Kayla Pangos and Nadia Qahwash, out with injuries. In the opening five minutes of the first quarter of the game both the visitors and the Lions only put four points each on the scoreboard.
The second quarter is when York caught some momentum, holding the Voyageurs at six points. Sophomore player Krysten Patrick of the Voyageurs talks, about what caught them off guard.
"We play zone all the time but no one plays zone against us," says Patrick. "For York to put that technical change against us we didn't do so well. With them putting the zone on us it really slowed us down."
York started the game with only seven players tonight, with three of the rookies showing why coach Bill Pangos recruited them. Samantha Ernest, who played 34 minutes, got nine rebounds and 10 points.
"I'm getting used to playing university ball now," she says. "I got bumped around a lot tonight. Nine rebounds in tonight's game is a career high."
Coach Pangos spoke about the importance of the win after the game.
"It was an important win for us tonight, it puts us in the playoffs," says Pangos. "It was not easy. We had no point guards tonight and only seven players."
Britttany Szockyj, captain of the team, played all 40 minutes of the game, putting up eight points and totaled four rebounds.
"I had the ball in my hands more often tonight," Szockyj says. "I felt I was more of a facilitator. Our team is improving every year; we have great team dynamics."
This weekend the Lions play downtown rivals Ryerson and U of T.