The art school graduate-turned-outside-hitter sat down with us to reflect on family, the elusiveness of poster sales, and the finer points of being a "hippie who loves Motown"
Annelise Vintila 
Contributor
With a former NBA player for a father and a professional athlete for a mother, Brandie Wilkerson, outside hitter for the York Lions volleyball team, has had a powerful, inspirational support structure from day one.
Born in Lausanne, Switzerland, Wilkerson has travelled the world since she was a newborn due to her father's demanding job playing in the NBA.
"When I was younger, I moved all around the world," she says. "My dad was recruited for the Cleveland Cavaliers and now he plays for the Euro Basketball team in Switzerland."
This rapid-pace life forced Wilkerson's mother to move to Canada for a more stable setting for her children. Because of this change, Wilkerson and her three younger siblings have created a tight bond; she praises them as "energetic role models."
The volleyball star also commends her mother.
"My mom was never overprotective," says Wilkerson. "She let us live and learn our own ways in our own style, so I really appreciated the freedom she gave us."
Her mother also encouraged her to pursue two artistic hobbies that Wilkerson still enjoys doing today: photography and painting. These talents led her to obtain a high school diploma at the prestigious Mayfield art school in Brampton.
"I love visual arts, carving and sculpting, and painting," she says. "I don't have as much time but my goal for the summer is to go back to painting. I have a lot of fun doing that, and I also love photography. I have my old cameras with film and I love taking pictures of extraordinary people."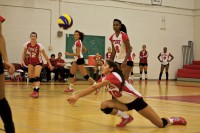 She is now excelling as a second-year communications major pursuing fashion and editing. The artistic skills coexisted with the innate passion for sports at a young age.
"Volleyball was one of the earliest sports I ever played," says Wilkerson. "I also played soccer and basketball. I always had a habit for switching sports so I switched to track, where I was doing hurdling, and I loved it but I needed another challenge. I tried rugby and I absolutely loved it; I wanted to come here for it, but my mom disagreed, influencing me to continue with volleyball. I did, and I'm happy that I stuck with it."
While she shares a very close bond with her family, she maintains a strong relationship with her teammates who constantly support and encourage Wilkerson to do her best.
"Everyone on the team is amazing," she says. "If one person on the starting line-up gets taken off and someone else comes on, there wouldn't be much difference. It makes practices so much better, makes the team's dynamic great. I am very lucky to be on a good team. Our coaches are so sweet too."
Her passion for volleyball helped her realize how different it is when compared to other media-saturated sports.
"Most volleyball players won't know the elite but people who play basketball or football have someone to look up to," says Wilkerson. "Any sport except for volleyball. Why is it not publicized and how come I don't know these amazing people who play and should be my inspiration? There are some people who are trying to make volleyball more popular though, and they're really trying to bring up the new talent, our generation. I really hope to be a part of that."
While still a part of the technology-obsessed era, Wilkerson focuses her time on more earthly hobbies, describing herself as "a hippie that loves listening to Motown." Wilkerson maintains determination by following an admirable personal philosophy.
"I think people shouldn't compare themselves to others," she says. "You will never end up what you want to be if you get affected by minor details."
While this focused multi-tasker is working hard on achieving her goals, her future has as much potential as she has divergent talents.
"I'm actually looking at beach volleyball right now," says Wilkerson of her immediate plans. "My boyfriend played on the national team for beach volleyball, so he is my influence. From there, hopefully playing for Team Canada."
Despite her intimidating familial pedgree, Wilkerson fails to succumb to ego or over-seriousness, continuing to help her team with a mature grace found in few.