Compiled by Laurie Brownrigg
As York moves steadily into exams, fall sports are pushing full-steam, training and preparing for another season. Yet, what do we really know about our own athletes and professional leagues? Rapid Fires are here to answer that with introductions to some of our own athletes and a general briefing within the York's sports world!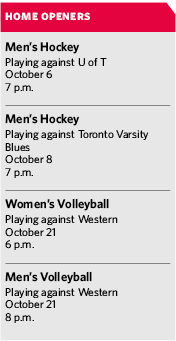 Dan Church, the head coach of the York Lions women's hockey team has been named head coach for two upcoming prestigious events, the 2011 IIHF 8 Nations Women's Tournament and the 2014 Nations Cup!
The Winnipeg Jets are back after more than a 10-year hiatus, but their first pre-season game against the Columbus Blue Jackets ended with a loss for the Jets 5-1. Winnipeg fans were not deterred from cheering and supporting the team's return, with masses of fans filling the MTS Centre.
The York Lions men's soccer team is ranked no. 1 in the CIS nationl rankings.
This past summer York Lions men's basketball assistant coaches Chris Cheng and Warren Williams both won gold medals with Team Ontario at the Canadian national championships.
In summer 2011 York Lions sprinter Dontae Richards-Kwok placed eighth in the 100 meter event at the 26th Summer Universiade in Shenzhen, China. Richards-Kwok has been on the Lions track-and-field team for three years and has won 11 OUA medals and six CIS medals, with a total of nine golds. This year he was named the OUA track performer of the year, an OUA all-star and a CIS all-Canadian for his track-and-field achievements.
York soccer player Adrian Pena is top of the OUA scoring for men's soccer with 10 points! Alon Badat is sixth on the list, with seven points.
Antonio Garay from the San Diego Chargers is being charged $15,000 for a hit against Patriots player Tom Brady below his knees.
October 2 was World Girls' Hockey Day, which included events all over the world including Australia, Japan, Kazakhstan, and Europe. Hockey Canada and its regional branches expect more than 2,000 girls at more than 30 events across the provinces and territories.
York's men's tennis team is having a dominant season, with a perfect score of 5-0. Mikhael Lew recently beat Waterloo's Vincent Chan, last year's OUA individual singles champ. OUA tennis championships begin October 7 at Western University, but York will play host to some games from November 11 to 13! Be sure to check it out.
Warren Craney, the men's football head coach, was recently made the defensive coordinator for Team World at USA Football's "Team USA versus the World" game in February 2012.
Melissa Humana-Paredes, a York Lions women's volleyball player, and her partner Victoria Altomare won the silver medal in the women's competition at the FIVB under-21 world beach volleyball championships.
The NHL passed a new social media policy forbidding players and coaches to use Facebook, Twitter, and similar applications during the two hours before a game and until all post-game press responsibilities are done. The aim is to stop confidential information from being leaked.
There is a rare opening on team Canada's women's hockey team. Twelve-year veteran and goalie Kim St. Pierre is taking the season off to have a baby. Top contenders for the coveted position are both from Ontario: Genevieve Lacasse (Kingston) and Christina Kessler (Mississauga).