Lewis Chaitov
Staff Writer
The York Lions women's soccer team fell victim to the Waterloo Warriors' fury, losing 1-0 after a penalty kick October 1. The Warriors, who sit last in the standings for the Western Conference, got their first taste of victory this season after keeping the Lions at bay, placing the Lions in fourth place in their OUA division.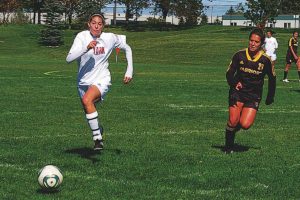 The Warriors were on top of their game, with second year goalkeeper Lesia Bandera leading the way. Lions goalkeeper Sarah Fiorini made several fantastic saves, including one that almost dribbled into the net early in the game.
However, the Warriors were still able to crack the scoreboard in the 15th minute as Lions defender Felicia Turone committed a handball in the box and gave their opponent a chance to score. Adrienne Goldsworthy stepped up to the spot and fired a low shot into the back of the net, for the unexpected lead.
Throughout the whole game, the Warriors seemed to have all the lanes closed. They shut down the Lions' two captains on the field, covering veterans Nicole Markowitz and Turone , and stopped them from moving the ball down the field and scoring.
The Warriors' game plan worked well and as the Lions kept up their attack in the second half with nine good scoring opportunities, but the Warriors continued to deny them.
The best shot the Lions had in the second half came when a kick from midfielder rookie Shannon Wood went wide on the right side of the net with two minutes and 13 seconds left in the game.
Head coach Carmine Isacco feels the team wasn't creating enough scoring opportunities.
"I think if we want to be a better team than we were today, we need to find ways to win," says Isacco. "We found a way to lose."
Turone comments on the team's progress so far.
"As a team we need to get better," she says. "It wasn't our best performance. […] We were not connecting in the final third of the field. Our short passes and long passes were off today."
The team has six games left this season, and with their next one at McMaster October 7 at 6 p.m., the team is hoping for better results.