Lewis Chaitov
Staff Reporter
September 24 was not York's most productive day on the Lions gridiron. After gaining their first win of the season last week, hope for a streak stopped at the loss to the Queen's Gaels 63-3. It seemed that the gold-and blue-clad Gaels could do nothing wrong before a thousand-strong crowd decked out in red.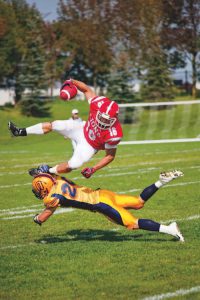 The rookie-dominated York team faced off against a well-seasoned team. The Gaels, ranked number two in the OUA in defense, improved their record to 2 and 2 on this season. The Queen's team had 12 key returning players against York's 27 rookies.
The only points York put on the scoreboard were by rookie kicker Heneri Dervishi, who booted a 12-yard field goal in the fourth quarter.
Quarterback Dimitar Sevdin, a four-year veteran of the team, got his second start this season after defeating the Waterloo Warriors last week for York's first victory this year.
The Gaels dominated the field from start to finish. They gained a total of 625 yards compared to York's 206. Both teams had almost the same overall time of possession of the ball: Queen's with a total of 31:03, York, a total of 28:57.
The Lions' top receiver of the day was William Austin who led the Lions with eight catches for a total of 60 yards and eight carries—the longest being 15 yards
Though a tough loss, it was a learning experience for the team.
"We have some things we have to work on," says Patrick Russell, a defensive end in his third year with the Lions. "We need to keep up the intensity. We are a young team but we are going in the right direction."
Head coach Warren Craney admits that the team's inexperience played a part in the final results.
"We came up against a very good football team—a championship-calibre football team—that is a lot better than their record would imply," says Craney. "And we knew that a lot of this is on us, the coaching staff. We've got to bring them back in and get them refocused. It's not over; we still have more teams marked on the schedule."
Although the buzz of their first win is fading, the Lions are looking to the future.
"It was a disappointing outcome," says Sevdin. "We seem like we're coming came out a little bit flat, but we're going to fix that."
The next game for the Lions is on the road at Western, October 1 at 1 p.m.