Lewis Chaitov
Staff Writer
This past Friday, the York Lions women's soccer team improved their season standing to one win, one loss, two draws, putting them at third place in the OUA West Division with five points. Each team was able to pressure the other equally, creating offensive opportunities, but the Badgers were the first to crack the scoreboard with a goal in the 35 minute.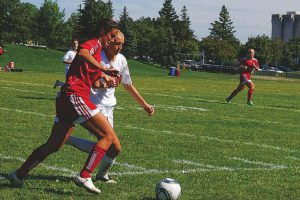 With their backs up against the wall, the Lions stood their ground with goaltender Sara Fiorini making a few key saves. Midfielder Nicole Markowitz was able to put a goal in the back of the net just before the whistle sounded, tying the game at half.
The second half was a battle of grit and resolve as each team tried to take the lead on created opportunities. The York Lions had their own set of golden opportunities—especially in the 80th minute when rookie Colleen Beesley was able to sneak in behind the Brock keeper with a wide open net, but the shot was put just wide of the posts. Similar plays unfolded with the ball fumbling and there were several near goal encounters for the Lions, but no goal was made in the end.
The Lions had a few more chances to take the lead in the game but the determined Brock Badgers were defending , resulting in a 1–1 tie.
Due to the coaching change midway through the season, the team has had to get used to different style and tactics. But it seems that things are finally starting to click.
"I think we're moving forward with our new coach," says Fiorini. She feels that the game was definitely within reach for the team. Fiorini takes responsibility for the single goal that tied up the score.
"A shot came in that I missed, and I did not cover up the rebound," she says.
The York Lions will have a few days rest and will be back in action September 17 in York stadium against the Guelph Gryphons.