Lewis Chaitov
Contributor
After soaring high on hype and 4,300 fans, the York Lions men's football team went down on their own gridiron Monday afternoon against none other than the Laurier Golden Hawks. It was a disappointing moment for the young rebuilding Lions team as they lost 46–7 after putting forth a gallant effort.
In the beginning, the Golden Hawks were able to get the upper hand after pushing the York Lions downfield, giving them the opportunity to make the pass between veteran players Shane Kelly and Dillion Heap. The Lions would only make it on the board when rookie Heneri Dervishi made a field goal from 33 yards. It seemed that with all the lack of experience, the team was unable to make good on their offense and the Hawks took advantage.
The team had many chances to change the score but many opportunities were lost. The failure was in rushing the ball, with only 144 yards on offensive plays compared to Wilfrid Laurier, which ran a total of 430 yards. At the end of the day though, York was never able to convert their three chances on third down.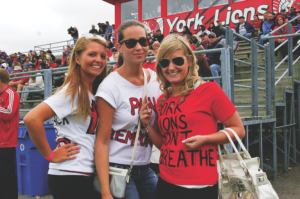 Quarterback Nick Coutu had a great first half, but unfortunately with their oppenent's offensive line pressing hard, he was unable to produce any points. He admits that the problem lied in execution.
"Today we just failed to execute it at key times," says Coutu. "We were either sailing balls or dropping balls."
"I felt that maturity came through in the fourth," says head coach Warren Craney, who is in his second year of coaching at York. "We are a young football team and it showed in the fourth quarter. We ran with one of the best teams in the OUA for three out of the four, we just came unglued in the fourth quarter"
The team may have not been able to make the performance they were hoping for, but the Lions showed raw potential with its newly revamped young team. They head into their next game against the University of Toronto at York stadium September 10 with higher expectations.