Lewis Chaitov
Contributor
It's a new season of football at York. There's optimism and enthusiasm ringing on the field from players and coaches alike for the 2011 season.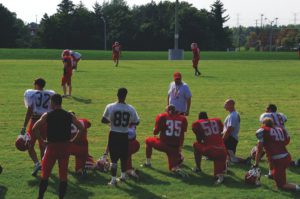 The team is already in full training mode and there is practice every day from 9:30 a.m. until the evening. The team is getting ready for one of its biggest challenges: the 2011 Ontario University Athletics (OUA) season.
"First of all I'm very excited," says Warren Craney, head coach of the York Lions men's football team. This is my first opportunity at recruiting this year, so to bring in my first recruiting class and put a stamp on it is to show its my vision for the new York Lions. This coaching staff has worked quick in bringing one of the best recruiting classes in Ontario."
Recruits for the 2011 season include names like George Daniel, running back; John Maddalena, offensive linesmen; and Max Sullivan, offensive linesmen and part of the undefeated Etobicoke Eagles who won the Ontario Federation of School Athletic Associations (OFSAA) championship in 2009.
"We have a five-year plan," says Craney, with year three and four planned to win championships.
"In order to do that we need to get this team ready and better. "To let this school see and let the community see that this is a better football team. They have been patient long enough. I need to let them see that success is on the horizon."
The other coaches and players want to see the same thing and are just as excited about the season.
Rookie player and graduate of Chaminade High School in Toronto, Alex Media is very pumped and ready to win York their first conference game in a while.
"I just want my fellow students to know that the football program is going to get better, and that this team will be known throughout Canada."
Returning starting quarterback Nick Coutu could not agree more with the optimistic outlook.
"This is my draft year," says Coutu. "This is a special year because in my opinion this is the best team I have been on in my four years."
"The coach has brought in the best recruiting class in Canada this year and the other quarterbacks are pushing me hard this year. One thing I learned new this year is you have to spend lots of time in the film room and weight room. And there is no substitute for hard work."
The first regular conference game will be played at home Labour Day Monday September 5th at 1 p.m.