Victoria Alarcon
Features & Opinions Editor
York Lions' women's soccer team is demanding answers and an explanation after their head coach, Peyvand Mossavat, was let go during pre-season training camp in August.
Update: Director of Athletics Jennifer Myers has confirmed that Peyvand Mossavat will not be returning to Sport York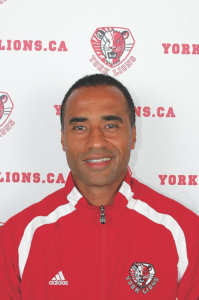 On August 18, the women were brought into a room in Stong College and notified that their coach would not be coming back for the rest of the season and would be replaced by men's soccer head coach, Carmine Isacco.
Gina Kripotos was at the meeting, and has been part of the women's soccer team for four years. She remembers being shocked and upset by the news that their head coach would not be returning.
"We were brought into a room by Sport York and were told by Jennifer Myers and Gillian McCullough that we would no longer have our coach. They told us just to move on after that," recalls Kripotos who made the decision to come back for another year just to play for Mossavat. "It's really a devastating situation."
Alicia Donaldson, another player on the team, was also surprised by the decision to let Mossavat go.
"We haven't been given any answers and that's really frustrating and that's something that we've been trying to deal with," says Donaldson. "Without answers, it's hard to go on in the season."
Since the meeting, players have sent letters complaining about Sport York's decision to vp students Rob Tiffin.
"We met with Rob Tiffin," says Kripotos. "A bunch of us have sent letters complaining, and talking about Peyvand's character and how much he has done for us. We expressed our concerns to Rob Tiffin and eventually at the end of the meeting we pointed out some valid points that there's no side of a defence on Peyvand's part, without telling him [why he was terminated]."
Mossavat is also hoping for an answer as to why he was let go from the program after only one year with the team.
"I really don't know what to say," he says. "It was sort of a shock to me [the decision] that the school made. To be honest I don't know what to say because I wasn't told why. And I'm sure — 100 per cent sure — that it was a misunderstanding of something that has happened."
"They have not said anything to me. That's why I think it might have been a misunderstanding; they must have thought I did something wrong, but I'm sure it's a misunderstanding from Jen and Gill's part and I hope we can resolve it," says Mossavat. "All I've asked is for a sit-down and an explanation and hopefully that will happen."
When asked why the decision was made by Sport York, Tiffin could not comment on why.
"I cannot provide you with much information," says Tiffin. "It was the director of sports & recreation who made the decision."
On the topic of whether the women would be given an answer for why their coach was fired, Tiffin explains that they would not be told why. "I understand their frustration, but it's a confidential personal matter and our focus is looking forward and it's a time where the team needs to come together and move on from the situation."
York media spokesperson Wallace Pidgeon also could not confirm the reason as to why Mossavat was let go and could only comment on the situation, "Mr. Mossavat was informed that the termination of his employment was on a without cause basis," says Pidgeon. "He was being provided the appropriate statutory pay move notice."
Carmine Issaco, who was appointed the role of women's soccer head coach after Mossavat was fired, confirmed that he would be taking over for the women's soccer team for the year. After a year, the situation will be evaluated before seeing if a new coach is needed. Issaco hopes that things get better for the team and that the women are able to move on.
"There are a lot of issues that they are going to have to deal with," says Issaco. "Hopefully they don't use it as an excuse and we won't use it as an excuse and we'll move on. York's soccer program means a lot to me and I'm just trying to band-aid the situation and make the best of it."
At the time of publication, director of Sport York, Jennifer Myers could not be reached for comment.
Update – September 1, 2011.
Director of Athletics Jennifer Myers has confirmed that Peyvand Mossavat will not be returning to Sport York, and that the reason will not be made public. "It is university policy not to discuss employee relations situations. We simply released Mr. Mossavat without cause and compensated him appropriately, and that is unfortunately all I can say right now," says Myers. "I'm sure that Peyvand has his own opinions and his own questions, but again, we exercise the right to terminate his contract without cause and to adequately compensate him. And we don't discuss it beyond that point, and that's the best for everyone involved."
Myers denied that a majority of the players were upset and frustrated. "That is an unfortunate assumption. I would say there are a couple of people who are upset, but we're working very hard and [the team] have resources and support."
She emphasized the team's support for Carmine Isacco, who will replace Mossavat for the rest of the season. "Carm is one of the best coaches in the country and he's the best coach in my opinion in university soccer […] the girls have a tremendous amount of respect for him. We're speaking with Carm and a number of players and on a daily and weekly basis." Myers added that a new women's soccer coach will be potentially hired at the end of the season year after an evaluation has been made.