Mike Sholars
Editor-in-Chief
It is difficult to separate the hype and controversy surrounding the first-ever Rogers Legends Cup from the reality of the four matches themselves.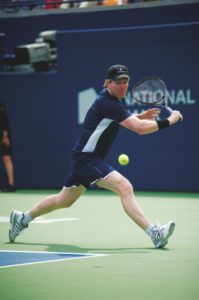 After all, the simple existence of a round-robin tournament featuring four popular male tennis champions occurring alongside the female was bound to raise eyebrows. The original tagline for the 2011 Rogers Cup posters was "Come for the women, stay for the legends", and was met with a fair deal of criticism. New posters were printed with the new slogan "Making history, re-living history", but the damage had been done. The inclusion of legends matches on the women's tournament ticket was seen by many to be a move of desperation, to sweeten an otherwise-unappealing pot.
All of this serves to distract from the fact that the women's matches were genuine WTA finals, with top athletes striving for prize money and higher positions in the world rankings. The Legends Cup (which is a misnomer; there was no trophy to speak of) consisted of brief, comedic exhibition matches between retired players with nothing left to prove. At no point did a Legends match threaten the sports credibility of the women's matches; the men served as happy time fillers in between the tense athletic prowess of Serena Williams' swift climb to the top of the tournament. In short, the Legends Cup was like watching a Harlem Globetrotters match.


On Friday evening, former rivals (they have a mutual 16-game win/loss record against each other) Michael Chang and Jim Courier played in front of a half-capacity crowd. Chang immediately set the tone of the night by screaming "I remember that!" after missing Courier's first blistering serve. The tension present in the actual tournament matches was replaced with slapstick, good-natured insults, and lots of audience participation.
All of the Legends Cup matches were composed of two sets, with a 10-point tiebreaker set on the table. Courier opened strong and took the first set 6-4, but Chang easily swept him in the next set with a stunning 6-1 lead. In the middle of the second set, a couple tried to make for the exits of the Rexall Centre. Courier called out to them, saying: "Don't leave yet, it's just getting good!" Courier won the match in the tiebreaker round 10-3, easily besting Chang with powerful serves. The pair shook hands and proceeded to hit autographed balls into the cheap seats.
The playful attitude of the previous night had vanished by Saturday morning's match between Chang and the legendarily volatile John McEnroe. After his loss against Courier, Chang joked about his strategy against McEnroe: "If I can keep him calm, I'll have a better chance." McEnroe is like the Incredible Hulk; you wouldn't like him when he's angry, and rage seems to transform him into a better player. With that in mind, Chang was light on the quips while facing the 52-year-old former champion. The majority of the laughs came from McEnroe's increasingly cartoonish reaction to his missed shots. McEnroe had superior shot control, but Chang had superior speed and won the first set 6-3.
Near the end of the second set, while Chang led 5-4, McEnroe dove left to catch a shot at the baseline and collapsed in a heap. The crowd initially thought this was a dramatic joke until Chang and a medic ran out to assist the veteran. After a few minutes of treatment and growing concern from the crowd, McEnroe withdrew from the match, and the rest of the tournament, due to injury. The crowd gave him a standing ovation as he was assisted off the hardtop, and he paused to throw his hat and shirt into the audience. Truly, the man still knows how to play a crowd.
With that leg injury and the subsequent withdrawal, the final match of the tournament between McEnroe and Andre Agassi was cancelled. Instead, the final two matches were both between career rivals Courier and Agassi. Their Saturday night match was similar in tone to Friday's, with an emphasis on comedy over tennis. Agassi proved himself as a force to be reckoned with right out of the gate; his first serve was an ace, prompting the following exchange between the two men: "Remember THAT, Jim?" said Agassi, only to have Courier respond, "It took a lot of therapy to forget."
Courier did his best to give as good as he received, but Agassi was always a step ahead with his devastating serve that regularly clocked at 200 mph or higher. After missing a particularly easy shot, Agassi gave his racquet to a ball girl and let her play in his place. She won over the crowd by successfully serving a few shots down the line to Courier, who then enlisted a ball boy of his own to face her. The crowd was in hysterics, and both men eventually got serious enough to finish the match.
The outcomes of the Saturday night and Sunday morning matches were functionally identical: Agassi won both in two sets with fair competition from Courier.
The inaugural Rogers Legends Cup was a thrilling, hilarious piece of entertainment. Yet it was just that: entertainment. Despite all concerns of the event overshadowing or diverting attention from the women's tournament, the reality of the legends matches could not compare with the levels of intensity, professionalism, and athleticism evident in the main event. It served as a welcome diversion, but it could never be confused with the real thing.
READ MORE: Serena Williams makes Rogers Cup unforgettable