Ying Mao
Contributor
Whether Margaret Atwood can be recognized on the street is unimportant. Her words are recorded in books, and those last forever. But, unfortunately for Torontonians, Atwood's voice may be a thing of the past as Rob Ford is considering getting rid of libraries altogether.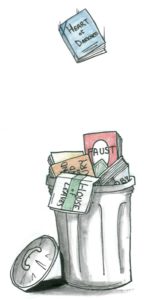 Ever since mayor Ford announced his plan to reduce Toronto's $774-million debt by cutting library funding, there has been a whole world of outrage to his decision.
In a way, Ford's attack on libraries has woken some of us up, including a few of his own supporters who have publicly denied their support of his library cutting plan.
We all sometimes forget that libraries offer so much more than just books to borrow. They constitute a service that itself embodies our democratic system of free exchange of knowledge. The free internet service, free seminars and workshops, and the safe space for people to stay — these are only some of the services that one will find a hard time accessing for free anywhere else.
Centennial Library is one of many libraries that offer programs geared toward certain age groups. The library has a Youth Advisory Group and Reading Club, attracting many youth to be a part of the community and give them the volunteer and leadership skills that they need. The library is also a space where community organizations can rent the area to host workshops for newcomers to Canada, and those struggling to find their way in Toronto.
Where will these people go when their local library closes?
Yes, Ford did state that the purpose of the "cost-cutting" plans was to reduce Toronto's debt burden. But when did closing libraries down become an option, and how is such a plan sustainable?
Three words: It is not.
Personally, I grew up with books as my best friends. Being an only child with an overactive imagination, books opened up whole new worlds for me. They taught me about dreams, love, and life. On a practical level, they improved my English grades, and helped me build a subconscious data and idea bank.
Though now I am no longer such a voracious reader, the knowledge I gained has never left me. Taking away libraries that are instrumental in providing a strong literary foundation for today's youth, will inevitably damage our human capita, and our future.
Still, the question is asked: what is the purpose of books when we have ebook readers and the Internet at our fingertips? What people don't realize is that our libraries are evolving even now. The Toronto Public Library already has an online ebook borrowing system. It offers free Internet in many of the locations open across the city.
Whether we want to admit it or not, the way each of us lives our lives is influenced by the things we read, visualize, and understand. To take away libraries is to allow our materialistic side to win, putting money ahead of the welfare of our greatest resource: our people.
You may be at York right now, reading this, and still sincerely believe that Rob Ford has made the right choice, and that is fine. But please realize that you, reader, are privileged enough to be stepping foot in the university, to be able to read, and to be able to make those choices. Realize that at some point in your life, a book may have shaped some of your thoughts and values.
Read more: What do other York students have to say about this?