It looks like construction is in full swing on the new School of Continuing Studies building. The site is located at the intersection of The Pond Road and James Gillies street, and will take up 97,000 square feet, with over 50 planned classrooms. When completed in fall 2021, it will be home base for York's Continuing Professional Education programs and the York University English Language Institute (YUELI).
"It's not only important for the young learner, but it is incredibly important for mature workers, who may need to be transforming their own skill sets in terms of the future," said President Rhonda L. Lenton at the building's virtual groundbreaking event.
"It's incredibly exciting to be putting up a building for the School of Continuing Studies, because it's often a challenge that they have where they're trying to fit their programming into the degree programming cycle. The fact that we've been able to design a building to really facilitate lifelong learning, both young and mature learning — very exciting," she added. "I can't wait to see the students pouring in."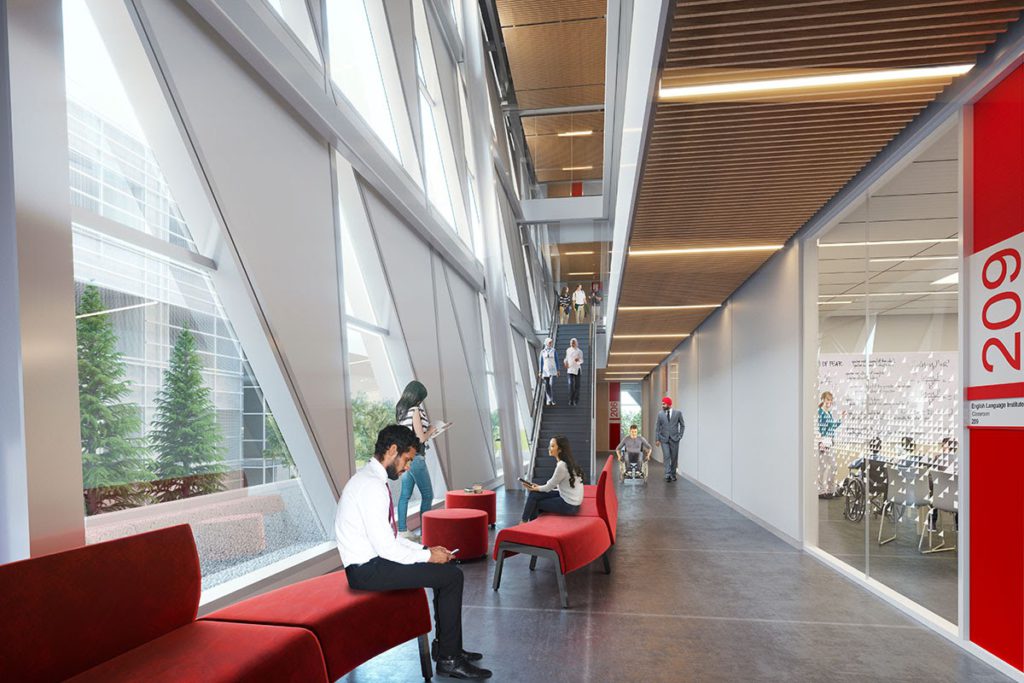 An artistic rendering of the building's second floor (Courtesy of York Media)
Currently, a towering steel frame has been constructed, and it already hints at the building's striking architectural design. The structure will have a unique "twisted" shape, where the ground floor will be rotated at a different angle from the upper floors.
"This building is bold, it's innovative, it's cutting edge — it's designed to suit who we are. Our students are bold, they're confident, and they're ambitious. It is an embodiment of who we are as a school," says Tracey Taylor-O'Reilly, assistant vice president of Continuing Studies.
At the virtual groundbreaking, architect Andrew Frontini provided further background on the building's unique design: "You have two schools that — before this project comes into being — are distributed all around the campus, some in temporary conditions, they're borrowing classrooms from the registered classes. They just needed a centre of gravity."
According to Frontini, the building's twisted design is "emblematic of returning to learn."
"This was an international design competition, and York was pretty explicit about wanting a striking architectural statement," he said.
The five-storey twisted structure will be covered in a prismatic facade, which serves a dual purpose of being eye-catching and having photovoltaic (solar) panels that help facilitate natural light. These photovoltaic panels are part of a greater effort towards net zero energy and net zero carbon building design.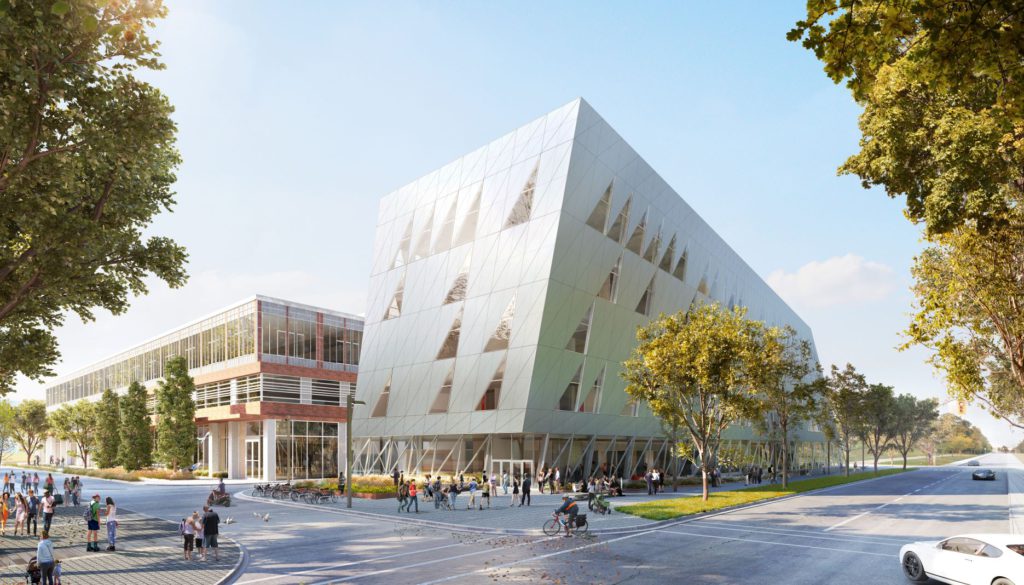 A rendering of what the building may look like once completed. (Courtesy of York Media)
By the time construction is completed, York aims to secure Leadership in Energy and Environmental Design (LEED) Gold status, as well as meet the City of Toronto's Green Standard for new buildings,
Ultimately, York hopes the new building will represent a gateway to expanded academic potential. Given that the building is located close to Finch West Station and Keele street, its unique architecture will also be a visual gateway to campus.
"It will be an iconic building on a gateway site at the Keele Campus that feels symbolic of York's founding commitment to providing high-quality education to non-traditional students," says Taylor-O'Reilly. "Our physical environment needs to be an extension of the quality of the education we're providing to our students. This building's cutting-edge twisted design will create a world-class education experience in North America."