How a former York student turned drug addict wants to use his life as a teaching tool 
Sports & Health Editor
@WayneaHudson
The things we call addictions, obsessions, or sometimes "necessities" in our way of living are really just habits. When we get accustomed to a certain routine, mindset, or fulfillment (or lack thereof), it becomes a habit. Bad habits can be replaced by better ones, says Scott Gallagher, founder of Addiction Free Youth.
Addiction Free Youth (AFY) is a non-profit organization aimed at creating a self-sustaining community that, while initially dependent upon the participants and advisors, evolves into a new lifestyle emulated by the program finisher. AFY helps people accomplish a range of different goals, from perhaps schoolwork all the way to overcoming addiction.
Gallagher has battled addictions in his life. Aside from being a former York student, he is a former crack addict who had to overcome the tribulations of his "bad habits." Over time he replaced these habits with success, sexual desires, repentance, and most recently marathon running, having completed dozens of runs in Ontario.
While the word "addiction" may be accepted in some audiences, Gallagher explains that in some circumstances, "habits" is a more effective term because it tends to resonate more with the average person. The word "addiction" may cause people to neglect  the circumstance that they are in.
"You have some people who have addictions but don't like calling it an addiction," says Gallagher. "They don't even like the word. Some people define it differently, and their behaviour is different. Sometimes it's appropriate when you're trying to help people to use the language that they want to use. And all I do is speak the language that is their language."
The ultimate objective of the program is to help people gain new habits of thought and action that will help them benefit their lives. From addicts to kids, results have been reached through the core of the program: team unity.
After working with addicts and running various health and wellness programs over the years, Gallagher has observed that the nature of these bad habits and need for his programs comes from self-invalidation.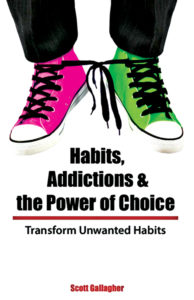 "Everyone that comes to these programs—that follows through—has this core belief, you can call it a habit, a habitual belief that there is something fundamentally wrong with them as a human being."
Addiction Free Youth opens the program to teachers to partake in and help facilitate for the kids. However, the teachers must be screened by AFY. The prime requirement, says Gallagher, is that the teachers need to have the mindset of doing it for themselves and not trying to fix them, or else the effectiveness of the program can be diminished.
AFY, and Gallagher's book, which is offered free to York students at www.addictionandchoice.com, attempts to facilitate the idea of good habits over bad ones.