As we bid farewell to the spirits of Halloween, we share some of our favourite ways to celebrate autumn. There's a sense of nostalgia in the air when the colours of the leaves start to turn. Whether it's spending time rewatching old TV shows, or taking time to revisit old Halloween traditions, everyone craves a cozy atmosphere as the temperature plummets and we inch closer to winter. Here, we reflect on some of our happiest memories and traditions of the season — a final adieu to spooky season … before the holidays are upon us and we face the ghosts of Christmas past, present, and future.
Riddhi Jani
(Editor-in-Chief)
With the fall season comes oversized sweaters, fluffy socks, and the satisfying crunch of leaves. There's a chill in the air, but it's more comfortable than cold. As far as traditions go, baking as much as possible takes the top spot. Sure, I bake throughout the year, but sitting on your porch in the middle of July and eating a slice of pumpkin spice cake just doesn't feel quite right, does it? It is also during this season that a tea made from my mom's super-secret blend of spices emerges as an antidote to rainy day blues. And so, with a slice of pumpkin spice cake, a warm cup of tea, and the nostalgic charm of an episode of Gilmore Girls or Sabrina the Teenage Witch, the mood is set. Even with it now being November and the winter holidays creeping up on us, I'll try to enjoy these last few weeks of the season until it's time to retire the pumpkin spice for peppermint.
JJ Mokrzewski
(Managing Editor)
My favourite Halloween memories revolve around carving pumpkins — sometimes botching them — and watching Halloween and/or fall films. Buffy the Vampire Slayer's "Hush" (Season 4 Episode 10) is a must-watch for every Samhain, and Knives Out is a new-ish family favourite. One of my most memorable jack-o-lanterns materialized after I tried to carve the word "lumos" into a poor pumpkin — amazing results below. Since then, I've contented myself with the classics: triangle eyes, ovalish nose, and a leering, watermelon-rind mouth. Uninspired, I know, but the pumpkins are happier for it.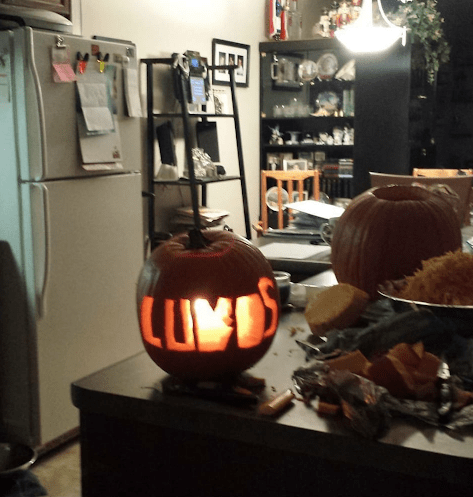 Atena Bazargan
(Copy Editor)
My favourite ways to celebrate Halloween and prepare for Samhain are to watch horror films, be in nature, and read some Gothic classics! I've particularly enjoyed reading Gothic fiction on the benches at the cemetery near my house on gloomy autumn days. This year, I read many of Shirley Jackson's novels and short stories. I'd highly recommend reading The Bird's Nest for those who are huge fans of other works of psychological horror, such as her famous The Haunting of Hill House. I also love listening to horror film soundtracks on long hikes while enjoying the solitude that nature provides this time of year. Lastly, a good horror film provides some much needed rest for the brain between long study sessions! My go-to favourite has been Luca Guadagnino's Suspiria (2018), but older films like The Innocents (1961), Possession (1981), and The Others (2001) are must-see classics too!
Harshita Choudhary
(News Editor)
I only started celebrating Halloween a few years ago, so I don't have any special traditions yet. However, I enjoy the way people celebrate the holiday. From decorating their homes to dressing up in wacky costumes, Halloween is an incredibly fun holiday and I hope to seriously celebrate it one day!
David Clarke
(Assistant News Editor)
My favourite Halloween tradition is watching a whole gamut of horror movies throughout the month. Each year I try to focus on a general genre, director, or period that I want to see more of.ome years it's cheesy 80s slashers,and other years it's the films of Val Lewton, like Ghost Ship, The Leopard Man, and Cat People. Last year I watched a bunch of late 70s to early 80s Italian horror films, especially those directed by Lucio Fulci, including Zombi 2, The Beyond, City of the Living Dead, and The New York Ripper. In Toronto, the Revue Cinema also had a Dario Argento retrospective, so I was able to catch some of those screenings. In particular, I saw a screening of Tenebrae, and Goblin's Maurizio Guarini did a live solo show before the film, covering some of Argento's best soundtracks. This year I didn't get to see as many movies as I wanted to, but I did manage to sneak in a few of the Halloween movies.
Hale Mahon
(Health Editor)
Creativity is always a theme during Halloween for me. Growing up (and still today) my family would go to the garage, lay some newspaper down on the table, and use whatever tools we could find and whatever creativity we could conjure up to design and carve our jack-o-lanterns. My dad would then take the pumpkin seeds and roast them in the oven with fall spices for a delicious midnight Halloween snack. My community also hosts a scarecrow building contest each year, and I enjoy driving around to see what my neighbours have displayed. A more recent tradition I enjoy is being one of the only people at York wearing a costume on Oct. 31. This year, as a nod to the public administration class I had that evening, I dressed up as the Minister of Health — consisting of a church minister's costume and a stethoscope around my neck.
Of course, Halloween is originally an Irish tradition so I let my Irish heritage guide me by making soda bread and having a drink of whisky or Guinness. Oíche Shamhna!
Sydney Ewert
(Arts Editor)
Trick-or-treating with my siblings and friends is my favourite Halloween memory. Growing up in rural Nova Scotia, we would be one of the few families walking down my road and up the long country driveways; it was special because it was one of the few times of the year that we connected with our neighbours and community. That is closely followed by candy-rationing and trading off the less desirable sweets — except for the Coffee Crisp bars that were delegated to my parents.
Jeanette Williams
(Photo/Video Editor)
Trick-or-treating with my sister and my dad. We would use pillow cases because it was the '90s and that's just what you did. As soon as they filled up, my dad would take us home to redress in past years' costumes, empty our pillow cases, and head back out. Being a chef, he wasn't always able to be around for holidays or celebrations, but he always booked Halloween off, and the costumes he got for us were always the absolute MOST. 
Olivia Borges
(Sports Editor)
Decorating my house for spooky season is a must! As soon as I see the leaves start changing colours, the pumpkins have to come out. I love carving cute designs on pumpkins and giving candy to the neighbourhood kids. My favourite thing to do is to set up super scary decorations around the house for Halloween. Just before Halloween, you can find me on Pinterest, pumpkin spice latte in hand, searching for a last minute costume with my friends. There are too many traditions to count; I can't pick just one. But come Nov. 1, when Mariah Carey defrosts, I sweep away the cobwebs and hang the Christmas lights.