Story by John Nyman, Mike Sholars, Flynn Daunt and Ernest Reid
The world-renowned TED talks made their way to York Nov. 6 via TEDxYorkU. The theme "Ctrl + Alt + Delete," all about change, linked seven speakers and two performers, all of them York alumni or students. The presenters educated an intimate audience of 100 with a day of presentations, panel discussions and choice videos pulled from previous TED talks. Excalibur sent a team of writers to soak up the knowledge from all seven speakers and pass on the wisdom to you.
Key Speakers
Paul Alofs
Paul Alofs attempted to redefine wisdom in our "post-Google world" so that it's now a matter of questions instead of knowledge. The former president of HMV Music Canada and current president and CEO of the Princess Margaret Hospital Foundation, Alofs knows a bit about becoming successful. He provided an example about a friend of his who wondered why cancer patients lost so much weight during treatment, leading to research that has pushed cancer treatment forward. Alofs stressed the importance of questions that keep individuals engaged and thinking.
Stephen Gaetz
Framing his personal experience with the homeless population in Toronto against the well-documented rise of homelessness throughout the city in the '90s, Stephen Gaetz spoke of an unforeseen problem he ran into while advocating for the homeless sector: a lack of hard evidence. Although many issues, such as police brutality towards homeless youth, were brought to the attention of the public, they were repeatedly shot down as singular pieces of anecdotal evidence. Gaetz explained the importance of gathering hard data on homelessness, and chronicled the resistance he still faces in his pursuit of research. Gaetz concluded by explaining the three steps to eliminating homelessness–prevention, emergency services and removal from instigating circumstances – and how the balance between the steps could be shifted to truly get results.
Yamen Khattab
Yamen Khattab was all about believing in one's self to effect change. Even though he is in the final year of his undergraduate kinesiology degree at York, Khattab found the time and motivation to establish and maintain the York chapter of Unite For Sight, a non-profit group promoting eye health in children. Inspired by his grandfather's struggle with blindness, Khattab started a club at York and took the initiative to go out and assist schools in making sure children received proper eye care. He shared his secret to inspiring change: having a timely, specific and flexible vision was key, as was a strong belief in what he was doing, followed by actually taking action and achieving his goals.
Dr. Wolfgang Stuerzlinger
Dr. Wolfgang Stuerzlinger, a researcher at York's Centre for Vision Research, studies how human perception works in 3D user interfaces. He says interacting with 3D content is not as easy as it looks in Iron Man 2 or Minority Report. True 3D display confuses our brains when we see the front and the back of the object simultaneously. He notes how astronauts need years of training to navigate all 360 degrees of movement. For us, the lowly computer mouse is still our most precise and efficient interface with only two dimensions. We don't quite know how our body might use 3D interfaces; Dr. Stuerzlinger hopes to change that.
Helen Papagiannis
Helen Papagiannis asked the TEDx audience to remember a moment when they saw something new for the first time; it's this feeling of amazement that she tries to replicate in her artistic and technological work with York's augmented reality lab. Augmented and mixed reality, which layers digital realities on top of our regular material surroundings, inspires a feeling of delight that leads to curiosity, inquiry and ultimately exploration and learning. The challenge is for the inventors of this technology to combine their marvels with compelling artistic content and inspire a truly meaningful sense of wonderment.
Poonam Puri
The financial crisis of 2007-2009 was one of the biggest game-changers in history for the way corporations work, according to Osgoode Hall professor and corporate law expert Poonam Puri. Puri's talk described a new shift in focus towards better long-term risk management, more cultural and gender diversity in executive boards and new ways of determining CEOs' pay based on more than just profits and share prices. The new rules of the corporate game are about considering the needs of all stakeholders – not just investors – in running companies, as the crisis proved everyone is connected to the economy.
Dalton Higgins
Dalton Higgins addressed a wide swath of topics from fashion to music, but united them all via his twist on the TEDxYorkU theme: "Ctrl + Alt + Repeat." Higgins explained how particular pop culture trends often tend to come back – Converse Chuck Taylors were a notable example. Higgins linked the phenomenon – which he called "black to the future" – to the hip-hop community, which thrives on remixing and reinterpreting items from the past; however, he warned against repeating mistakes made in the past, comparing Eminem to Elvis Presley for example, and ended suggesting we use these trend cycles to learn and avoid these pitfalls the second – or third – time around.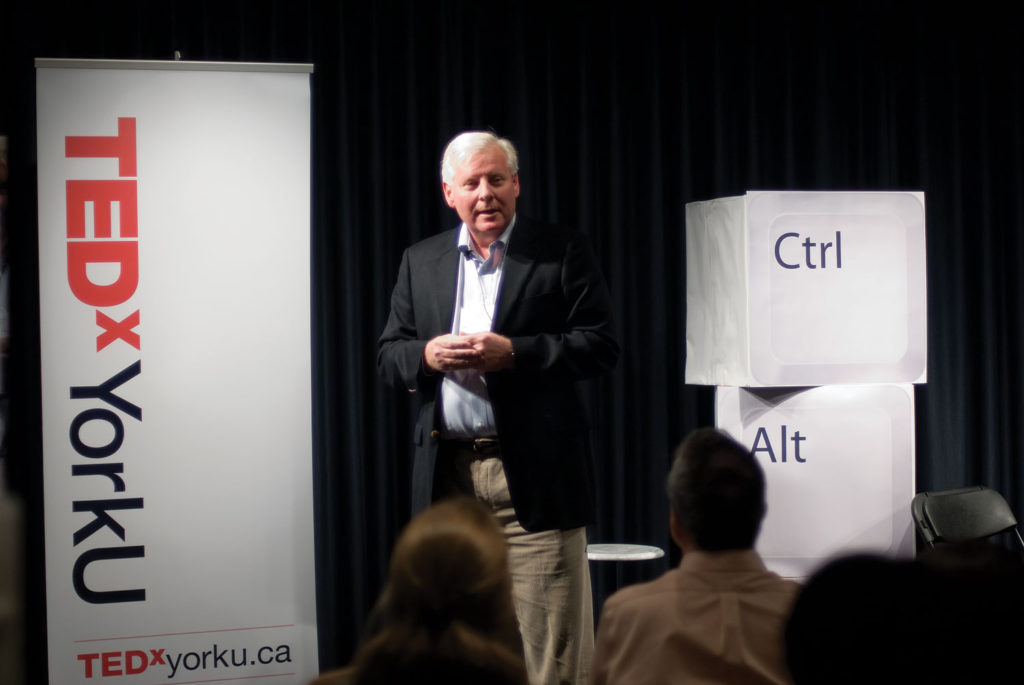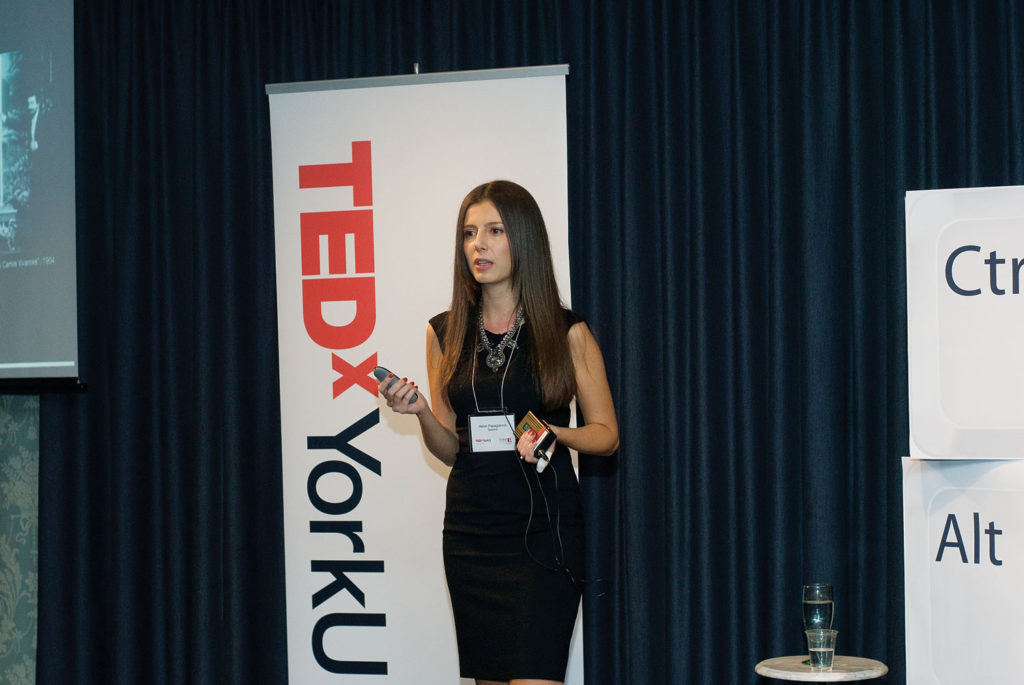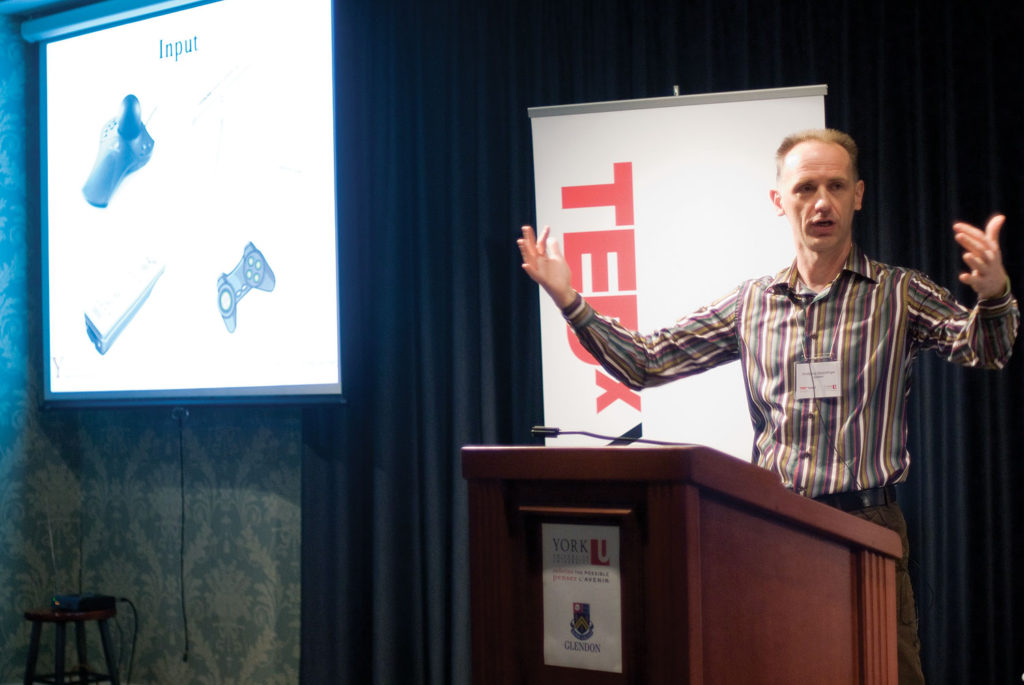 TEDx YorkU's morning and afternoon panel discussions gave each set of speakers a chance to come up with even more unique ideas right on the spot. Prompted by thoughtful questions from the audience (which was made up of students from a wide variety of disciplines themselves), the presenters from each lineup had a chance to respond to each other's diverse areas of expertise on topics reflecting the broader themes of the conference. Panel moderator and Glendon Principal Ken McRoberts challenged the morning's speakers to explore the relationship between their work and the idea of a 'reboot' of wisdom and knowledge in today's world. The afternoon panel, which was moderated by the audience, took on a more playful tone as the panellists discussed style, technology and the future.