For Black auteurs, actors, producers, and everyone else involved in the collaborative business of filmmaking, it's a tough road to travel in the best of times. Getting projects greenlit takes Herculean effort. Imagine having to factor in the unabashed racism of being told your story won't resonate with a general audience, or that it's not marketable. It's a well-known issue, and getting a Black-led/centric project approved is nothing short of miraculous. Academic institutions like York have a distinct responsibility when it comes to supporting and encouraging BIPOC student filmmakers.
"It's important to push all artists to the forefront so there's more diverse and interesting content to consume, reflect on, and discuss," says first-year film production student Jacob Meirovich. "York, and any film school for that matter, has the job of nurturing its students. The film and TV industy are still very white-centred, so one of the responsibilities York has is to highlight and ensure Black student artists have a platform on which to stand in order to have access to more opportunities to work in their chosen industry."
Many Black creators have taken matters into their own hands. No longer content to wait on approval from a system that's been known to be stacked against them, these brilliant projects are being brought to screens both big and small by the people that gave them life in the first place. Ava DuVernay's Array Now, Lena Waithe's and Rishi Rajani's Hillman Grad Productions, and Jordan Peele's Monkey Paw Productions are just a few among several emerging Hollywood heavy-hitters making space for BIPOC creators and talent to ensure their work is seen and their voices are heard by creating the table for them to sit around.
As a direct result of their efforts, there's so much to add to your "must watch" list this Black History Month, and indeed for the entirety of 2021. Here, in no particular order, are five of Excalibur's top picks.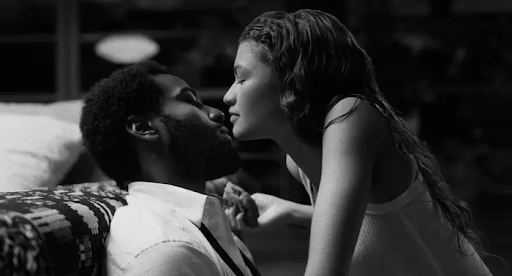 1. Malcolm & Marie (2021)
Directed by Sam Levinson 
Starring Zendaya, John David Washington 
Streaming on Netflix Feb 5, 2021 
Official Trailer – Malcolm & Marie
Malcolm & Marie holds the dubious honour of being one of the first films to be written, directed, and approved for shooting amidst the first wave of the pandemic. Shot from June 17, 2020, to July 2, 2020, by a quarantined crew and cast, Malcolm & Marie centres around an emotionally-charged night in the life of the couple. Malcolm is a director who is anxiously awaiting incoming reviews of his latest film. Marie is his girlfriend. He's anticipating incoming success from his triumphant film premiere, while she seems to be reticent. Filmed on a single set, and with just the two stars on cast, Malcolm & Marie is an intriguing and raw, yet romantic story about bruised egos, hidden truths, and buried resentments. Will their relationship survive what they've unearthed?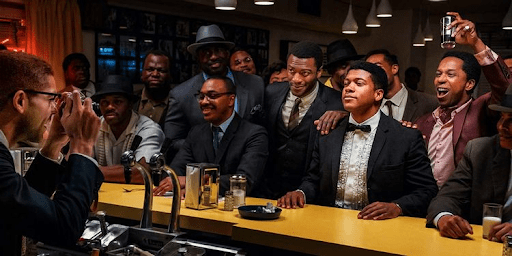 2. One Night in Miami (2020):
Directed by Regina King
Starring Kingsley Ben-Adir, Eli Goree, Aldis Hodge, Leslie Odom Jr.
Now streaming on Amazon Prime Video
Official Trailer – One Night in Miami
Based on the 2013 Kemp Powers stage play, One Night in Miami is the directorial feature film debut of Regina King (Watchmen, If Beale Street Could Talk), and was a Gala Presentation at TIFF 2020 back in September 2020. Earning critical acclaim and 98 per cent on Rotten Tomatoes, One Night in Miami tells the story of the iconic meeting that took place on February 25,1964 — when the lives of none other than the new Heavyweight Champ, Cassius Clay (not yet known as Muhammad Ali), Sam Cooke, Malcolm X, and football Hall of Famer Jim Brown converge to celebrate Clay's victory over Sonny Liston. What follows is an engrossing imagining of that real-life meeting of four larger-than-life Black legends at the height of the Civil Rights movement.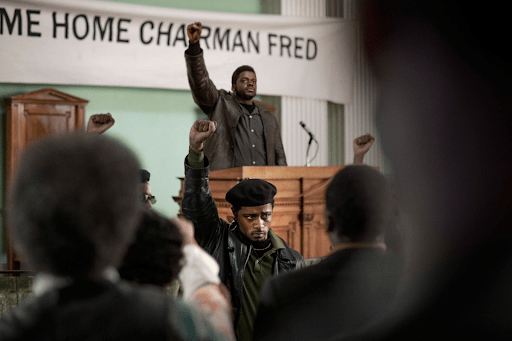 3. Judas and the Black Messiah (2021):
Directed by Shaka King
Starring Daniel Kaluuya, LaKeith Stanfield 
Rent on Premium Video On Demand Feb 12, via Warner Bros.
Trailer – Judas and the Black Messiah 
Judas and the Black Messiah is already garnering intense recognition thanks to the reportedly dynamic performances of its stars. From producer Ryan Coogler (Fruitvale Station, Creed, Black Panther) the film made its premiere at this year's (strictly digital) Sundance Festival on February 1, and will be available through Warner Bros.' digital partner platforms for rent on February 12. Co-written by director Shaka King and Will Berson, the story centres on the real-life infiltration and assassination orchestrated by the FBI and Chicago Police Department of Black Panther Party Illinois chapter Chairman, Fred Hampton (played by Daniel Kaluuya). Only 21 years old, Hampton's activism landed him on the FBI's secret hit list.
The film tells the story of how the agency coerced Hampton's comrade, William O'Neal (LaKeith Stanfield), into becoming their informant. A small-time criminal with a record, the FBI promises O'Neal a fresh start and his freedom, in exchange for Hampton's life. Judas and the Black Messiah couldn't possibly be any more timely, despite the events therein having taken place over 50 years ago. With the global call for an end to police brutality and justice for Black people who have lost their lives at the hands of systemic racism, Judas and the Black Messiah may just be the movie taking home the Best Picture Oscar this year.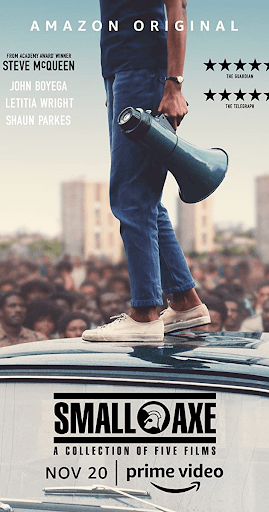 4. Small Axe (2020):
Directed by Steve McQueen
Starring Letitia Wright, John Boyega
Now streaming on Amazon Prime Video 
Official Trailer – Small Axe | Lover's Rock
Steve McQueen, the Oscar-winning director of 12 Years a Slave, has delivered a tour de force piece of filmmaking in the form of Small Axe. Described as a collection of five individual films, each one manages to be more beautiful, engrossing, and moving than the last. On their own, they are works of art, but it is when they're viewed as a whole that the true magnitude of the anthology emerges. Small Axe debuted on Amazon Prime Video on November 20, 2020, with a new film "episode" released each Friday thereafter. Each Small Axe film (Mangrove; Lovers Rock; Red, White and Blue; Alex Wheatle; and Education) tells the stories of the vibrant West Indian community in London, England.
The five films cover the 1960s to the 1980s, and the joys, sorrows, hopes, and dreams of a community creating a home for themselves in a foreign land. Standing out among the five is Lovers Rock — an immersive, dream-like experience of a film, set in the 1980s. There has been resounding critical acclaim for this innovative cinematic achievement, already boasting several Golden Globe nominations, and it's a worthy entry into the impressive McQueen filmography.
5. The United States vs. Billie Holiday (2021):
Directed by Lee Daniels
Starring Andra Day, Trevante Rhodes, Tyler James Williams
Canadian market TBD; Streaming on Hulu (U.S.) Feb 26, 2021
Trailer – The United States vs. Billie Holiday
Lee Daniels' (Precious, The Butler) latest film adapts a story from the book Chasing the Scream: The First and Last Days of the War on Drugs. It recounts the vicious efforts of the Federal Department of Narcotics to entrap and imprison Billie Holiday (played by "Rise Up" Grammy winner Andra Day, in her film debut) as a means by which to kill both her singing career and the burgeoning civil rights movement she has sparked in the Black community.
In an interview with The Hollywood Reporter, Daniels said, "I didn't know that she kicked off the Civil Rights movement. Before there was a Civil Rights movement, there was Billie Holiday and 'Strange Fruit.' The government saw that song as a threat and she was a target. That's history and they keep it from us." Andra Day's performance is already being hailed as a contender for Oscar gold, and has earned a Golden Globe nomination for Best Performance by an Actress in a Motion Picture – Drama. If the trailer is any indication, there's no doubt she'll deserve it.