Karolina Wisniewski
Staff Writer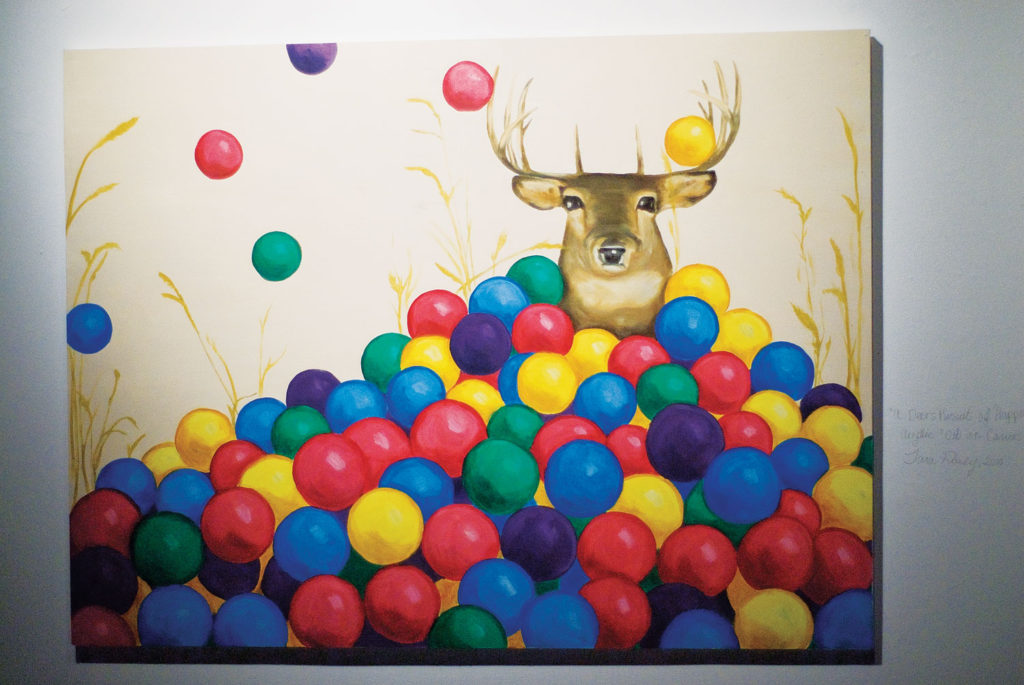 A floral patterned couch, a vase of fake carnations, Danielle Steele's latest release lying on a coffee table: this campy pseudo-installation of a stuffy living room set occupies the center of the Eleanor Winters Art Gallery.
It's a scene meant to trigger memories of home, a fun, interactive consummation of an exhibition that sets out to examine – to put it simply – the naturalness of nature.
"The Nature of Things" renders the "reality" we operate in a marvel of social construction, a tightly woven web of stigmas, assumptions and absurdities. We only recognize this in brief moments of lucidity, before once again falling into the ridiculous artificiality of our own nature.
These are the ideas swiftly and masterfully explored by Tara Dorey, Chloe Norman, Couzyn Van Heuvelen and Joshua Vettivelu in their exhibition, the aim of which is to question the relationship between nature and culture, an interaction each artist struggles with according to their own practice and individual experience. Its artworks variously examine how humans at- tempt to relate to nature and, on a more abstract level, tackle the social constructions that aim to codify our concepts of identity.
In his sculpture-cum-installation, New Hybrids, Vettivelu sets out on an exploration of the authority of social concepts. New Hybrids is comprised of several resin SUVs mounted onto the wall of the exhibition space, hovering in limbo between being mighty and seeming ludicrous.
"The SUV is symbol of conquering nature, but it's mainly used in suburbs, where there is no real need for it," said Vettivelu. "This piece explores the idea that nature is chaos and that we exist on the brink of being overtaken by this chaos; it's hard to compartmentalize it into understandable segments, but we try to anyway. We like to tell ourselves we have control over nature."
Following these themes, Vettivetu's use of synthetic material skillfully mimics nature and highlights our understanding of naturalness as a highly constructed yet simultaneously transparent idea.
Dorey's work, though perhaps more playful and light-hearted in tone, poses questions that are no less complex. Her painting, A Deer's Pursuit of Happiness, features the emotionless bust of a deer peering at viewers from a pile of brightly coloured plastic balls. The juxtaposition of a nature with a highly synthetic environment inverts the viewer's expectations, creating an image that is as fantastical as it is beautifully executed. "Instead of having our child play outside, we put them in a ball pit, which is actually a really weird thing to do," explained Dorey.
Dorey's second piece, Some Cats go to Heaven considers the obsessive relationship owners often form with their pets. The painting shows a suburban woman pictured next to her cat, both of them wearing a cross around their necks. Through this religious imagery, Dorey confronts the assumption that a human life is superior to that of an animal's by suggesting that spirituality may be attributed to pets.
Norman's work looks at the exhibition's central theme through ideas of femininity. Her photographic series G(r)aze features women in various degrees of concealment, situated in lush landscapes of foliage and greenery. She brings up notions of how women relate – or don't relate – with nature as her subjects imitate the stunned gazes of animals that realize they're being hunted.
Norman's ingenious quasi-assimilation of female and feline identity, as explored in The Woman and Her Pussy, takes a wonderfully original approach.
"I took photos of other people's cats and had the owners replicate them," Norman explained. "It explores the idea of the cat-woman and how absurd the connection is when taken literally." The result is a delightfully bizarre and ironic final product.
Norman's work tackles ideas that have been explored by feminist artists, specifically by identifying women with domesticated animals. Unlike that of most feminist artists, however, Norman's work replaces accusation and protest with incredulity and humour. Van Heuvelen's contribution to
"The Nature of Things" is a sculpture called Untitled, which is a geometric recreation of a bird skull. Executed with exactness that many professional artists would envy, his work considers the synthetic reconstruction of natural elements.
Lit from underneath and exhibited as though it were in a museum, Untitled asks what it is that makes an object "natural." Perfectly cut diamonds may be naturally produced, but they're artificially cut and modified by humans. Wherein, then, lies the essence of naturalness – is it found in form, even if that form is tempered with?
The exhibition's works, all successful in their own right, converge into a stimulating and inventive sum in "The Nature of Things."
"The Nature of Things" opened on Nov. 22 and will be on display until Dec. 6. The gallery is open Monday to Friday from 12 to 5 p.m. and is located at 129 Winters College.