There is an unacknowledged truth in the dance world: it's pretty queer. We spoke to alumni Josh Murphy, Sophie Dow, and Nina Milanovski to find out about the queer experience in the dance department here at York. Many in the industry estimate that 50 per cent of all male-identifying dancers are queer. Murphy, Bachelor of Fine Arts (BFA) alumnus, believes this unspoken truth contributed to his feelings of acceptance as a male-presenting student in York's dance program.
"I found it was honestly easier for me than probably the straight men in the program because I'm not perceived as 'preying' on the women," Murphy says, adding that out of the four male dancers in his cohort, he was the only openly queer one. 
Milanovski elaborates on the same unspoken truth, but from her perspective as a queer woman, including the fear of being seen as the "other," or being outed.
"I think queer women are still kind of silent in the dance community at large," Milanovski says. "You spend so much time yourself as a woman feeling preyed on by men. And then when you yourself are seeking women, you put yourself in a 'male' role almost, and feel like you are now that predator — I would never want to make anyone feel the way men have made me feel."
Meanwhile, Dow relates their experience as a two-spirit dancer to their research on craniosacral therapy. "There is no answer to specifically addressing collective trauma, but the first one is to start connecting your head to your heart, and come back to your body — and one of the major ways of doing that is through dance," Dow says.
"In relating that to the queer experience, a lot of people have such a deep trauma related to our history. Whether we have that or not, our ancestors have it," they add.
While all three graduates agree that York's dance program was accepting of diverse sexualities, they note that this topic was not openly fostered — rather, each artist explored it themselves.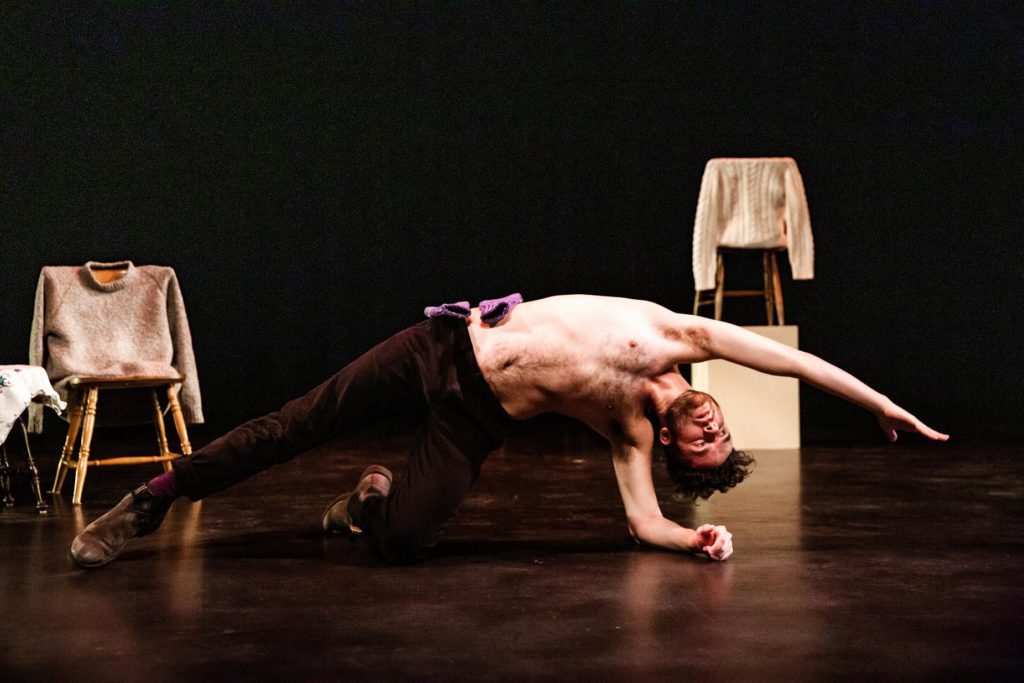 "Who Knit Ya?" choreographed by Candice Pike, featuring Josh Murphy (Photographed by Tom Cochrane)
For Dow, four of the works they started at York are now being presented professionally, including one from their fourth year. 
"I just went full-blown and decided to make a circusy-gender-mastery piece where I had three male-identifying and one female-identifying dancer, and just dressed them in full drag and had them fight over a pair of high heels for five minutes," Dow says. "So, a lot of playing with the LGBTQ+ community was for sure self-guided. There was no specific professor telling us or urging us or inviting us to do so."
In Murphy's fourth year, he created a duet of two women, influenced by one of his past relationships. For him, the piece was obviously queer, but as with all art, it was up to interpretation. When asked if he regrets not making the piece more explicitly queer, Murphy says he doesn't think he was ready to do so yet. "York gave me a lot of the skills for what I needed as a dance artist, and now that I'm a working artist, I can apply them in more explicitly queer ways," he adds.
While at York, Milanovski was still in the process of coming out to her mother, and therefore, her choreography was more focused on identity, such as her piece, Fisheye.
Another of Milanovski's pieces, called Uncoupling, which was made shortly after graduation and featured two fellow York dancers, continues to experience much success at dance festivals. Uncoupling is a queer reimagining of the traditional ballet pas-de-deux (duet) about two women breaking up.
Overall, Murphy, Dow, and Milanovski credit York with giving them a safe space to explore their sexualities, even if most of their queer work flourished post-graduation.