Five beautiful years. The first half of which spent on streets with a phone that didn't survive the cold and then hunting my way through an unknown city to get to point B. The latter half was spent in my first home watching these streets from floor 32 and seeing all these parks and alleys. I had a story here.
I arrived in Toronto from India at the age of 17 without family or friends, pretty much like any other student immigrant. At the start, the city seemed larger than life; in my first ride to downtown, I could only stare up at the buildings for a minute or two before running back to Osgoode station.
I remember whispering to the other newly-arrived student accompanying me on this adventure, "There's so much to do." 
That was my first year here — running back and forth from classes at York to downtown, and showing up to just about every event, rally, market, or festival the city had to offer. On holidays outside of Canada, I'd tell others about my experiences, sometimes just about the freedom to walk and be alone in a big city, which was unheard of to them.
The magic started to fade quickly when the winter arrived. Besides the dreariness of layering-up for the smallest of trips, it made the city unpleasant, and getting around was cumbersome. On top of that, I had gotten used to the city so much so that Toronto was now just a regular city and just as there were things I loved about this place, there were things that I didn't.
Time flew by incredibly fast, so five years and a couple of big milestones later, I found out that I would be continuing my journey as an artist on the West Coast. I found myself pondering over things I'd remember of my time in Toronto, and of the things the city taught me.
I found the most passionate people here. It's rare to see people chase their dreams, but here it felt like the norm. I met older adults in my beginner classes, saw young students become activists, witnessed essential workers start their own small businesses, and watched artists become entrepreneurs. I learnt here that it's possible to do it all.
Besides the fast pace of the city, people always took out time to stand in lines. From the East to the West End, I'd always be fascinated to see people lining up through the day in front of clothing stores, tea and sushi shops, patios, and just about any place that would let them in. I'm still unsure why that is, but long lines and small-talk became this city's specialty to me.
There's little that I've experienced that gave me more joy than discovering culinary delights in Toronto's multiple neighbourhoods. From Greektown to Little Portugal, I came across some of the most inspiring stories through the city's diasporas and witnessed how open and welcoming the little enclosed communities were across the scene.
The city's incredible diversity is no hidden fact — even on my first adventure downtown I didn't hide because I felt out of place, it just felt as if people from the whole world could possibly be here. 
However, it isn't the diversity that I'm amazed at after all these years. It is the inclusion and representation that, even with its flaws, is way ahead of anything I witnessed anywhere else. The tolerance to not just coexist but celebrate each other is one of the main things Toronto showed me.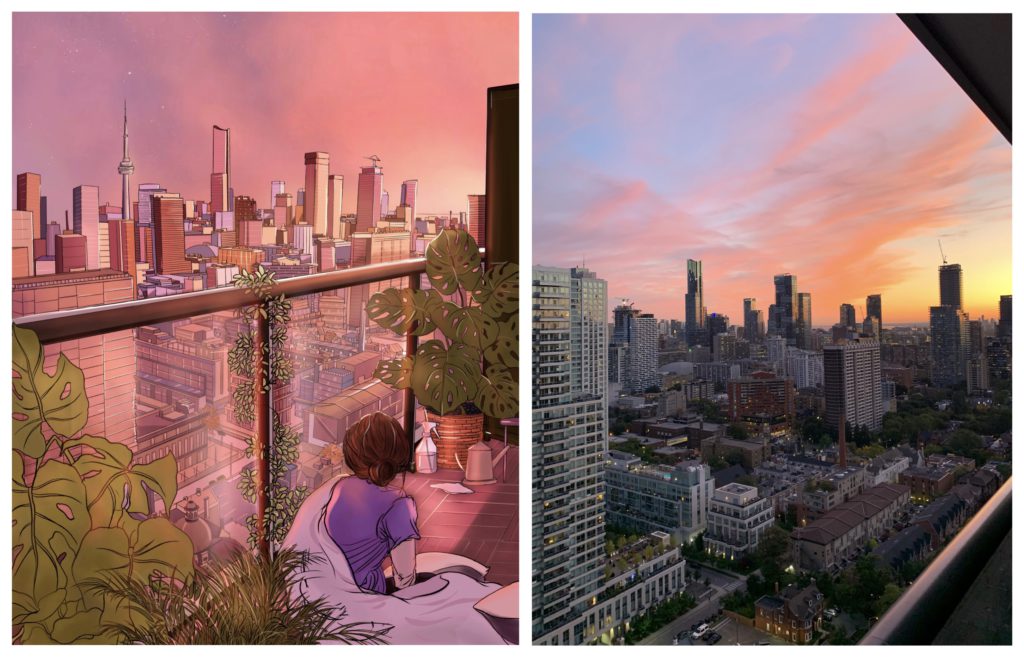 The last year or so was strictly spent in my own little space devoid of human interaction, watching the pandemic run its course through the city. Every day at 4 p.m. I'd make my way to my balcony to see people from surrounding neighbourhoods come out to cheer essential workers with claps, screams, and banging utensils, and eventually realized what gave the city its charm — the spirit of its people.
From multiple protests to the 2019 Toronto Raptors Championship Parade and now through the lockdowns, I repeatedly witnessed the unmatched spirit of people who come together for a cause — this is why I fell in love with Toronto.