On a cloudy, muddy, and rainy evening on June 23, Premier Doug Ford kicked off the first FordFest of the summer at Scarborough's Thomson Memorial Park. An audience of excited fans braved the melancholic weather to show their support for the Premier.
In return, Ford and the Ontario PCs provided free barbecue food, inflatable castles, small carnival rides, and a centre stage where Ford Nation banners hung, with large speakers blaring classic rock hits.
This festival is nothing new: FordFest is a longstanding tradition for the Ford family political dynasty. Doug Ford Sr., a businessman and former MPP for the riding of Etobicoke—Humber, started the festival over twenty-five years ago.
The large crowd in support of the Premier outnumbered the few counter-protesters. Many fans wore their Ford Nation hats, shirts, and other merchandise.
In his opening address, the Premier said: "You've all stood with us. You've always supported us and it's so humbling to see faces here tonight, who have been with us since day one… When I look into this crowd, I see every single community. I see women and men, young and old, every race, colour, and creed. All of Ontario is represented right here tonight."
Premier Ford and his team's main message was how they are working hard and "getting it done" for "the little guy." Throughout his speech, Ford described the roads, bridges, transit, and hospitals that his caucus is building – on top of supporting frontline police officers, firefighters, and paramedics.
Ford's speech was met with an enthusiastic response from fans.
Before and after the speech, Premier Ford faced crowds of fans eager for a handshake, a selfie, or a quick photo. A small security detail helped the Premier navigate the crowd.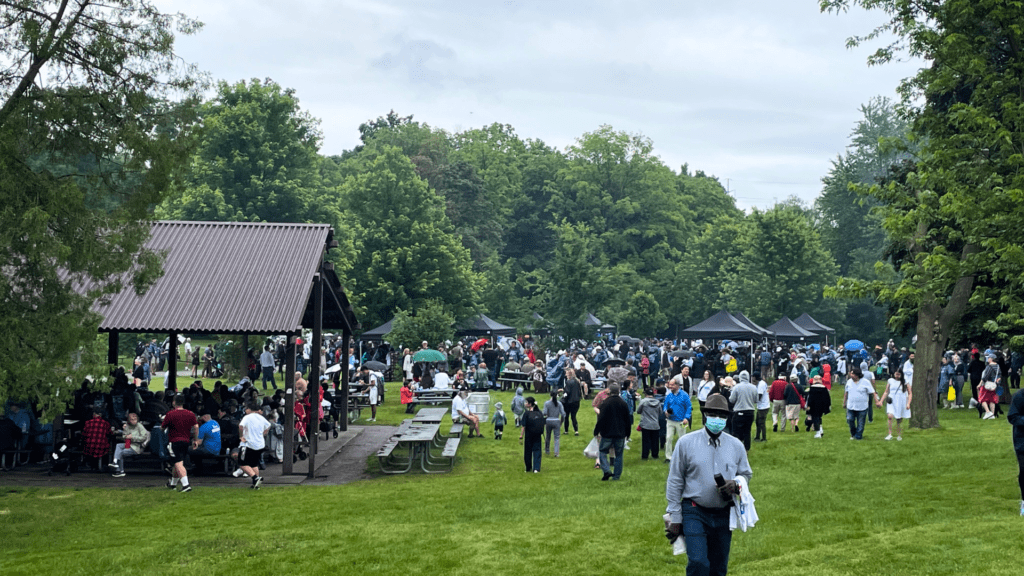 Garnet, a Fordfest attendee and a longtime supporter of the Fords, says the Premier is "doing a lot of things for the province itself, and including in housing … building up the city, trying to look out for the poor folks … and dealing with the regular workmen".
"At the end of the day, I think Doug is a great leader. One of the better leaders that we have here in the province of Ontario," adds Garnet.
Healthcare was a recurring topic. Garnet is pleased with Ford's management of Ontario's healthcare system. He thinks a private and public health system could improve hospital and surgery wait times.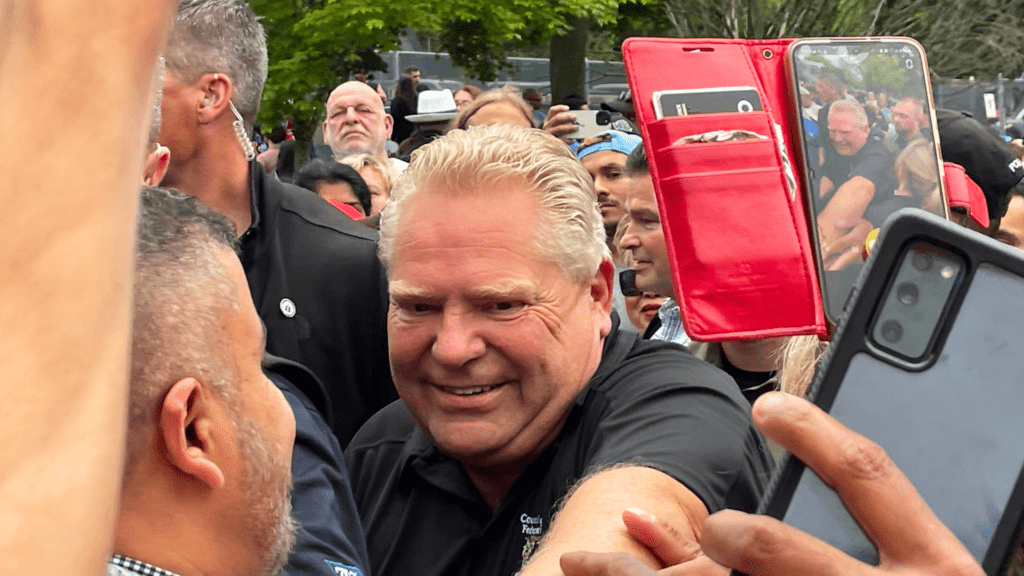 At the edge of the park, the story was different. A small group of nurses and nurse practitioners from Scarborough came with pamphlets, signs, and concerns about the current and future state of Ontario hospitals.
The group argues that the Premier is underfunding the public healthcare system, leading to more healthcare privatization.
Kingsley Kwok, a registered respiratory therapist, speaks about the need for more nurses, PSWs, and respiratory therapists; since COVID, Kingsley states that many healthcare workers left their profession, resulting in a need for more.
"He's very good at saying he's spending money to build hospitals…. Sure, there are nurses coming to work, but there are more nurses leaving their careers. So there's still a net reduction … It becomes one healthcare worker with a greater number of patients." says Kingsley.
In Kingsley's experience, the shortage of nurses, coupled with a lack of funding, is having a major impact on Ontario's public health system: healthcare workers are seeing more patients, resulting in longer hospital wait times, less emergency department hours, and heavier workloads. He and the other protesters hope the Premier puts more funding into the healthcare system to serve the province's growing needs.
Premier Ford has also teased more Ford Fests this summer. "Stay tuned folks, because we have a few more celebrations coming soon to a town near you. We're going on the FordFest tour." After this announcement, the audience, along with the MPPs and Ford's inner circle on stage, chanted "Doug, Doug, Doug" for several moments.
The question for Premier Ford and company is: will this upcoming FordFest tour increase support for his government? Or will it inadvertently become a platform for more Ontarians to voice their concerns?