Concerns have been rising over the last few weeks about Canada's COVID-19 vaccine supply, with reported delays and mixed messaging from vaccine companies. Immunization clinics in the GTA were recently forced to close due to a shortage of vaccines. However, public health and government officials are assuring Canadians that targets will still be met.
In the last two weeks, Ontario has experienced disruptions in promised vaccine deliveries from both Pfizer-BioNTech and Moderna — Canada's two principal suppliers.
Ontario's shipment of Moderna vaccines during the week of February 2 was decreased by almost 20,000 doses, while the number of Pfizer vaccines dropped to zero the week prior.
In a news conference, Premier Doug Ford expressed a high level of frustration with the vaccine company delays: "We're emptying the freezers on what we've received so far, getting needles into people's arms, and we're focusing on our most vulnerable," he said.
"It makes me very very angry, and I want to make something clear. I'm not angry at the prime minister or deputy prime minister. I'm just angry at the situation that other countries are getting the vaccine," Ford continued. "Other people are getting the vaccine; the European Union is getting them. Why not Canada? That's my question to Pfizer."
The companies have reduced their shipments to Canada over the last month, but they have stated that they will still meet their obligations of sending six million total vaccines to Canada by next month.
"Yes, the turbulence week-over-week is of concern, and we're watching it closely," said Prime Minister Justin Trudeau on Friday. "But let me reassure people we are still very much on track, as promised, to get those six million doses by the end of March, because that's what the vaccine company CEOs keep telling me."
In order to keep up with vaccine delays, some Ontario hospitals have adjusted the time between the two required doses of the Pfizer vaccine. Trillium Health Partners network expanded the interval from 21 days to 35 days, which should hopefully provide enough time for more vaccines to arrive.
The ultimate goal of six million vaccines by March is a steep one, considering that so far around 1.2 million have been delivered. In order to meet the targets, over 3.5 million vaccines will have to arrive in the month of March.
As of February 5, Canada ranks 33rd in the world in terms of vaccines administered per capita, falling behind many other countries.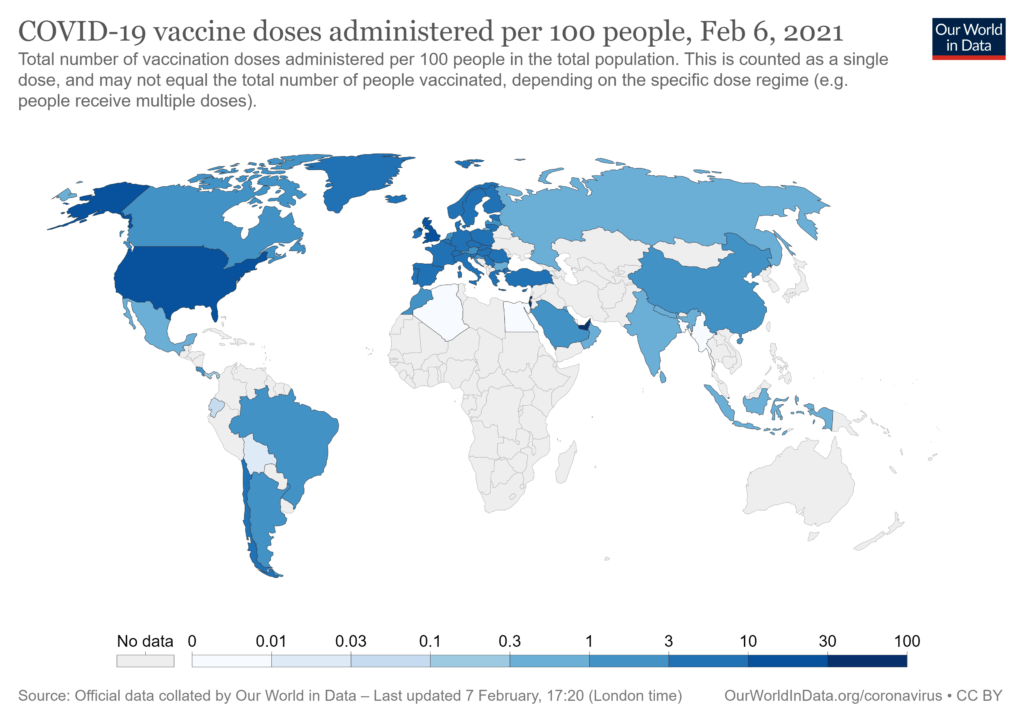 Meanwhile, Trudeau assures Canadians that not all of Canada's vaccine-related eggs are in one (or even two) baskets, stressing that there are several other candidates awaiting approval.
"We worked around the clock to negotiate one of the world's most diverse vaccine portfolios," he stated. "In addition to Pfizer and Moderna, three other companies have submitted their vaccines for review by Health Canada: AstraZeneca, Janssen, and NovaVax."
As of February 8, Canada has had 1,253,140 doses of the vaccine delivered, with 437,975 of those being delivered to Ontario.