This year's Remembrance Day Ceremony was live streamed to York's faculty and staff due to the ongoing COVID-19 pandemic. The ceremony, which was held outdoors in front of Vari Hall, urged members of the York community not to attend in person in order to follow COVID-19 health precautions.
As Toronto enters the grey lockdown phase and its surrounding regions move into the red category of COVID-19 restrictions, more extensive health measures surrounding gatherings have followed. On November 13 in the Toronto and York regions, this included a maximum of 25 people gathered outdoors for an organized public event or a social gathering at the time of the Remembrance Day Ceremony. However, as of today, new lockdown restrictions have downsized that number to a maximum of 10 people for both indoor and outdoor gatherings.
Remembrance Day commemorates the armistice of World War I, and honours Canadian soldiers and members of the Canadian Armed Forces both past and present. The live stream on November 11 was composed of live footage and pre-recorded segments of York faculty and students, as well as testimonials from many members of the Canadian Armed Forces.
"On Remembrance Day, we remember the bravery of our veterans," Harjit Sajjan, Minister of National Defense for Canada explains in a pre-recorded segment in the York University Remembrance Day Ceremony Live Stream, "and we reflect on the sacrifices they made to fight for our freedoms and defend Canada. This is also a time to think of the people who are serving in the Canadian Armed Forces today, so that our country, our values, and our way of life are well defended."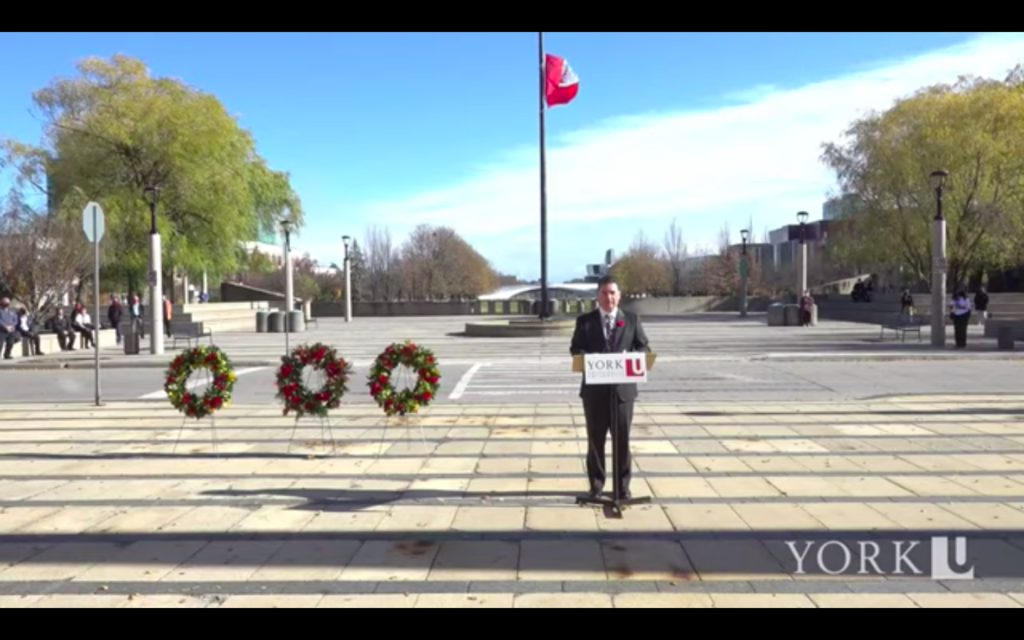 York President & Vice-Chancellor Rhonda Lenton expressed the importance of this ceremony, especially among the York community in her opening remarks.
"As we remember the bravery and commitment of those we are honouring today, I hope that we'll also consider the values upon which York was founded. Social responsibility, respect, diversity equity and inclusion, and think about how we can build upon these values to work toward a kinder, more peaceful world."
Zachery Loveridge, a third-year kinesiology student, details the importance of remembering those who have fought for our country, especially during uncertain times.
"We pride ourselves as York students on having the 'heart of a lion' athletically, and academically our motto, 'Tentanda Via,' means the way must be tried. If these soldiers are training to send themselves off to help someone in a foreign land, maybe even be killed there, to have a better life then why not honour them, if not for their actions, but out of respect for their families."
The livestream format acts as a reliable method, which adheres to health and gathering protocols for the COVID-19 pandemic, that is able to reach York members virtually. Yanni Dagonas, advisor and deputy spokesperson for York, urges students to "stay tuned" for future events and ceremonies that will help build the York community remotely.
"While most on-campus activities remain restricted, most of us are doing an immense amount of life's activities from home. We are working, learning, and socializing online. In that context, virtual events and activities are critical for maintaining York's community cohesion. There will certainly be more community wide virtual events coming in the coming weeks."