The Indigenous Council of York University released a statement on October 16, expressing solidarity with the Mi'kmaq fishers of Sipekne'katik First Nation and calling for Prime Minister Justin Trudeau to intervene. Non-Indigenous fishers in the Nova Scotia region have wreaked violent havoc on the Mi'kmaq fishers, inspiring protests and condemnation from activists and politicians across the country.
"We affirm our support for the Mi'kmaq fishers of Sipekne'katik First Nation who are facing significant levels of racist violence from Nova Scotia commercial fishermen in their attempts to make a living through lobster fishing," stated the Indigenous Council.
The council is made up of Indigenous faculty, staff, and students at York. They speak on campus issues as well as issues that relate to the wider community, such as the current conflict.
The increasing violence is part of a decades-long conflict between non-Indigenous commercial fishers and Indigenous fishers in the region, stemming from a Supreme Court decision known as the Marshall decision.
"Twenty-one years ago, the landmark Marshall decision affirmed that Mi'kmaq People had a right to achieve a "moderate livelihood" through fishing, to alleviate the impoverishment they have faced since being forced from the fishery by commercial interests for over a century," stated the Indigenous Council.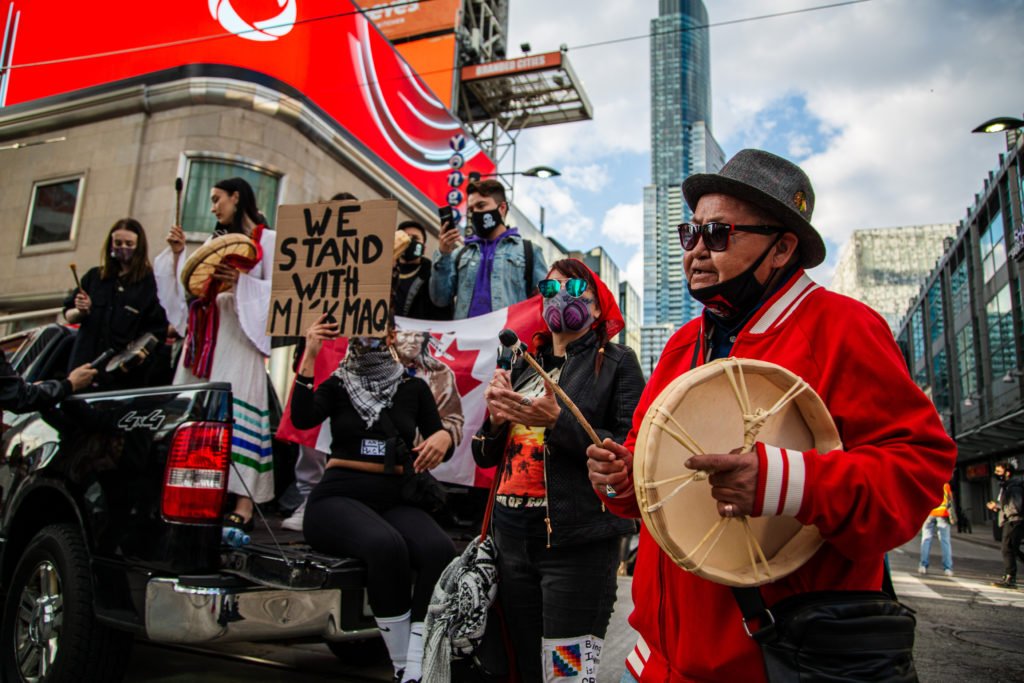 The solidarity rally was held in the heart of downtown Toronto. (Courtesy of Nick Lachance, @lachancephoto on Instagram)
Since this decision, Mi'kmaq lobster fishers have faced contention from commercial fishers in the area. Currently, the commercial fishers have objected to the fact that they have continued to fish despite the commercial lobster season being closed.
The Mi'kmaq fishers say that this is permitted under their treaty rights to earn a "moderate livelihood." Non-Indigenous fishers have responded to this by destroying traps and catch, and with the previously mentioned raids and mobs.
This behaviour has been described by the Indigenous Council as part of an extensive "campaign of violence" driven by racism.
The RCMP confirmed that on October 14, approximately 200 people surrounded a lobster pound and hurled rocks at employees attempting to leave. A small fire was also set on a vehicle at the scene. A second lobster pound was also raided on the same day. The mobs were made up of commercial fishermen and their supporters, and they targeted two facilities used by Mi'kmaq fishers to store catches.
"The RCMP have proven ineffective or unwilling to stop the violence, turning a blind eye to much of it," continued the Indigenous Council.
On October 17, a building reported to be a lobster pound used by Mi'kmaq fishers was completely destroyed by a fire that has been deemed 'suspicious'.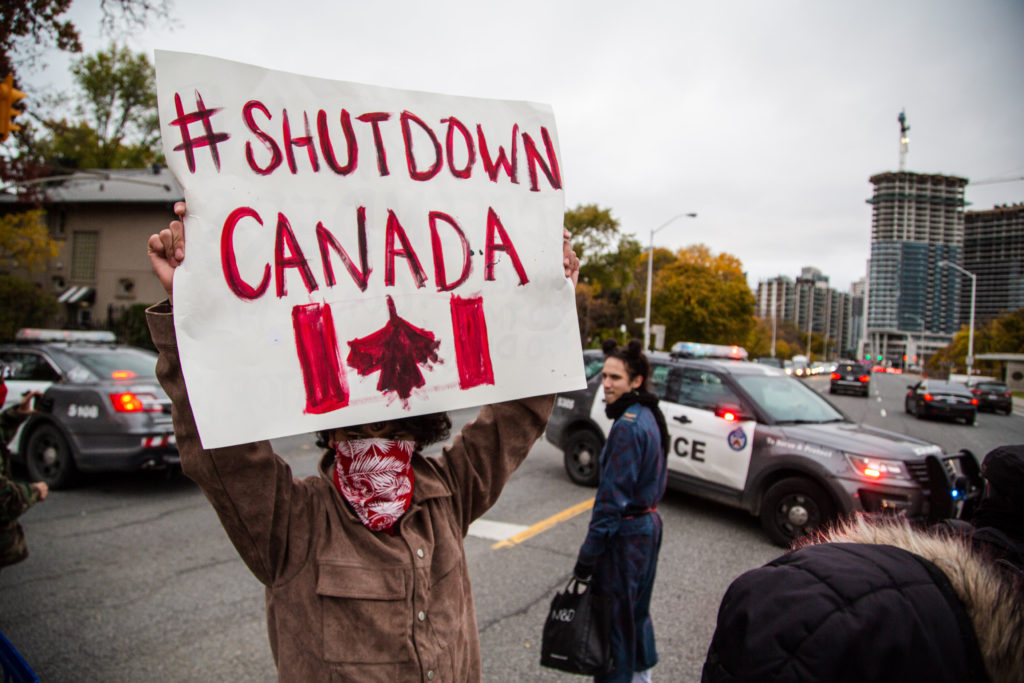 Protestors participated in a blockade at Bloor Viaduct on October 23, 2020. (Courtesy of Nick Lachance, @lachancephoto on Instagram)
"This is terrorism," tweeted Jagmeet Singh, leader of the New Democratic Party (NDP), in response to the attacks. "The Mi'kmaq people desperately need help now."
Indigenous youth activists and allies have been protesting and holding demonstrations for the past few weeks, in solidarity with the fishers facing violence. On October 23, a group of activists shut down the Yonge & Dundas intersection for almost three hours.
Further solidarity rallies took place in downtown Toronto last week, including one shutting down the Bloor Viaduct on October 30. These actions are part of a movement called "Shut Down Canada," in solidarity with Indigenous nations experiencing attacks and violence.
In Parliament, Trudeau condemned the attacks: "I want to make it absolutely clear that our government condemns any form of violence, harassment, or intimidation towards the Mi'kmaq in Nova Scotia," he said. "There is no place for racism in our country. The appalling violence against the Mi'kmaq must stop now. It is unacceptable, it is shameful, and it is criminal."
Chief Michael Sack of the Sipekne'katik First Nation says more needs to be done, and that in this situation, actions will speak louder than words.
"I'm very grateful that everybody's stepping up," he told Global News. " But you can't say sorry for something that already went down, you know what I mean? We could've lost people in that situation and 'sorry' doesn't save lives."