On October 29, York celebrated 61 years of school spirit along with Lions pride and achievements with an array of virtual events and digital opportunities made custom for 2020's progressive challenges. Despite the new restrictions on socialization, however, the reds and whites of the community managed to avoid the blues.
"Red & White Day last year looked a little different, as we would have been preparing to engage with our campus community in-person through special events, meet and greets with varsity or recreation students, and pop-up fitness classes," explains Tricia Wyles, Lions manager of marketing and communications, along with the Athletics & Recreation (A&R) team.
While previous years also saw masses of students in red and white flocking to Vari Hall or lining up at food trucks, this year Red & White Day went virtual for the first time. From bookstore sales of up to enough percentage off that you can spend those savings on Tim Hortons "I <3 YU" donuts, to Zoom-hosted talks, fitness classes, bagel-making demonstrations, and skill-building activities. York also continued its traditional #YU Spirit Photo Contest.
"Of course, like many others, I miss the experience of gathering in-person, seeing the sea of red and white across our campuses. I miss the noise of our students celebrating," says President and Vice-Chancellor Rhonda L. Lenton.
"I miss the experience of gathering in-person, seeing the sea of red and white across our campuses. I miss the noise of our students celebrating."
This year there was a huge focus on something other than York's spirit as a university, however.
One of the ways this was demonstrated included a virtual event hosted by members of York Lions' reigning OUA Champions women's soccer team, including defender and fourth-year BBA Schulich student Teni Odetoyinbo, along with midfielder and third-year children's studies student Kalifornia Mitchell.
"When I pitched it about a month ago I thought it would be interesting. I wasn't sure how we would make it interactive so that everyone could be a part of the process, but we made sure to make people feel as if they were a part of the experience," says Odetoyinbo.
The live event saw the two teammates wearing masks, sitting approximately six feet apart with a plexiglass between them as they reminisced about their varsity journeys, opponents' plays, and their time at York. This included comedic anecdotes about Mitchell's tendency to "get the ball to my face in every game" and the women's team (in its entirety) needing to borrow the men's sportswear in away games where they would forget, for example, socks. The event also saw guest appearances from Assistant Coach Tina Cook and former Lions striker Nour Ghoneim.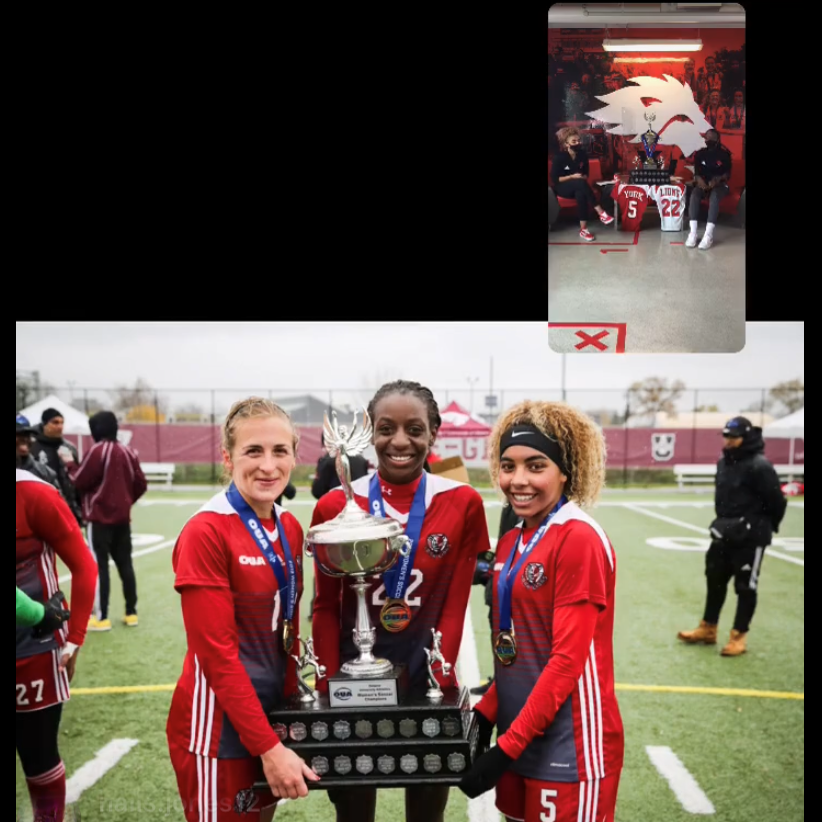 The live event saw photos of the team's varsity journeys, including their 2019 victory crowning them as OUA champions. (Courtesy of York Lions' Instagram Live / Provided by Mahdis Habibinia)
"It was a great experience! I was very nervous because I didn't know what exactly to expect," says Mitchell. "Even with the technical difficulties, we still overcame that challenge and the outcome was great!"
Lenton explains that "while our circumstances may have been a bit different this year, Red & White Day was special in many ways. We had a chance to recognize the resilience and perseverance the York community has shown throughout 2020, while facing the COVID-19 pandemic."
"This year, Red & White Day was also about taking a moment to step back from the challenges of daily life and have a little light-hearted fun," says Lenton, further emphasizing how she also took the time to enjoy and celebrate the day with alumni at the campus coffee break and learning how to make bagels at the virtual demonstration.
"I continue to be heartened and inspired by the many ways our students, faculty, staff and alumni have worked together to adapt to new circumstances and support one another," Lenton adds.
Odetoyinbo and Mitchell describe the day as an opportunity for York students to stop and acknowledge their accomplishments and the challenges they have overcome.
"When you're in your sport and school, everything is moving at a fast pace. Years go by so quickly, so it's a day to ensure that you take in and celebrate everything that you've gone through," says Odetoyinbo.
"This year was not 'lost,' it has given me more time to better myself for next year. To be a better player and individual."
Wyles and the A&R team remember 2018 as one of their most memorable and exciting Red & White Days when the Lions revealed their new logo/brand. "It was more than just creating a new mark for all Lions; it was redefining who we are and what it means to be a York Lion, to have the heart of a lion!"
For many York students, the heart of a Lion means different things. For Mitchell, it's "individuals that are welcoming and strive for the best both academically and athletically." For Odetoyinbo, it encompasses the determination to make her community a better place, be it through entertainment or leadership.
"As an athlete you try to be a good example for other students of the type of behaviour that should be expected out of everyone. It shows that you can be a multifaceted person."
Despite the disappointment of not being able to play in her final year due to COVID-19 restrictions on sporting events, Odetoyinbo's goal was always to leave the team better than when she joined.
Mitchell, who still has one last year to go, remains positive as she is still training, both individually and with some of her teammates. "This year was not 'lost,' it has given me more time to better myself for next year. To be a better player and individual."
With the conclusion of Red & White Day, Lenton shares some final thoughts on the university-wide festivities: "I want to give a warm thank you to our events team for nevertheless putting together such a positive and fun-filled day. And I want to thank all of the students, staff, faculty and alumni who came together and made this one of the most memorable Red & White Days ever."