The Toronto Transit Commission (TTC) has recently come under fire for its inadequate response to the COVID-19 pandemic, at a time when the city is grappling with hundreds of new cases per day.
On October 13, a commuter tweeted a picture of a crowded 12A Kingston Road bus, asking the TTC what they would be doing to address the lack of physical distancing.
Within half an hour, the TTC's official customer service account tweeted a response to her, stating: "As the city re-opens, social distancing will no longer be possible on our vehicles. As such, if you feel that a vehicle you are on is overcrowded, I would suggest getting off and boarding the next one. Apologies for the inconvenience."
This response, which was devoid of any solution to the issue at hand, drew the frustration of many other commuters who had experienced similar conditions on public transit.
In an interview with CP24, Mayor of Toronto John Tory responded to the controversy. "Just to say to get on the next bus is not a sensitive answer to a difficult circumstance for riders," Tory said.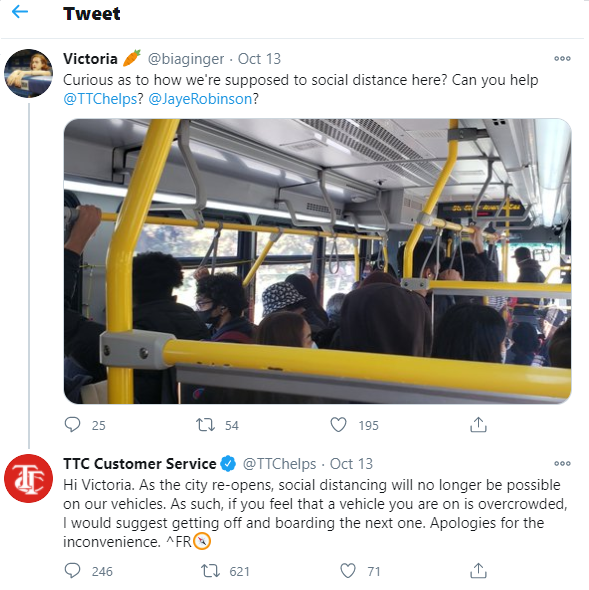 (Provided by Victoria Silman)
Shelagh Pizey-Allen, executive director of transit advocacy group TTCRiders, argues that the TTC has not been given enough funding to operate at the capacity required to ensure social distancing:
"The TTC was crowded before the pandemic and needs more vehicles. The TTC Board votes today on ordering more streetcars, buses, and subway cars but the City of Toronto is only providing one-third of the funding needed," she says.
"The TTC has been underfunded for years, and riders paid for most of the annual budget with our fares. Because fewer people have been riding transit during the pandemic, the TTC is facing a massive funding gap, around $300 million by the end of the year," Pizey-Allen adds.
Commuters make up an overwhelming majority of students at York. With the York subway station having seen more than 30,000 riders per weekday before the pandemic, the state of public transit may also potentially influence the university's decision to gradually restart in-person classes and activities next year.
While most classes are currently being held online, many students living in the GTA still use public transport to get to their workplaces as well as attend in-person components of their courses on campus.
Burak Reisyan, a third-year psychology student, uses the TTC every week to go to work. He says that using public transportation does not make him feel safe, and often cannot afford to miss work to wait for another bus.
"I'm definitely worried about all the people that I'll come in contact with on my commute."
"It depends on the time of the day that I'm commuting to work — if it's rush hour, sometimes I feel like the buses get way too crowded for me to socially distance, so I don't feel really safe," he says. "Because I have to be at work at a specific time, I can't afford to wait and risk being late, so I usually take the first bus that arrives at the bus stop."
He also voiced his concerns regarding the commute to York once in-person classes restart, as his commute requires four separate transit vehicles just to reach campus.
"I'm definitely worried about all the people that I'll come in contact with on my commute," Reisyan says.
In terms of solutions to the concerns around social distancing, Pizey-Allen believes they can only be addressed by increasing transit funding.
"It's good news that the TTC is bringing back all laid-off operators in November, but more is needed. The TTC has spare buses that it could put in service and more masks must be distributed, especially on buses. But the TTC needs more funding to do this," Pizey-Allen states. "Premier Ford and Prime Minister Trudeau must provide permanent transit operating funding without conditions."