York students living in York Region are closer to kissing the long York Region Transit (YRT) rides to campus goodbye. All three levels of government came together on September 22 at the site of York's future Markham Centre campus for a groundbreaking ceremony, commencing the project's construction.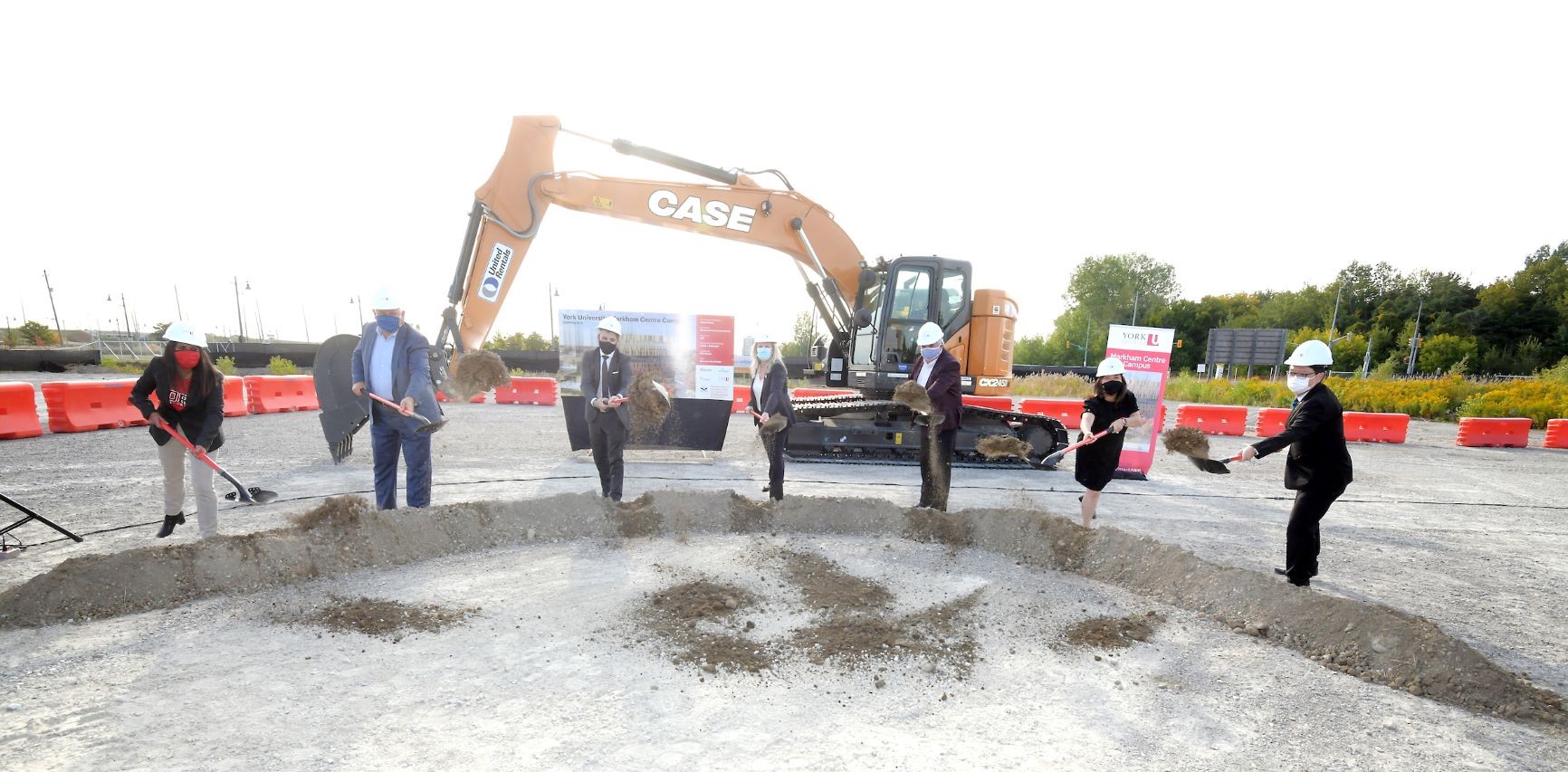 Left to right: York University student Hanaa Ameer; Markham Mayor Frank Scarpitti; Hon. Ross Romano (Minister of Colleges & Universities); York University President and Vice-Chancellor Rhonda L. Lenton; Wayne Emmerson, Chairman and CEO, Regional Municipality of York; Hon. Mary Ng, Minister of Small Business, Export Promotion & International Trade and MP (Markham Thornhill); and Billy Pang, MPP (Markham-Unionville). (Courtesy of York Media)
The $275.5-million project, which is expected to open in the fall of 2023, promises 10 stories of "highly flexible teaching and learning spaces," fully accessible landscaping, enhanced accessibility features, a multi-faith space, and an Indigenous learning circle. Additional plans include plentiful green space, bird-friendly windows, and "state-of-the-art construction" to improve York's "commitment to sustainability."
The Markham Centre campus will serve up to 4,200 students in the first phase of its opening.
York President Rhonda Lenton opened the ceremony, explaining how the new campus will expand upon already existing contributions to York Region.
"We are also leveraging the new campus to expand our contributions to the innovation ecosystem of York Region, through innovations like YSpace, an innovation hub supporting budding entrepreneurs in Markham that in the last year alone incubated 31 ventures and raised $5.8 million in funds for ventures that generated $3.1 million in revenue," Lenton said.
The Markham Centre campus itself promises to offer modern programs that combine business and technology with experiential learning opportunities in increasingly high demand areas such as business, digital technologies, entrepreneurship, new media, communications, and data analytics.
The Markham Centre campus itself promises to offer modern programs that combine business and technology with experiential learning opportunities in increasingly high demand areas.
Markham Mayor Frank Scarpitti was proud to welcome York Region's first university, and noted the building of a campus in York Region was long overdue given the size of its population.
"It used to be said that York Region was the only jurisdiction in North America with over a million people that does not have a public university," said Scarpitti. "Well, thanks to everyone involved, that can no longer be said. We are home, in fact, to the largest public university in all of York Region."
Minister of Colleges and Universities Ross Romano spoke at the event, admitting that the COVID-19 pandemic had created uncertainty and worry regarding the future of the Markham Centre campus.
"Certainly, as we entered into times that we still find ourselves in during this COVID-19 crisis, I know there were moments where many likely had some questions and concerns, and some worry as to whether we'd be able to proceed," said Romano.
Many speeches acknowledged the recent rapid growth of York Region. The region is projected to experience the fastest growth rate of the 18- to 22-year-old population in the province, increasing 34 per cent by 2041.
Students from York Region have responded positively to the opportunity for closer access to post-secondary education as a result of the construction of the Markham Centre campus.
The Markham campus has turned an "hour-long commute" to a "10-15 minute drive."
"During high school, I often heard talks about a new campus being built," said Hanaa Ameer, a fourth-year health studies student, during the groundbreaking ceremony livestream. "I would have loved for the opportunity to study here, as it meant that it would have been so close to home and I could have walked or cycled over."
Fourth-year social work student Arezo Feroz shares Ameer's sentiments about the long commute to and from the Keele campus.
"Being a student who goes to York's Keele campus, the commute from Markham is quite a travel," says Feroz. "Having the Markham campus will be more accessible for students that live closer, which will also be cost-effective for transportation."
She also noted that compared to the "hour-long bus commute" she does for the Keele campus, a drive to the Markham campus would be closer to a "10-15 minute drive."
After the speakers came together to dig the first symbolic shovels into the ground, Lenton closed the ceremony by saying: "We are not just building a campus in Markham, we are building opportunity and we are building community."