Prepare for a small music history lesson. Don't worry, I assure you that it's pretty fascinating.
The music industry has had a very bizarre way of evolving throughout human history, and once music started getting recorded and released commercially at the dawn of the 20th century, the game officially changed.
The genres we listened to slowly became more unconventional, experimental, and even controversial with the growing popularity of soul, rock and roll, and R&B in the 1950s and 1960s. For many listeners, the hippie movement was something that undeniably disrupted the established order — drug use, sexual experimentation, opposing the Vietnam war, the Civil Rights Movement — all of it was largely influenced and encouraged by the music makers of that time.
The Beatles were messing with tape, guitarists started popularizing distortion, and contemporary songs were becoming more complex. During this period, a producer by the name of Phil Spector became one of the most prolific names in the industry when he developed "The Wall of Sound".
Come the 70s and 80s, punk rock started rising in popularity, pop music was evolving, and all these subgenres of rock and pop started to manifest from heavy metal to progressive rock to synth pop to goth rock. Just when you thought music peaked with Bowie and Zeppelin, Queen's "Bohemian Rhapsody" burst on the scene — and this was only half way through the 70s.
While many of these groups were making hits, their process and approach was often littered with experimentation. David Bowie is one of the greatest examples of a mainstream artist who practically had a natural urge for defying what was conventional. Bowie's 1977 single, "Heroes", for example, has a pretty basic musical structure, however, so much is going on in the instrumentation; layers of synthesizers and guitar feedback.
All of these eclectic, unconventional, and experimental approaches went on to influence the next generation of artists, showcasing songs that were deep and atmospheric. Then came The Jesus and Mary Chain, Cocteau Twins, and My Bloody Valentine. Bands like Slowdive (who were inspired by the works of Bowie and collaborator Brian Eno), RIDE, Chapterhouse, and Lush, who with these huge sounds, yet with a stagnant and almost distant appearance, started to be referred to as "shoegaze" — otherwise known as "The Scene That Celebrates Itself."
There's no simple way to define shoegaze. It's rooted in goth, noise rock, psychedelia, ambient music and electronica. Listeners, writers, and critics might try to narrow it down to dream-pop, although that gives it a surface-level oversimplification. Common characteristics of shoegazing include chimy or whirling guitars, lo-fi production techniques, vocals drowned in reverb, pop structures, cinematic and psychedelic visuals, and atmospheric soundscapes.
Primarily based out of the U.K., shoegaze bands had very moderate success during the late 1980s and early 1990s. However, once grunge and Britpop broke into the mainstream, the shoes were less-so gazed at, but rather stepped on. Many groups broke up or had to change their sound.
Thankfully, with the amount of easily accessible information on the internet, streaming services, and a big thanks to the amount of groups who have reunited in recent years, the scene has seen something of a revival.
While the shoegaze scene was a tight-knit group, it has also transcended into more modern groups of wider ranges from Deftones, Beach House, M83, and even Tame Impala. With newer groups like DIIV and NOTHING, and reuniting acts like Slowdive, My Bloody Valentine, and RIDE, it's safe to say that shoegaze is no longer comatose.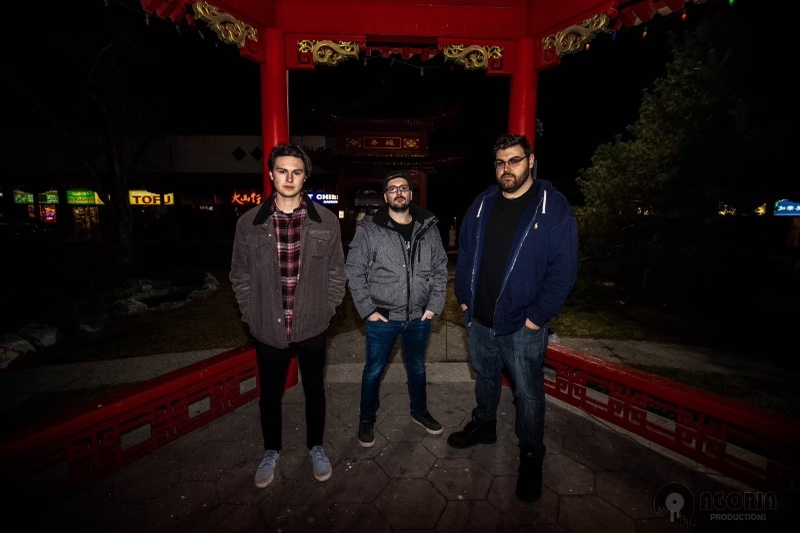 During the pandemic, I began working on a new project with songs that I had made over the years of my young adult life, but I never realized until recently that many of them were 'shoegazey' in nature. I became friends with Sean Winick, formerly of local Toronto alt-rock group Late Kings, who quietly broke up in 2020 due to the unpredictability of the pandemic after releasing their self-titled debut album. The album blends a nostalgic, but original, touch of grunge and 90s alt-rock harking back to the sounds of Silverchair, Nirvana, and Smashing Pumpkins while combining influences from modern groups like Basement and Citizen.
Photography: Adam Nightingale, courtesy of Sean Winick
Shoegaze music was something we bonded over and is something we look at through a broad lens. "For me, it's the emotional weight that the music evokes, it's almost unexplainable. The main focus is not something like the vocals— it's there as a layer. It's supposed to be drowned out and lost in this beautiful chaos of sound." Winick compared the genre's sound to "epic," orchestral music from film scores he would listen to in his early teens.
How does shoegazing affect the Canadian music scene though? Is shoegaze even a thing here and is it played on a national stage like the Junos?
Yes actually, to both. In 2018, Alvvays won a Juno for Best Alternative Album of the Year for their second album Antisocialites (2017). Fast-forward to 2020, the CBC posted on Daniel Monkman and their project Zoon, an artist combining shoegazing with traditional Indigenous music, coining the term 'mocassin-gaze'.
Zoon had put out their first album Bleached Wavves in 2020 through Paper Bag Records, which made the Short List for the Polaris Prize. Monkman has also opened for July Talk, and with their other project Ombiigizi, are preparing for their first show at Massey Hall opening for Broken Social Scene. Currently, Zoon is touring the U.S., having just played the New Colossus Festival in New York and SXSW in Texas.
They detailed how listening to 70s singer-songwriters at a young age played a big part in shaping the sound that became Zoon. "That melancholic feeling always stayed with me. When I write music, it just subconsciously comes out. At the same time, my culture was taken away from me."
Monkman then details how becoming a "born-again Indian" and learning about the "hypnotic nature" of pow wow music combined with "sad, singer-songwriter music" came naturally when they made Bleached Wavves. Shoegazing appealed to Monkman because initially, they never saw themselves as a lyricist. For them, there is solitude in distortion and their subconscious is able to express itself in a pure and vulnerable form.
James Curtis-Walsh is the course director for York's School of Social Work, and got into shoegaze after a suggestion from his piano teacher. The infamous Loveless (1991) by My Bloody Valentine was the first CD he purchased, which convinced him to check out other groups. For him, "despite the chaos on the surface, if you listen carefully it is filled with beauty and peace. I think it's reflective of the world itself." 
In regards to its influence on modern music, he particularly cites Broken Social Scene "from a Canadian standpoint," along with any alternative/indie groups post 1991.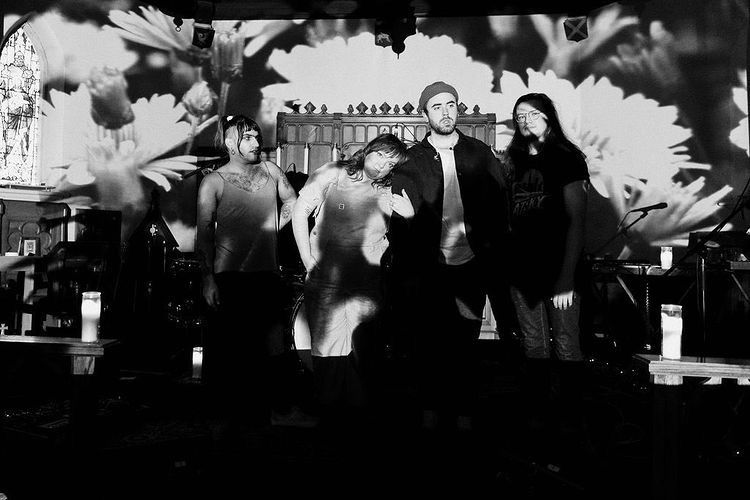 Photography: Steph Monatani, courtesy of Basement Revolver
For those who might not be familiar with it, shoegazing might be seen as unconventional, abrasive and din-like. Chrisy Hurn-Morrison of the Hamilton-based group Basement Revolver agrees that the genre was not given much of a chance, though she feels that given its history, it is not unconventional, citing bands like Low and Slowdive.
"A lot of shoegaze is very cyclical — it builds and builds. It feels nostalgic, which is weird because I didn't grow up with it. Something about it feels like magic."
Also hailing from Hamilton is Capitol's guitarist RJ Kemp, who sources listening to pop-punk growing up as something that bonded the band together. Pop-punk groups like Blink-182 were what led Kemp to The Cure. "It all started from there. The Cure is that perfect mix of dreamy guitars and that 80s, cold, post-punk feel and even straight up pop." Consequently, this led to Kemp's introduction to Slowdive.
Similar to Winick, Kemp credits the appeal to shoegaze to the sound of the guitar. "It's the most emotional a guitar can sound. There's so many layers — it can be so big, beautiful and soft. It's the most I've been able to feel."
From 70s singer-songwriters to pop-punk, these are just a few examples of what has influenced Canada's shoegaze sound. When asked if shoegazing has influenced contemporary music, Kemp profoundly agreed that it "infinitely has. Even just the term has made guitarists wonder, 'what does that mean? Gazing at my shoes — why? Because of pedalboards? Interesting, I wanna try some pedals!' Even the subtle name of the genre itself has pushed experimentation forward for guitarists."
In pieces like My Bloody Valentine's "Soon," the drum beat has the type of groove heard in a scene at the Bronze in Buffy the Vampire Slayer. The production of a piece like Slowdive's "Rutti" has such a timeless sound, it could be released today and has the potentiality to pass as an acclaimed, DIY, indie song.
Kemp also cites Joy Division as a group that paved the way for shoegaze groups, calling them the "first emotional punk band."
Both Hurn-Morrison and Kemp see Canada as a hub for a shoegaze revival. Kemp sings praises for Basement Revolver and says, "it does feel like there's a birth of a movement here. I really hope it continues and that bigger festivals and artists respect the sound."
Hurn-Morrison speaks fondly of Capitol and Zoon as well and says she'd "love to see people lift each other up. What made certain music scenes so iconic was that band's would support and promote each other. That culture that's built around that is so special, it would be a dream come true."
In today's climate, shoegaze has intertwined with dream/ambient pop, electronica, noise rock and black metal. Shoegaze has only existed for the better part of thirty years, so at this point, who knows what direction it could go from here?