Every year on the week of Florence Nightingale's birthday, Canada recognizes Nurses Week. According to the Canadian Nurses Association, the theme for 2021 is #WeAnswerTheCall as a way to "showcase the many roles that nurses play in a patient's healthcare journey."
The pandemic has brought their courage and commitment to the forefront of social discourse, while also highlighting the environments that nurses work in every day. If seeing or reading about terminally ill patients drops an anchor into your gut, imagine experiencing it — a call that nurses pick up every day, regardless of a coronavirus pandemic.
However, while nurses will always answer the call, those heroes are extremely undervalued. We know we can depend on their dedication and perseverance, but for years those traits seem to have been taken for granted.
From Registered Nurses (RNs) who are nine months pregnant, to nurses battling their post-COVID-19 symptoms and still showing up, all it takes from us is a little bit of compassion and empathy — something nurses give to us unconditionally, and it's about time we give the very same back.
I sat down with several nurses across Toronto during Nurses Week to shed some light on one of the most undervalued, yet crucial, professions.
WHAT IT TAKES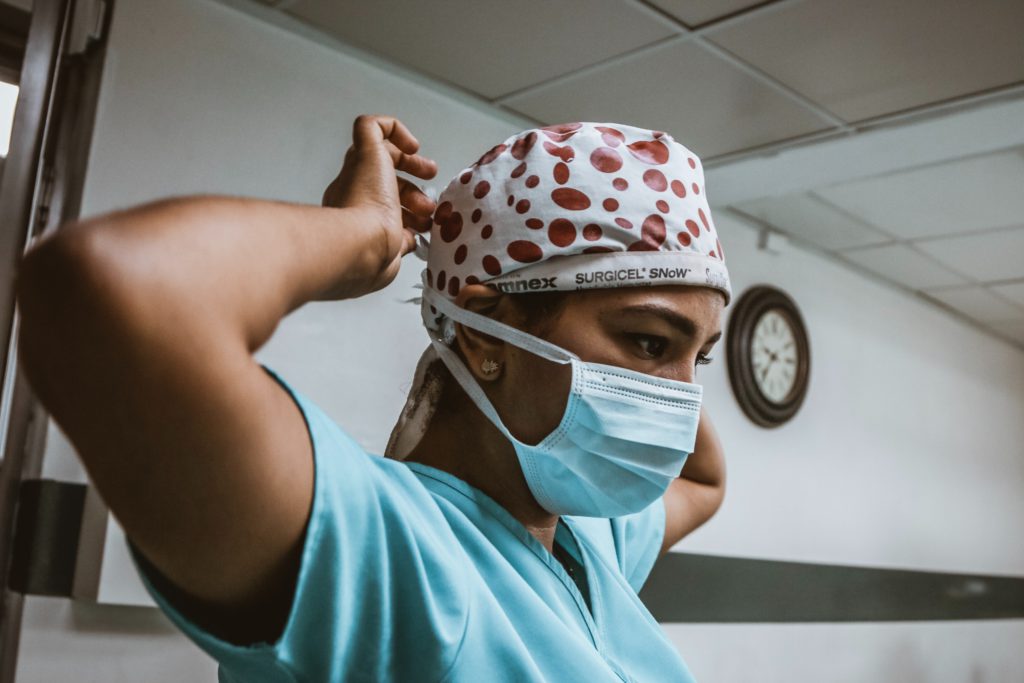 Associate professor in York's school of nursing Eva Peisachovich, RN, PhD, who also nursed through the SARS pandemic, explains that the mistreatment of nurses is multifactorial.
It could be due to history, a misconception of the healthcare hierarchy, a misconstrued perception of nursing as a "servant" profession, or the fact that the profession is female-dominated, to name a few.
But do most of us even know what it takes beyond triaging, detecting disease, providing essential treatment, dealing with assault, helping in decontamination, coordinating with other healthcare providers, administering medicine, managing multiple infections simultaneously, expanding care services, monitoring a human being's decline or progression of health, and dealing with relatives?
Antonella Paskos, RN for over 30 years, says, "It's much more than just having the knowledge and critical thinking skills. You have to be empathetic and develop a rapport so that way you can get them on the road to recovery quickly."
Even the road to recovery is so much more than just bed baths, medication administration, and checking vital signs.
Elaf Al-maktari, third-year nursing student at Ryerson, explains that nursing is "the perfect mix of scientific knowledge, skill application, and immense social/emotional care" presented holistically.
This is an understanding of the profession that is yet to be recognized by the world: nurses provide holistic care to patients and their families. Nurses are "physicians", "pharmacists", support systems, educators, innovators, therapeutic givers, and advocates for the vulnerable. There is no other healthcare profession that is defined by such broad roles.
Marie Madzunkov has been an RN for over 40 years and she explains the importance of being resourceful with what's provided and being creative because holistic care includes all things "physical, mental, and spiritual."
In fact, studies have shown that a nurse's attitude and bedside manner can have a great impact on the patient's well-being and health status.
"They will always question why a specific medication is being given to ensure it's safe, and they will push for all aspects of your health to be considered."
Ultimately, one of the most important roles that nurses play is advocacy — that is, advocating for their patients and their families, looking out for the patients that they are monitoring for 12 hours at a time, and even double-checking with doctors to ensure their orders will expedite the patient's recovery.
Sometimes this means nurses expending their time, energy, voice, and even their reputation. Nurses do and accomplish quite a lot of advocating for their patients behind the scenes.
"They will always question why a specific medication is being given to ensure it's safe, and they will push for all aspects of your health to be considered," says Al-maktari.
Rashin Nasri, an emergency department nurse and RN for 17 years, sheds light on how crucial nurses' roles are after doctors diagnose and write their orders because it is the nurses that are constantly at the patient's bedside.
If doctors write orders but nurses don't do their part properly, then it means nothing. If doctors diagnose but nurses aren't monitoring, reporting, and advocating, then it means nothing.
Nurses will accomplish all of this tired and overworked. The 12-hour shifts are not easy either considering that impacted circadian rhythms increase fatigue, and coupled with overtime and underappreciation, may effect performance.
"I feel like I'm not even able to walk," explains Nasri of 12-hour shifts. "I think nurses are sacrificing their own health to help people and do the job properly."
CHALLENGES, SACRIFICES, AND REWARDS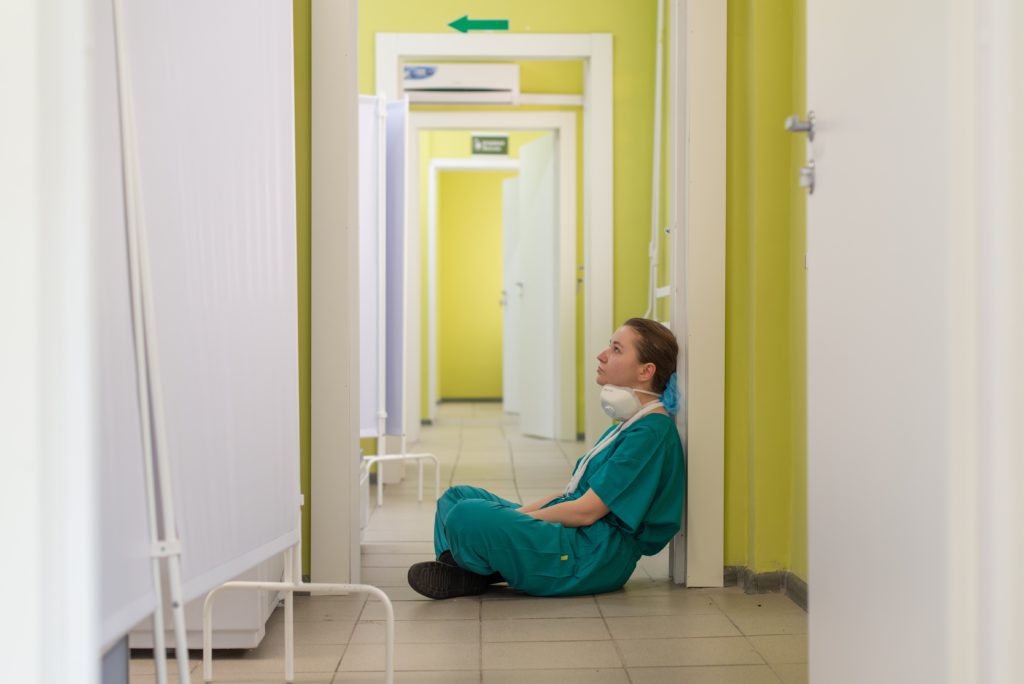 First-year PhD nursing student Josephine Mary Francis Xavier is an Internationally Educated Nurse (IEN), nursing for 21 years, and a COVID-19 survivor. Xavier says that despite fighting the physical and emotional turmoil of the virus, she is still battling the "long haul" distress — a commonly reported aftermath of COVID-19's long term effects — as a nurse.
"At this point, I find it to be the most difficult challenge, and I believe this reflects what most nurses experience. I have no words to explain the pain and discomfort I have endured," Xavier says.
Third-year nursing student at Ryerson Sana Mohammed believes the most challenging part is learning to take care of yourself. "I think you spend so much time focusing on the profession that you often lose yourself," she adds.
We see this manifested through burnout and stress — a common theme referred to as "mounting exhaustion" from overworked and undervalued RNs who recently reported wanting to quit the profession after the pandemic.
Nurses are gifted with traits, the most amazing being courage, reliability, and selflessness — however in meeting this call, nurses tend to prioritize self-care as second to their patients and the job. Xavier explains that they are likely taught this comes with the job as a pillar in what defines resiliency.
The issue with this outdated perspective is that burnout and fatigue eventually rear their ugly heads and if healthcare workers get sick, then who's left to take care of people?
Nurses place their lives at risk daily and it's also the lives of their families. The incredible part to it though is that while that is true, what makes nurses so resilient is they still go in, answer that call, and are happy to do it.
For most nurses, if not all, the consensus around the most gratifying part of the job is seeing individuals recover or advance to a pain-free state, and then watch them go home on their own two feet — the focus being that they were much better towards the end of a shift than they were in the beginning.
"When a patient looks and verbalizes feeling so much better at discharge, they thank you, and then pray they never see you again," explains Al-maktari. "It is definitely bittersweet."
"It's great when they say they're going to open up extra intensive care beds, but where are they getting the nurses for it?"
Paskos recounts a recent COVID-19 patient of hers who was also pregnant and the goal was to get her home for May 9 so she could enjoy her first Mother's Day. The patient delivered a healthy baby and was "absolutely fine" — an extraordinary feat given "it looked like she was going to die."
But with reward comes cost and you don't need to be a fly on the wall to begin understanding that pressure is the cost nurses pay to ensure patient recovery and wellness.
Some nurses have reported being seen by both the government and management as just a number that comes and goes with no degree of respect or even a pat on the back. This is disturbing given the disproportionate nurse-to-patient ratio that the pandemic has multiplied.
Associate professor in York's School of Nursing Dr. Cheryl van Daalen-Smith, RN, PhD, CCHN(C), CCNE, says that inadequate staffing "by default creates situations where we may not be able to fulsomely care for those we are called forth to support."
Nurses describe working a lot of overtime to make up for shortages from people getting sick, burnt out, calling in sick, or even leaving the profession during the pandemic.
"It's great when they say they're going to open up extra intensive care beds, but where are they getting the nurses for it? There's not enough to go around so they keep doubling up on the workload," says Paskos.
While the pandemic brought about a not-so-new enlightenment as to how important nurses are in healthcare, it also brought with it a new intensity of underappreciation added to how nurses were already being treated.
According to the Canadian Federation of Nurses Unions (CFNU), the main source of extreme stress for nurses even before the pandemic was short staffing with 83.4 per cent of the 7,358 RNs studied indicating that "regular core health staff is insufficient to meet the needs of patients."
Exposure to physical assault 11 or more times was reported by 46.4 per cent of nurses, and physical assault was also reported by 92.7 per cent to be the most frequent type of traumatic event.
"What other place can you go into and get punched, slapped, demeaned, insulted, and you just go, 'Oh well, that person is sick'," says Madzunkov.
THE PANDEMIC
At the start of the pandemic, nurses were struggling with a lack of Personal Protective Equipment (PPE) and their safety guidelines on disease prevention were constantly changing with no guarantee of significant protection.
It's important to note that nurses with decades of experience couldn't possibly have been prepared because SARS did not last this long and nurses reported adequate PPE. However, the COVID-19 pandemic is being defined as "too long," "overwhelming," and one where how to manage patients was "miscalculated."
"In SARS, we had isolated units," explains Madzunkov, "And now they are putting COVID-19 patients all over risking patients' lives and other patients, too. They say that we as nurses, there's nothing we can do, it's just the way that it's been decided. By who? I don't know. Obviously somebody who doesn't know what they're doing."
According to a study commissioned by the CFNU, high rates of COVID-19 infections among Canadian healthcare workers is a sign that we did not learn from SARS. Ultimately, the healthcare system and governments have failed our heroes.
"As leaders, nurses need to be empowered and provided with opportunities to contribute to decision making processes and to drive meaningful change from health promotion to disease prevention," emphasizes Peisachovich.
Part of the many challenges in disease prevention that this past year forced onto nurses hasn't just been keeping patients safe, but also nurses keeping themselves and coworkers safe, and coming home to loved ones who they must also keep safe. They're doing all of that, the prolonged donning and disrobing of PPE, and still delivering the best care that they can with the limited resources provided.
Donna Robichaud has been an RN for 34 years, a clinical instructor at George Brown for 14 years, and she also nursed through SARS. Robichaud says that her stress and anxiety levels were very high at the beginning because of her own health issues.
"But I thought to myself, 'I cannot be anxious because that is when you make mistakes.' So I had to reflect and pat myself down, enter this and do what I need to do."
"I go through this little ritual at home where I take off my coat and shoes in the garage, undress in the laundry room, go up and take a shower quickly before I even interact with anybody," Paskos shares.
Remaining in PPE the whole day while wearing a mask for 12 hours also means breathing in your own carbon dioxide which adds to the fatigue — but nurses understand that they must be worn regardless.
Scott Eden, RN for 23 years and currently an emergency department nurse, is referred to as the "Mask Cop" by his coworkers for calling people out on not wearing their masks properly — halfway over their mouth with an uncovered nose. He cites paranoia and stress in not knowing whether someone is a carrier.
"Meanwhile I'm fully protecting you," Eden explains of constantly wearing his own mask, "and I feel like there's a lot of people who get frustrated if you ask them to put theirs on properly."
Despite the inconvenience, nurses understand that it's about protecting themselves and others from spreading the virus.
"I think without us this pandemic would be much worse … Without us there would be no success, and I would even say that a lot of people would have died."
As well, at the beginning of the COVID-19 pandemic, individuals avoided the emergency room if it was indeed not an emergency to further prevent the spread. However, this is not the case anymore even during the third wave with new variants.
Citing closures of family doctors offices, Nasri says individuals are "just coming to the hospital for everything now, even pregnancy tests."
Evidently, the issue with this is then the ER becomes a playground for the virus to spread more into communities. People who don't have neither symptoms nor an emergency go in, potentially contract the virus, then go home and spread it.
For those who just can't seem to take the aforementioned seriously, nor the pandemic, and must feed into their selfish needs to socialize, consider how often patients die with healthcare workers only being allowed to provide a mere FaceTime call in their final moments. Families have not been able to be with each other when one is passing and this has been a common occurrence.
Third-year nursing student at Ryerson Maha Noor recounts an experience watching a nurse who was forced to deny a dying husband's weeping wife the familial support she needed because COVID-19 had placed a limit on visitors. In the patient's final moments, the nurse bridged that gap with a call to her family and stayed by the couple's side as the husband passed away.
"I remember seeing how upset the nurse was in the whole situation, and how she would have loved to be able to say yes," explains Noor. "I remember seeing that nurse provide the utmost care and support for that man's wife, while juggling five other patients."
And while some people can't say thank you, or even when a patient is upset or angry, nurses will always be more worried about the effect of their care bringing about better health.
So you'd think with the risks of the job involved that nurses are supported and compensated accordingly. Well, think again.
According to van Daalen-Smith, nursing leaders and organizations have been advocating for more support including: paid sick leave, bringing public health immunizations to populations, adequate and evidence-informed staffing of residential homes for seniors, evaluating the default of placing seniors in communal housing versus keeping them safe and cared for in the community, to name a few.
These days, one of nursing's biggest battles, which seems to be idle in quicksand, is an increased pay rate. Back in June 2020, the Ford government granted Ontario nurses a pay increase of a mere one per cent under Bill 124 — which the Ontario Nurses Association called "insulting and demeaning," and the nurses' union exclaiming a glaring "gender issue."
"That one per cent increase was a slap in the face," says Nasri. "We don't need you to tell us that we are heroes, you don't treat us like heroes."
The backlash was heightened by the fact that this limited-by-law wage increase doesn't apply to other essential service workers.
"I think without us this pandemic would be much worse," says Jalil Jack Bahlis, RN for over 20 years and currently working at CCUs and ICUs. "We made a change in people's lives during this pandemic, a great change. Without us there would be no success, and I would even say that a lot of people would have died."
DURING NURSES WEEK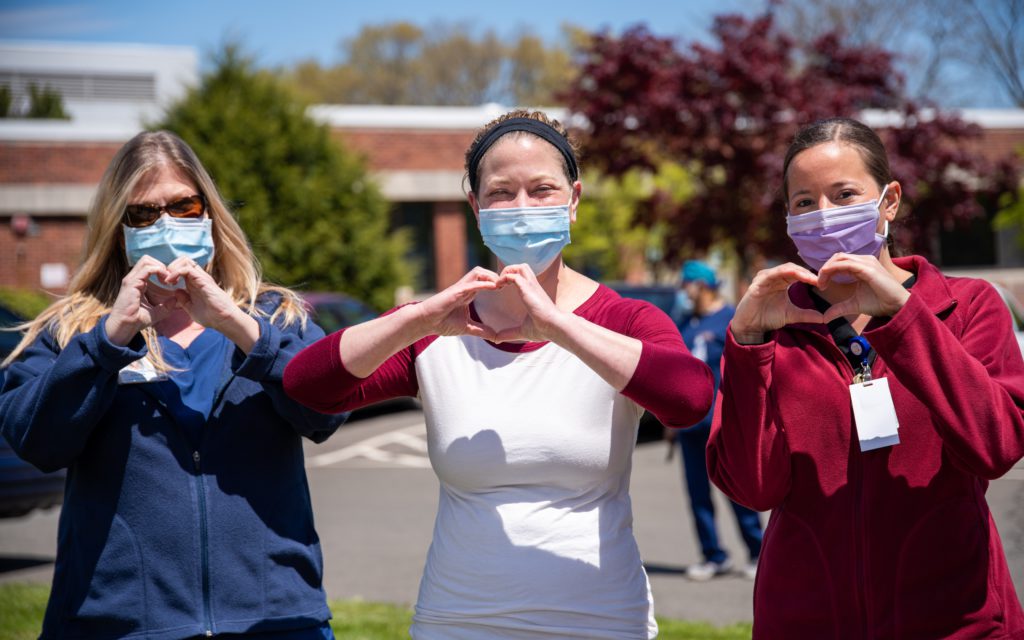 Nurses Week was always meant to shine the spotlight on healthcare workers and the work that they do. Without nurses, there is no real healthcare. The pandemic should be an emphasis for finally realizing that and instigating change. Nurses Week 2021 should be the platform for us to reflect and discuss that change.
Prior to COVID-19, the Canadian Institute for Health Information reported that the number of regulated nurses in Canada increased by 1.9 per cent between 2018 and 2019, to a total of 439,975.
Now, the attrition rate for young adults and new graduates in the profession is four times the normal rate and about three quarters of Ontario's practical RNs are considering leaving the profession after the pandemic.
"With the gravity of the situation, we see that nurses are not expendable…"
"What has become clear is that in the International Year of the Nurse, nursing emerged front and centre in the fight against COVID-19," says van Daalen-Smith. "With the gravity of the situation, we see that nurses are not expendable and that our capacity to safely care for our patients has required us to speak up and speak out."
However, reduced attrition rates prior to COVID-19 is no indication that the pandemic is an isolated situation where nurses feel unseen and unheard. The CFNU study found "disturbing" rates of mental health challenges among Canadian nurses, including 36.4 per cent of the 7,358 nurses studied screening positive for depression.
This wake-up call for nurses to be respected should allow us to see the need for their involvement on a leadership level, including prioritizing their voices in policy decisions, organizational and governmental decisions.
"This experience will likely increase public awareness and draw attention to the vital role nurses play on a local, provincial, national, and global context and propel governments and policy makers in investing more in our nurses, their well-being, and their professional development," explains Peisachovich.
Nurses Week is also a chance for us to show appreciation towards the stable dedication invested into battling this pandemic as well as the endurance to push through yet another year. Showing this appreciation comes in many forms for the average person: consistent awareness and recognition, consistent acts of kindness, or a simple thank you.
This past week and in the weeks to come is also a chance to really evaluate our morality and the frequency of our appreciation. University of Toronto researchers found that the sudden media focus on nurses hailed as heroes was concerning because many of the nurses surveyed wondered if anyone was going to recognize and value them once the pandemic was over. This was especially the case for those who were already working with infectious diseases and so much of their work remained unchanged in 2020.
Speaking with several RNs over the past week, it wasn't uncommon to nonchalantly hear that challenges, sacrifice, stress, and pressure weren't anything new to them.
And finally, considering the thousands of nurses' lives lost worldwide due to COVID-19, during Nurses Week 2021 Mohammed says, "We will remember those nurses we have lost, but we will also admire their strength" further adding that they have created "the inspiration for future nurses like me to continue pursuing this profession."
THEY WANT US TO KNOW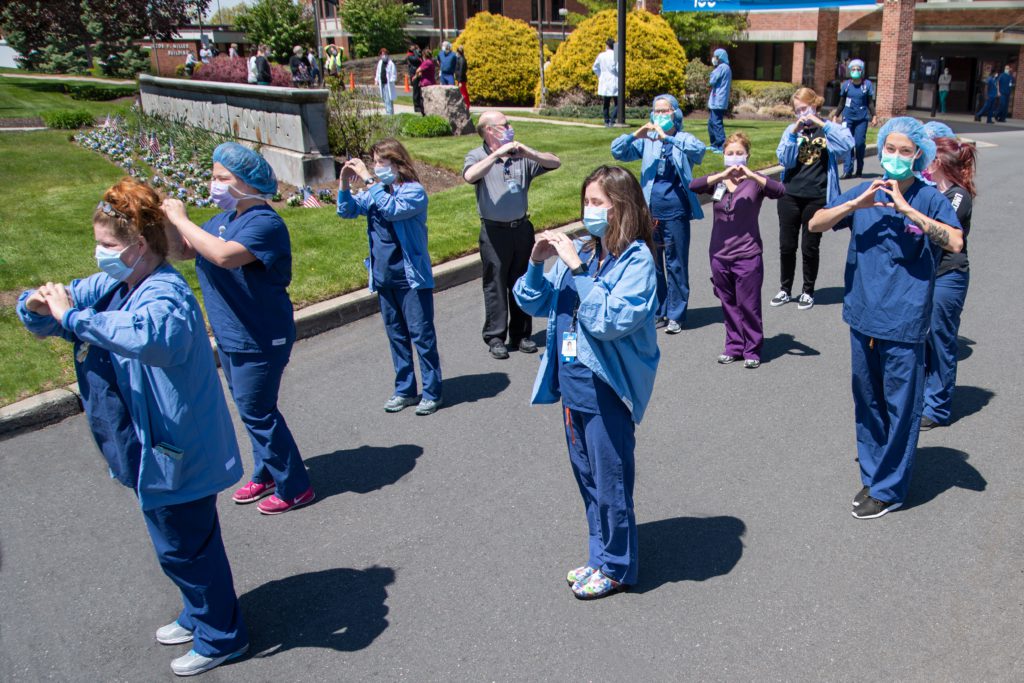 Sitting down with several nurses this past week, while they were happy to talk to me about a profession they love, the frustration in their voice could not be masked when it came to elements of the job that the general public may not be aware of, yet should be. So I had to ask: what is it that they want us to know?
Since nurses are the main (and often first) providers, they are often the first to blame in healthcare if a patient is dissatisfied.
However, Eden explains that nurses understand patients' frustration, especially with the limited visitors policy. "It's hard seeing people scared and upset. A lot of the time people don't understand why their family can't come in so they get frustrated with the care system but blame the staff."
So while it is about awareness of the issues, individuals also need to show more empathy and appreciation. At the same time, while avoiding finger-pointing and saying thank you to nurses is nice, what is even nicer is staying out of the hospital and keeping COVID-19 admissions low.
"Coming home from a 12-hour shift and seeing 12 cars in people's driveways who don't give a heck about what's going on? That bothers me," says Robichaud. "We aren't the front liners anymore, the people are. They have to do their part in order to keep our admissions down."
And for those who are admitted to the hospital, remain cooperative with every healthcare professional, not just the doctor. Patient's healthcare does not indefinitely start and stop with the doctor, and the doctor alone. Nasri explains that doctors see you, diagnose you, place orders, and then the rest of your recovery is in the hands of nurses. So it's important to be cooperative and answer nurses' questions when they come to you to do their assessment, instead of waving them off.
"If I don't know what's wrong with you, if I don't know what's the problem, and if I just stick to the doctor's orders all the time, well the doctor is human just like me, like everybody else. If he misdiagnoses you or places the wrong order, how will I know those orders are wrong?" says Nasri.
In other words, how can nurses be our advocates when some individuals remain uncooperative?
This is a common concern among many nurses that some patients are more collaborative with the doctors, even though doctors are not the ones staying with them overnight. In fact, physicians are often not in the room and, according to Bahlis, especially with COVID-19 patients physicians sometimes don't even go into their room.
"I always tell my students: 'You guys are the frontliners … Doctors come in and out, but you are constantly there.'"
Nurses are more exposed to the virus than anybody else and part of it is because of how involved they actually are with patients. Nurses have substantial autonomy and the general public seems to be unaware as to how much, which allows for a lack of recognition and appreciation for what they actually do.
In fact, research shows that nurses are impacted by stress, anxiety, and depression to a greater degree than physicians.
"I always tell my students: 'You guys are the frontliners, you are going to be the ones to notice any changes in your patients. Doctors come in and out, but you are constantly there,'" says Robichaud.
Nurses are the leading voices in the global healthcare system, and Xavier stresses the importance of protecting, recognizing, and investing into nurses if we are to promote universal health.
"In this unprecedented year, Nurse's Week perfectly resonates with International Nurses Day, the theme of Nurses: a voice to lead – A vision for future healthcare," says Xavier. "So, nurses must leverage their voices to play a leading role in developing and implementing healthcare policies at all levels (local, regional, global) to envision global health for all."
And despite everything they have gone through, even after decades, there are RNs whose passion for nursing is still alive. They are still going in, continuing to work through COVID-19, and doing it happily with an open heart to help people.
We simply cannot continue to justify their mistreatment simply because we know we can depend on their commitment to helping people get well.
"On a government level or population level, we need to respect nurses," says Bahlis. "After everything and after all that we do, what is the real change that can be made?"
---
This tribute is dedicated to my mother, Afsaneh — a registered nurse and my personal hero. Thank you for everything that you have done for me, and for everything that you continue to do as a healthcare worker.