Since 1984, TED (Technology, Entertainment, and Design) Talks have been renowned for their inspiring ideas, their speakers' flare in storytelling, and their head-tilting ways of spreading food for thought across a global picnic. TED Talks entice viewers with a myriad of topics generally pertaining to a deeper understanding of the world around us meant to fuel action or change. Many prominent figures have given TED Talks from famous Bills — both Clinton and Gates — to James Cameron, Stephen Hawking, David Blaine, and Jane Goodall.
Thanks to the grassroots initiative, TEDx, launched in 2009, and efforts put forth by numerous volunteers, organizers, and passionate individuals, TED Talks were brought to local communities around the world. And yes, as you read from the title, TEDxToronto was one of them.
TED's mission is simple: "How can we best spread great ideas?" Functioning as a nonprofit, non-elitist, and nonpartisan foundation, TED's funding through conference fees, sponsorships, foundation support, licensing fees, and book sales are put towards: "video editing, web development and hosting for TED Talks and TED-Ed videos (ideas are free, but bandwidth is expensive); support for community-driven initiatives like TEDx and the TED Fellows; and of course, paying fair salaries to staffers and interns."
From resource allocation to its mission, TEDxToronto stays true to its parent's vision.
ABOUT TEDxTORONTO AND UNCHARTED
TEDxToronto Co-Chair Gillian Cameron, and self-proclaimed superfan of the platform when she was an attendee for three years, explains that funds from ticket sales and partnerships go directly towards production expenses.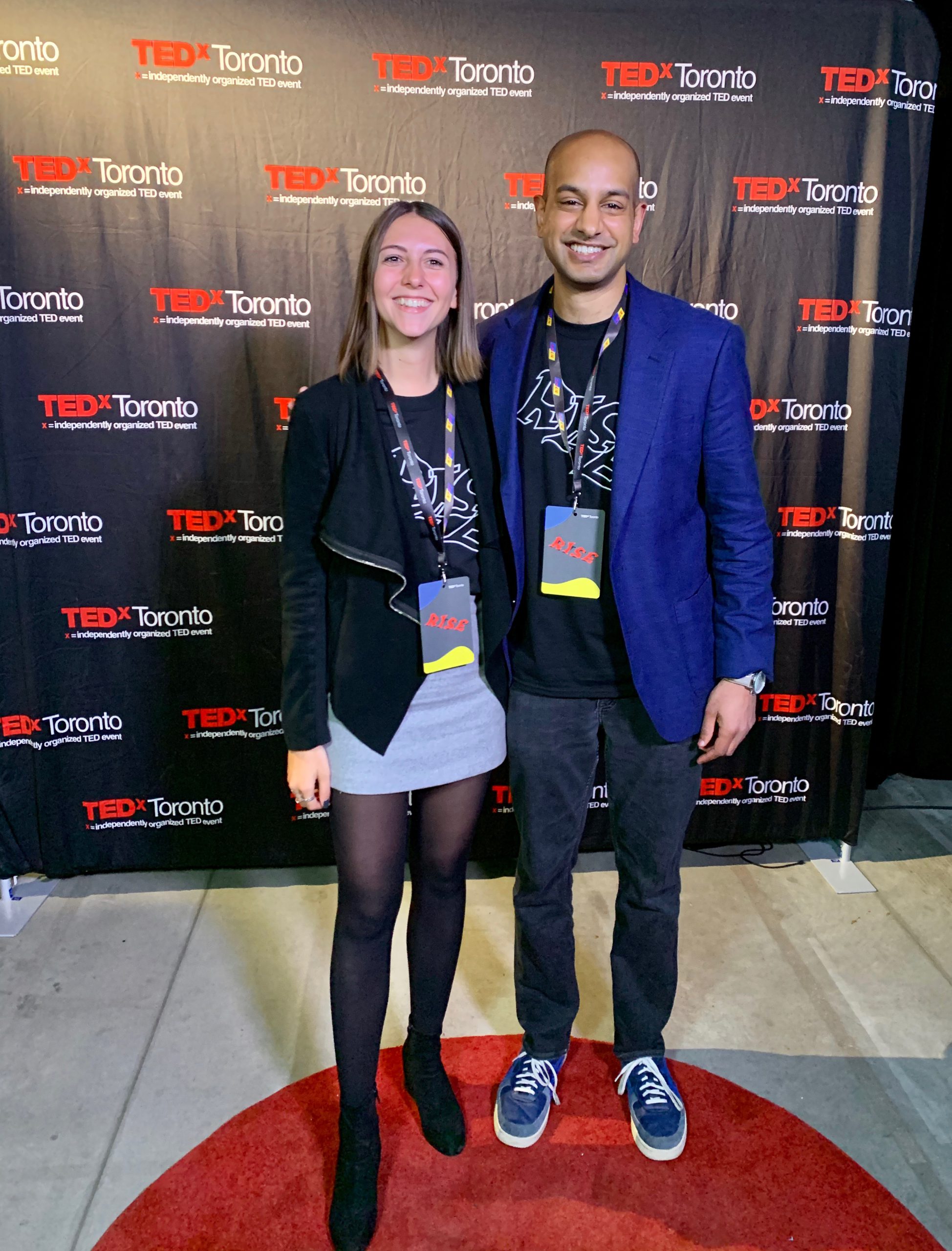 Co-Chairs Gillian Cameron (left) and Kapil Khimdas (right). (Courtesy of Gillian Cameron)
Donations and other funds also go towards "providing Season Passes at no cost to TEDxToronto community partners to increase accessibility and inclusivity" including frontline workers and "a number of other organizations and community groups led by and serving youth, BIPOC, and 2SLGBTQ+ people," all with the purpose in mind to spread ideas and build community.
In service of this goal, one of TEDx's bigger journeys has been about "making sure that speakers reflect the diversity of our communities in the greater Toronto and Hamilton regions," says TEDxToronto Co-Chair Kapil Khimdas, a former curator and speaker coach who is equally passionate about the initiative. "And that journey — it's never really over."
An interesting component about the journey is also that TEDxToronto is completely volunteer-run. And so, a team of about 70 volunteers led by 14 core organizers (the curation team) that comprised 2020's behind-the-scenes efforts worked evenings and weekends to bring to Toronto its latest (and ongoing) series: Uncharted hosted by CTV eTalk's Tyrone Edwards, also known as Mr. 1LoveTO.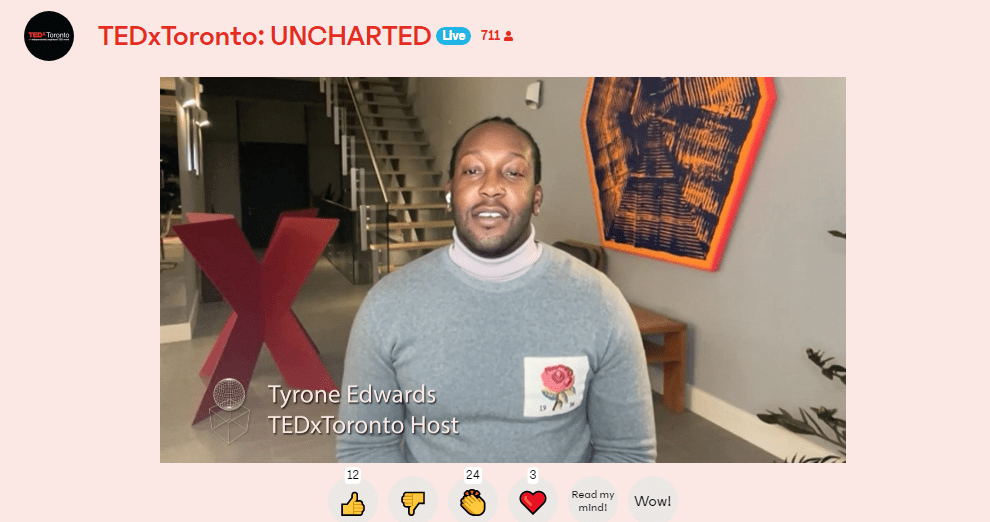 Uncharted host Tyrone Edwards opening part one. (Courtesy of Mahdis Habibinia)
"Our team selected this year's theme of 'Uncharted' back in February 2020 — before the pandemic became so real in March 2020. Now, this theme stands even more true," says Cameron, further adding that choosing a theme is one of her favourite activities.

"We ask everyone on our core team to write one to two pages that talks about trends and sentiments they see happening in the world and in our region," explains Cameron.
Then the team shortlists 10 to 15 motifs from the list of roughly 45 themes that jump out of those pages. "Words that don't get chosen still are this reflection of what's going on in the world," adds Khimdas. For 2020, words such as reimagined, crossroads, foundations, and pause stood out.
"Uncharted was meant to reflect this notion that we are in a space where we're not really sure what's going to happen next and how we chart a way forward. There are so many unknowns, and so how do we collectively know what the right direction is," Khimdas continues. Despite the motif both fittingly and coincidentally being chosen prior to the COVID-19 pandemic, "we're now going through this momentous period in history where we still have to pause, step back, and ask some pretty fundamental questions about the path that we're on."

Speakers are then chosen through a mixed application process of open community nominations, where individuals can nominate themselves or someone they know. The curation team also goes out to source speakers with ideas that aren't talked about enough or simply don't always have a platform to be heard.

"Some of the most critical ideas to humanity's future are actually the ones on the margins and don't have easy access to the op-ed pages of a major newspaper or a prime time TV slot," says Khimdas. "Those ideas may not have a spotlight on them because they come from groups that have historically been marginalized or they come from people who are just busy doing the work and not seeking the spotlight."

Cameron further defines ideas worth spreading as "timely with what is going on in the world today, but also timeless; a new angle or perspective that makes you look at the world differently; memorable and thought-provoking enough that you will want to share; inspiring you to action; and have a local feel (distinctly Toronto), with global appeal."
Edwards grew up in Toronto's West End, and although primarily a master of ceremonies, he retains a connection to his community as an advocate/mentor for underprivileged youth through a variety of projects. Upon interviewing him, Edwards also expressed a love for his city, an ongoing journey for personal growth, and a desire to influence change through activism — components viewers can see in the TEDx Talks.
"A lot of these ideas would have a positive effect in all of our individual lives. And I think that's the beauty of it: being in an environment where the conversations are uncharted, the ideas are considerate and inclusive and new," Edwards says.
Now you may not be an innovation inquisitor, a science buff, or an economics enthusiast, but TEDx will likely have a little something of interest for everyone.
PART ONE
On October 29, 2020 as I plugged in the HDMI cord to my TV and heated up the last bag of microwave popcorn, I settled in for Uncharted's part one of their four-part series, "Understanding Where We Are." The event garnered approximately 700 attendees as Edwards introduced the event hosting live from his home.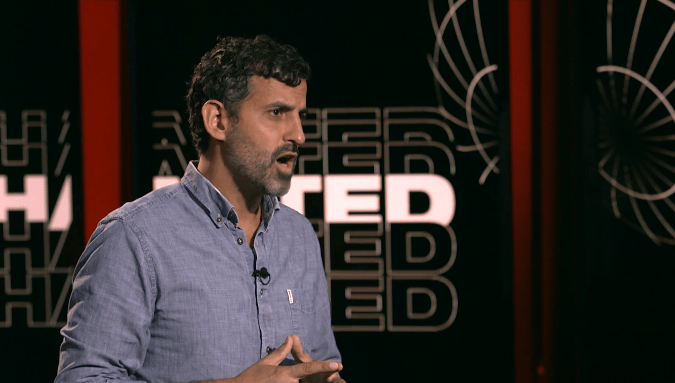 The talks garnered a lot of audience engagement and motivation for a call to action across a spectrum of issues.
"We need to stop turning all of our prime farmland into subdivisions. This forces us to rely on produce from around the world, increasing the cost due to transportation and waste," commented attendee, Elizabeth Jamischak, in response to Goel's talk. "We also need to stop single-crop farming; it kills our soil rapidly."
Mojtehedzadeh opened a lot of eyes to the "haunting" realities of what essential workers endure, highlighting the invisible and precariously unfair conditions these people work in and yet why their work matters as well. A viewer commented that the COVID-19 pandemic even further poses as an "equalizer to ripping away workers' security."
Where the TEDx Talks invited engagement and interest, they also equally evoked head tilts of excitement and perplexity. Ba's talk about seeking to make AI more human-like left viewers wondering about the potential for "machines to learn our own bad behaviours," such as AI bias or how this could be a synthetic extension of the dark sides to humanity.
At the end of the event, however, when the audience were given the chance to engage in a live Q&A with the speakers (the talks themselves are pre-recorded), viewers flocked to Haq. During his talk, Haq speaks about how embracing his immigrant identity propelled his success in life but also opens up about his struggles with inauthenticity, having a dual identity as a Pakistani-Canadian, imposter syndrome, and a false sense of success.
When I got the chance to interview Haq, I was curious about his definition of success.
"I think over the years the definition changes," he says. "Right now I'm just trying to be happy and stay motivated. Yes, I want money, fame, and all that stuff, but primarily I'm trying to be okay with who I am (which I'm not just yet), share my art, do some good along the way, and hopefully get some good conversations going about humanity."
Haq goes on to explain that he has a lot of "unlearning" to do since "we get so rigid with the way we learn things," referencing what he thinks are contributing factors to immigrants' gaps in their identity and others' prejudice towards them.
"My dad said the other day, having spent 20 plus years in Pakistan as well as Saudi Arabia, that a very crude understanding of spirituality is enforced back home, and in his later years he's trying to be better. He's 68, mashAllah, and to hear him say that makes me think that this notion of change is a lifelong process and for the better I'm sure."
PART TWO
Part two of Uncharted, "Discovering Our Connections," saw a turnout of roughly 600 attendees on November 26, 2020 and on my part, an upgrade to Chicago-style popcorn.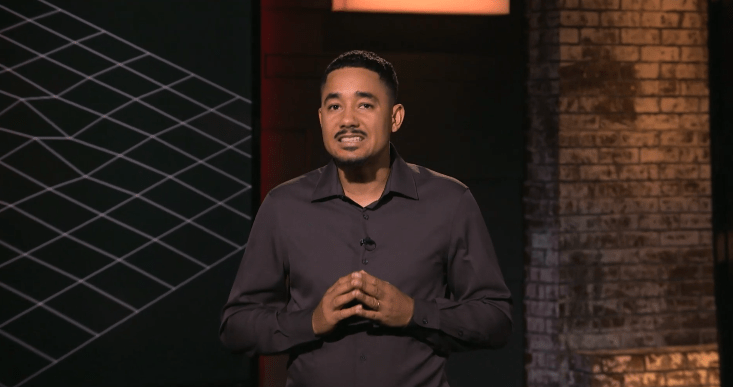 Hope's and Hernandez's talks both fell under the umbrella topic of racial disparities. Having done a lot of activist work around social change and advocacy for awareness around systemic issues, Hope says it's the power of community — collective action — that has the potential to elicit authentic coalitions for change.
"We're also missing an education system that is able to meet the needs of diverse learners. That's how the system was built but that is the system we've got. And I think we haven't reformed it," Hope says when asked about what's missing at an educational level.
"It's a system where the curriculum is very Eurocentric in the most diverse city in the world, and where many learners, especially those who are racialized, Black students, or those living in certain neighborhoods, have a totally different educational journey than kids who lived in wealthier and whiter parts of the city."
Hernandez's message for non-racialized communities to look into and practice allyship echoes the sentiments behind Hope's push for unity and change.
"When you give marginalized communities a voice, people think it's dangerous," explains Hernandez, elaborating on the personal analogy she gave in the beginning of her talk.
"We might have something to say that white, able-bodied, cis-heterosexual folks don't want to hear. Mainstream media would rather support narratives of our suffering and perpetuate ideas of allies being saviors. Despite facing global civil unrest, they would rather stroke their own egos than commit to true chance."
Hernandez adds that the responsibility of allyship falls on nonmarginalized communities and without the emotional labour from racialized individuals. When asked about interminority racism, Hernandez says it's important for individuals to acknowledge their own privilege and how it shapes them.
"Yes, I am brown, queer, feminine, and chronically ill. But because I am cis-gender, Asian presenting, and people cannot see my illness at first glance, I can move through this world with a great amount of freedom.
"Unlike many Indigeous and Black folks, I have always had access to water, and I never have to worry about my teenage daughter's interaction with cops. When I acknowledge how it shapes my body, I can then use the allyship creed and movement to teach my body to resist and centre the safety of those who do not have these privileges."
Another topic addressed around privilege in Uncharted's part two was the ability for males to go to work while their female counterparts are the ones usually staying home with the kids — a commonly reported point of frustration during the pandemic. Munday reshapes our view of childcare and explains that we should look at it as "an economic issue as much as a social issue."
"The most critical time for brain development is between the ages of zero and five, yet that's the hardest and most expensive childcare to find? We have a problem, and so it was really important for me to find a new model," says Munday, referring to The Workaround which is a commercial co-working space with childcare.
For Munday, finding The Workaround was meant to be a proof of concept and "show employers, the government, other parents, non-parents, that there is another way to support workers and especially women with kids."
2020'S CHALLENGES
The collage of ideas and calls to action put forth by TEDxToronto's Uncharted series is anything but trivial, especially during 2020, which was likely everybody's most tumultuous year. Despite this, though, it's no wonder Khimdas explains that what keeps him going is "seeing a speaker who gave it their all and spoke their truth," but also "how immensely rewarding it is to volunteers who have stretched themselves" to help deliver this collage to viewers.

"This past year we needed to be extra conscious of where people are at personally and with their careers, understanding that when they first joined TEDxToronto (in February 2020) the world was in a very different place," Cameron says explaining the challenges that the pandemic posed. Evidently, the TEDxToronto team also had to reimagine an entirely new platform (a four-part series from October to March) for launching their first-ever digital event in order to abide by public health guidelines — as opposed to their annual 1,000-person gathering.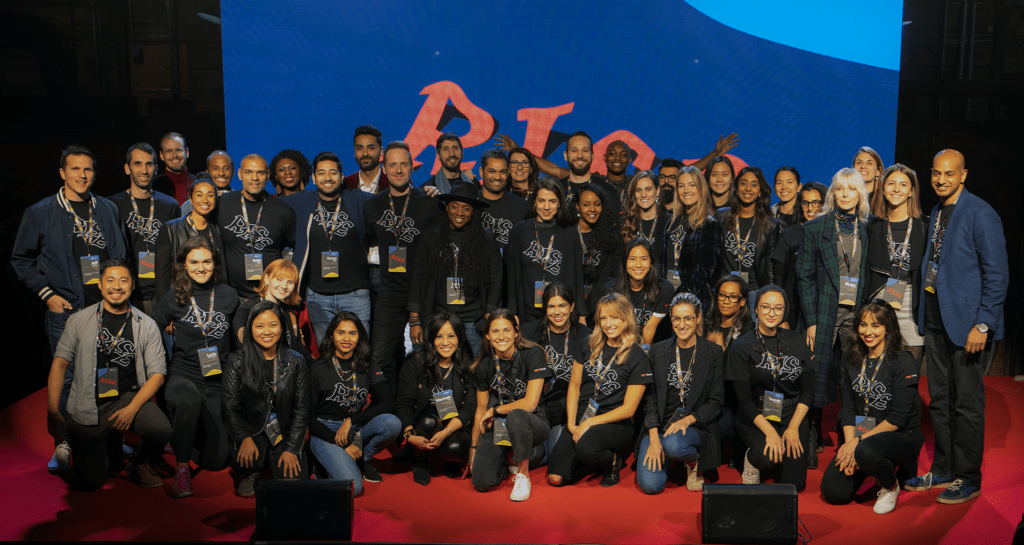 As is with all things virtual last year, and forthcoming this year, a digital setting poses its own set of challenges for viewers, namely connection and accessibility. At times, attendees (including myself, who had to ask my mom to stop using our Wi-Fi for a bit) endured video buffering, stalling issues, and frozen screens — albeit quickly repairable
More particular complaints, such as a lack of captions in the first event, was quickly rectified by the second event whereas accessibility issues for the visually impaired are currently to be announced.

However, a digital sphere for TEDx Talks also gifted its own set of unique opportunities — the biggest being live, simultaneous audience engagements through the "chat and comment" box, and the chance for attendees to tune into live breakout sessions at the end of each segment to interact with the speakers in a unique way.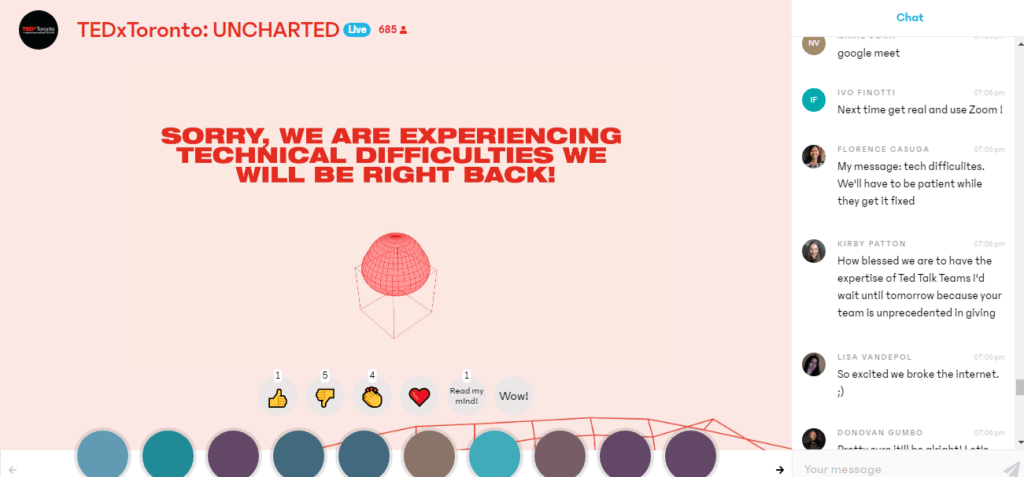 For Edwards, interaction with the audience was also unique since hosting live from home was a different experience, yet retained its silver lining. Part of his talents as a master of ceremonies is knowing how to get an audience "hyped up" and how to entertain. Despite a virtual setting acclimating the former, it was the latter that Edwards channeled while hosting Uncharted.
"I literally thrive off of the energy of a live audience. It was tricky to come home and not be able to hear people's reactions and see their emotions. But it's cool — because I was at home, I think there's also a level of comfort. There's a level of intimacy that I was able to share and people loved it. I also enjoyed reading all the comments," Edwards says.
"Luckily for a lot of people, volunteering with TEDxToronto has been an escape — something to look forward to, and a little piece of joy in what may be a very challenging time," Cameron says.
BEYOND THE TALKS & WHAT'S TO COME
If 2020 has solidified anything, it's that emerging patterns from around the world such as racial disparities, privileges, and economic determinants were abundantly clear even prior to the pandemic. And some of the speakers I sat down with leave us with some things to think about.
Regarding childcare, a recent report said the key to the pandemic's economic recovery is to fund childcare. Munday explains that the bias around women of child-bearing years being less reliable is a dated mentality. At The Workaround, "I have seen women and non-binary individuals stay connected with the workforce. Believe me, you never meet efficiency until you have met a sleep-deprived parent who's shuffling shifts, going to school, and working. There's nothing about that which says that person isn't a dedicated worker."
Recent years have shifted Canada's seemingly largest and self-proclaimed quality, embraced multiculturalism, into doubt and Haq says that Canada's "silent xenophobia isn't as silent as it would like to believe.
"In a way we're worse — at many levels of infrastructure we've deluded ourselves into thinking we're better than other countries because we have free healthcare, decent public schools, and whatnot. Although I'm grateful for those things, we have a tremendous amount of work to do as a nation before we get too comfortable judging our neighbours."
Hope encourages individuals to join a cause with a community and find an early, easy victory: "I find that approach quite liberating because part of it is being able to understand it's one small victory at a time. Otherwise what happens is after a few years, you get so burnt out, so disillusioned, so disappointed, and then you just leave the struggle. It's one step forward at a time."
For some individuals, that step forward could be becoming a better ally to marginalized communities. Hernandez concurs with collective action and states that she sees "the truth in revolutions happening, one difficult conversation at a time. There are personal meetings I have had, deeply emotional discussions that have moved mountains between us. So that collective action can be just between two people, sitting across from one another, listening and being open to change."
Uncharted's talks are meant to inspire Torontonians to face a myriad of tough challenges together and evoke change. Whether it's battling a pandemic, racism, economic collapse, or unsustainable labour practices, we are one community and with this, Edwards says it best: "We strive for opportunities and brilliant ideas that are typically for the betterment of all of us. There are so many stories — the diaspora, the immigrant stories, the different colours and fabrics and smells and taste that make this city so wonderful, that makes it the world in one city."
And why wouldn't we want to take care of the very world we live in?

Uncharted's part three, "Exploring New Territory," is set for February 4, 2021 featuring the following speakers: Canadian screen award winner and Kim's Convenience actor Paul Sun-Hyung Lee, Vice-President of the Black Health Alliance Lydia-Joi Marshall, carbontech innovator and award-winning scientist Phil De Luna, and Co-Founder of GotCare Chenny Xia.

On March 4, 2021, viewers can sit down one last time to watch part four, "Shifting Our Course," which will feature film director and photographer Jason van Bruggen; professor of law and strategic management at U of T Gillian Hadfield; Ryan DeCaire, an instructor and curriculum developer at Onkwawénna Kentyóhkwa, an immersion school for adults, and an Assistant Professor in the Department of Linguistics and Centre for Indigenous Studies at the U of T; and author, placemaker Jay Pitter.
---
With files from Jason Oliveira and Cianan Liburd.