A journalism professor of mine in the Professional Writing program at York, Paul McLaughlin, once told our class: one's an incident, two's a coincidence, and three's a pattern. Well, five years and a whole pandemic later, and Prime Minister Justin Trudeau is facing the aftermath of his third (and counting?) ethics scandal. Meanwhile, Canadians are facing the anticipation of a potential mid-pandemic election. 
Further intensifying matters, most individuals are expecting a second wave of the pandemic. And recently, the Conservative Party of Canada elected a new, reportedly unfamiliar leader to their chieftain's seat.
So what has exactly happened, what is going to happen, and what should we be looking out for? Let's start with what's at the heart of most government goals for Canada—a reference (or rumination) point to keep in mind as we swim through red and blue waters. 
Political Economy Professor at York, Greg Albo, states: "At the core of every government that has ever come to power in Canada has been the defence and expansion of the market system of capitalism. From there, the main political parties jockey around regional and urban bases of support, and differences over the policies to promote those interests, and how much has to be redistributed to the popular classes in Canada through the welfare state and other redistributional measures."
Additional objectives have been pointed out to include the overall wellbeing of Canadian citizens, which during a pandemic seems daunting, and the "health of the Canadian economy," says recent York alumnus and former LA&PS staff member Desmond Poon.
"Few examples of genuine achievements I believe the government wants are educational procurement and reduction in crime," adds third-year business administration student Khalid Desai. "Especially during a pandemic, violence is the last outcome anyone would want to suffer from or witness."
    Justin Trudeau is the "only Canadian prime minister formally found to have broken ethics rules."
Poon believes that Trudeau and his government have met most of their 2015 election promises.
"That includes making every vote count on the campaign trail and Liberal party elections, preventing any changes to Canada's electoral system, and making changes to the senate by setting up a Nonpartisan democracy for consultations with an independent advisory board," Desai says, echoing Poon's sentiment.
"They have been successful in breaking with the polarizing discourses Harper employed for a more inclusionary discourse around various social identities," states Albo. However, when it came to strategies for climate change, breaking the foreign policy of Stephen Harper, or reestablishing a more egalitarian economic policy, "the answer is clearly no," continues Albo. 
In the same vein, when it comes to lessons learned, the answer is also quite clearly no. Justin Trudeau is the "only Canadian prime minister formally found to have broken ethics rules," reported Reuters.
A TRIAD OF SCANDAL
In December 2017, the Conflict of Interest and Ethics Commissioner's office announced that Trudeau had violated conflict of interest rules when he decided to vacation at Prince Karim Aga Khan's private island resort in the previous year. Referring to the Aga Khan as his "friend," Trudeau's indiscretion stemmed from the overlook that the Aga Khan's foundation formally lobbies Trudeau and his officials. His vacation needed to be cleared with the office, which he stated he would do moving forward.
"This trip cost Canadians $215,000 with the RCMP paying $153,504 of it. The rest is all coming from taxpayers' pockets," Desai points out. 
The Ethics Commissioner's office is one of Canada's notorious watchdogs, and so two years later, they investigated a second ethics scandal. In August 2019, the watchdog announced that Trudeau and his team interfered with criminal prosecution and attempted to help construction company SNC-Lavalin avoid a corruption trial in the previous year. Trudeau took responsibility, but justified his decision as trying to save jobs. 
Then recently in July, Trudeau was placed under the microscope yet again, facing allegations of cronyism and a third ethics violation—this time involving his family, which prompted many to call for his resignation. The WE Charity Scandal soaked up media headlines and voters' attention in the middle of the COVID-19 pandemic. 
Back in June, Canada's government tasked WE Charity with running a new program to help students overcome pandemic-related financial hardships. The federal program would essentially connect post-secondary students to opportunities in order to compensate for lost job prospects. WE Charity Canada was set to receive up to $43.5 million under that agreement, originally earmarked for over $900 million. 
    Scandals have been a normal part of politics in Canada since Confederation and the great railway and debt scandals of the 19th century. Sir John A. MacDonald came back from them, and the Liberal and Conservative parties simply took their turns in rotation.
However it was later revealed that Trudeau's family had been paid very generously for speaking at WE Charity events. The prime minister and his wife, Sophie Grégoire-Trudeau, spoke at several events as well. 
As a result of this reveal, and its ruinous backlash, WE withdrew from the program in early August, consequently leaving many students in limbo, because the organization had been "enmeshed in controversy from the moment of its announcement," the charity stated. 
Craig Kielburger, co-founder of WE Charity, added that the backlash "resulted in serious challenges that risk the entire organisation." This included several prominent sponsors reconsidering their partnerships with WE, and the Royal Bank of Canada terminating all sponsorships and donations.
Poon provides his perspective on the recent WE scandal: "I believe it's been blown out of proportion by the opposition party. I do believe that the Conservatives have the intention to tarnish the reputation of the Liberal Party by shifting the focus away from the pandemic."
Former federal finance minister Bill Morneau also had problematic ties to WE Charity involving unpaid travel expenses which placed him under investigation for possible ethics violations. Consequently, Morneau resigned in August 2020.
Former foreign affairs minister Chrystia Freeland became Morneau's successor making her the first woman in that position.
As expected, surveys suggest that the scandal-and-controversy combo is gradually catching up to the Liberals and their support. According to a poll released on July 30 by Abacus Data, the controversy has had a negative impact on Trudeau's approval ratings.
Negative impressions of Trudeau rise as the positive impressions gradually decrease. (Photo Credit: Abacus Data)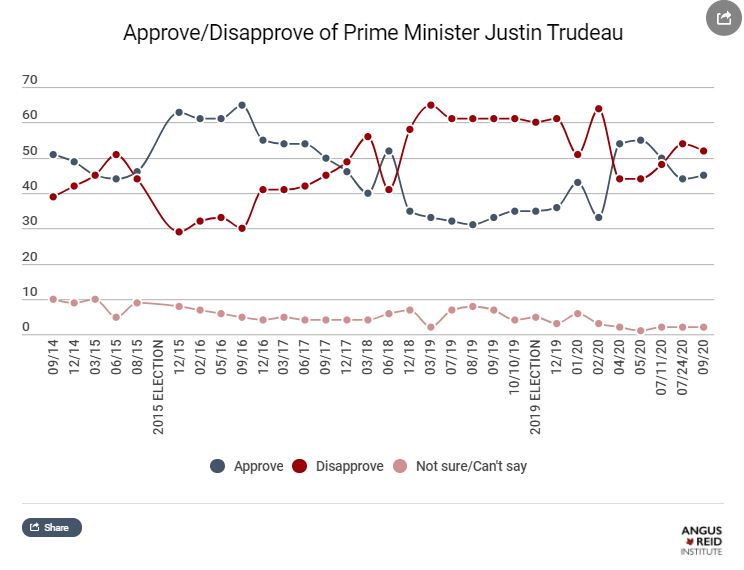 Angus Reid Institute's "Trudeau Tracker" detailing the prime minister's approval ratings. The foundation commissions research and opinion polls on Canadian issues. (Photo Credit: Angus Reid Institute)
"Other indicators confirm that the WE Charity matter is creating scar tissue for the incumbents," the poll states. "For the first time in months, more people have a negative view of the prime minister than a positive one."
Then in mid August, Trudeau prorogued parliament until September 23. This effectively ended all parliamentary business without dissolve, meaning committees ceased looking into the WE affair, unsurprisingly causing an outcry. 
Desai believes that Trudeau's ethics scandals challenge citizens' reliance and faith in the prime minister and his government because there's no knowing what's really going on behind closed doors. "Considering what happened with the Aga Khan scandal, makes me wonder what other unavailing and aimless behaviour will cost hardworking citizens to compensate for it."

However, Albo provides a different perspective on political scandals. "They have been a normal part of politics in Canada since Confederation and the great railway and debt scandals of the 19th century. It would be more surprising if the Liberals did not come back from it. Sir John A. MacDonald came back from them, and the Liberal and Conservative parties simply took their turns in rotation."
Indeed, the Conservatives weren't without their hand in the cookie jar either. At the end of 2019, just after the last election where Trudeau won a minority vote, it was revealed that former Conservative leader Andrew Scheer was using Conservative Party money to pay for his children's private school without the knowledge or approval of the Fund Board and the Chair. There were also calls for the Party's executive director, Dustin van Vugt, to resign over the decision to pay the schooling expenses. Unlike Trudeau, Scheer succumbed to his political wounds and resigned in December 2019.
A NEW CONSERVATIVE LEADER
Following the WE Charity scandal plastering headlines and social discourse, in late August 2020, the Conservatives elected Erin O'Toole as their new party leader, one who has promised to march in a Pride Parade, unlike his predecessor—reportedly one of the main reasons why Scheer's government failed to win the last election. 
Conservative Leader Erin O'Toole (left) and outgoing leader Andrew Scheer (right). (Photo Credit: Sean Kilpatrick/Reuters via CBC)
O'Toole seems to be a more marketable leader. At least for now, since it's been reported that Canadians do not know much about him and his traits. 
However, when O'Toole spoke to the country on August 24, media platforms and Tories noticed that he made no mention of the climate crisis—a still pressing issue overshadowed by the COVID-19 pandemic. This was a stark contrast to what Scheer and Stephen Harper had to say in 2019.
Dubbing himself as "true blue Conservative," he has made it clear that his goal is to "take back Canada." O'Toole also made it a point to criticize the Trudeau government for its fiscal policy, its ethical controversies, and its handling of the pandemic.
"Despite all their rhetoric, Liberals and Conservatives both defend the same economic system and have preferred a political system where the winner of elections takes all the spoils," explains Albo. "This includes patronage, jobs, government contracts, Senate appointments, and rotation into business positions to, in turn, lobby the government." 
A THRONE SPEECH & AN EARLY ELECTION
Reconvening in chambers on September 23, Trudeau and Governor General Julie Payette will address the country in a throne speech to open a new session of Parliament. The Speech from the Throne essentially opens every new session of parliament, and it is where governments outline their goals for the country and how they intend to achieve them.
The return of the House of Commons, and Trudeau's third throne speech, will involve a revamped layout of the Liberal government's plans for the COVID-19 recovery in Canada.
So far, polls have seen nationwide support for how Canada's political parties are handling the pandemic.

"I believe the Liberals have done a good job at containing the pandemic, considering the recent scandal," says Poon.

Recent psychology alumnus from York, Matt Render, says: "The Ontario provincial government has done an amazing job handling the pandemic. To live in a city as big as Toronto, and yet, to have as low rates as we do is nothing short of exemplary. Premier Doug Ford deserves recognition for this."
A spike in approval ratings on polls is often the reason why talks of an early election spring up. Éric Grenier, a senior writer and the CBC's polls analyst, wrote: "Minority governments tend to end for one of two reasons: a popular governing party believes it can turn a minority into a majority, or the opposition believes an unpopular governing party is ripe for replacement."
"If the Parliament votes down the government, an election is possible at any time in a minority position. Legislation would simply stop. The question is really which party might want to trigger an election and might be willing to do so — in this case, either the Liberals or the NDP," explains Albo.
If an election were to take place this fall, despite Abacus Data's aforementioned survey findings, a recent poll released  by Leger and the Association for Canadian Studies in late August suggests that Trudeau may still have a fighting chance—38 per cent of voters still support Liberals; 30 per cent support Conservatives; 18 per cent are for the NDP; and six per cent for the Greens. 
Despite the drop in approval ratings, Liberals hold on to Canadian votes. (Photo Credit: Abacus Data)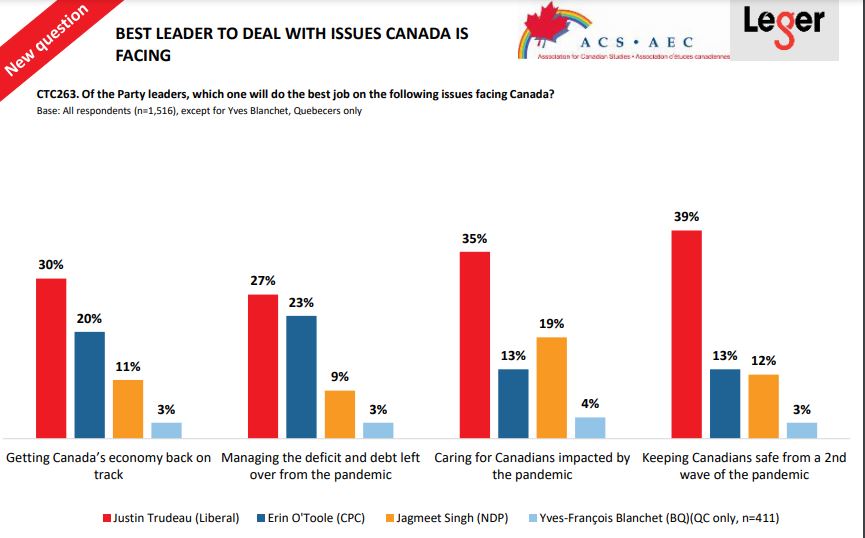 The poll notes: *Results for respondents who answered "None" and "Don't know" are not presented. (Photo Credit: Leger and the Association for Canadian Studies)
However, the same poll demonstrates that respondents were split about the prospect of a confidence vote uprooting a federal election this fall—with 42 per cent opposed and 38 per cent in favour of an early election.
"Canada's state of affairs can definitely be described as a rollercoaster, with several ups and downs at this time," Desai says. 
But there's a singular, should-be-obvious-to-politicians reason why all governments should rethink a fall 2020 election: Canadians are increasingly worried about the ongoing pandemic that has now killed over 900,000 people globally, including more than 9,000 Canadians, at the time of publication.
"Firstly, holding an election during a pandemic is only going to hurt the Conservatives since we currently do not know how the Conservatives are going to handle the pandemic if they are elected," explains Poon, echoing the reported unfamiliarity with O'Toole. 
    There are too many risks for all the parties to move to an election for the late fall, early winter, while things are too unsettled and too many leaders in still fragile positions.
"And second, people may not want to have an election in the middle of a pandemic, even with health and safety measures in place to go out to the polling stations."
Ricardo Brown, recent graduate of Cinema and Media Studies at York, says: "The problem with running another election is that COVID-19 will hugely impact what people feel like the parties should be focusing on and doing for the people of Ontario and Canada. The initial promises or plans that parties propose may be changed now due to a bigger crisis that affects all, therefore potentially changing voters' decisions." 
Desai believes that another election would "imply a chance to progress a more fitting role into parliament and endorsing economic growth." He states that it simultaneously implies "an unpredictable outcome of a new candidate and tests the trust of its actions being enacted." 
"There are too many risks for all the parties to move to an election for the late fall, early winter, while things are too unsettled and too many leaders in still fragile positions," says Albo. "None of the parties offer a sharp shift from where the government is at now, especially with O'Toole's post-leadership retacking the Conservative's policy positions as stated. And so it would simply be a strategic calculation of short-term advantage."
WHAT VOTERS SHOULD KNOW
Not that a pandemic should be the driving force for millennials to finally decide to use their Charter protected democratic rights, but the time for obliterating naiveté is nigh! Should an election take place, individuals ought to conduct their research carefully and educate their political palates.
Who do you want to see (or not see) dictating the events happening (or not happening) in your own backyards? 
Voting-eligible students should keep an eye out for a myriad of plans from parties, including: tax cuts; the state of long-term care in Canada; federal funding; new national standards; income inequality; precarious and low-wage work; reformation of employment insurance; child care expenses; and most importantly, what the hell Canada will look like post-pandemic, especially with our economy's deficit. 
As Poon states, "Remain informed with how each party will be handling the pandemic if they are elected, and the steps that will be taken post-pandemic in order to get the country back on track."
"Jobs are obviously at the front," advises Albo. "Another is the relative undermining of adequate funding to education at all levels. And in general sentiment, a coherent response to climate change rather than just empty rhetoric while the subsidies to the oil and gas sector."
The October 2019 election platforms can be compared here.