Between Vari Hall and the Behavioural Sciences building is a set of three stone blocks. Two are made of concrete, and between them is a smaller piece of black cambrian granite. 
Inconspicuous in form and inviting as a spot to lean or sit between classes, these blocks are not remnants of ongoing construction or a sort of chic patio furniture. As a unit, these blocks are titled "Noire Solaire, Basse" and were commissioned by Canadian sculptor Jocelyne Alloucherie in 1993. 
Jocelyne Alloucherie's "Noire Solaire, Basse" is located between Vari Hall and the Behavioural Sciences building. (Photo Credit: Excalibur)
"Noire Solaire, Basse" is just one installation in a collection of vibrant outdoor sculptures located across the York campus. 
Although York began collecting sculptures as part of a campus beautification initiative in the early 1970s, new relevance has been given to this outdoor art collection in light of the cultural shift influenced by the COVID-19 pandemic. Modes of art consumption are changing—galleries, theatres, and other venues that have traditionally allowed for a direct, in-person relationship between art and audience can no longer operate in a traditional manner. 
Allyson Adley is the collection and education assistant at the Art Gallery of York University (AGYU). With much of York's campus being closed this semester, Adley agrees that the importance of this collection has increased as a reminder of campus community and culture. 
"Engaging with artworks outdoors can be a meditative experience," Adley explains. It can "provide students with an opportunity to slow down and practice mindfulness by observing the artworks and their relationship to the surrounding landscape and architecture." 
A third-year environmental studies student at York, who wishes to remain anonymous, agrees. "I love the idea of having art exhibits on campus," they say. "It's important to have art that can inspire or present the opportunity to admire creativity in normally bland areas."
Mark Di Suvero's "Sticky Wicket" is located near the Atkinson building. (Photo Credit: Excalibur)
Adley iterates that completing a self-guided tour is a useful way to explore the collection. It is also an opportunity to acquaint or reacquaint with campus. 
"Following a self guided tour is an excellent way to get to know the campus and explore our outdoor collection," Adley says. 
Adley adds: "Although the tour can provide information about the artist's interests and motivations behind the creation of a given work, students are encouraged to consider their own personal responses. What comes to mind when standing next to a work? How does the work make you feel? Instead of relying on prescribed interpretations, can you bring your own perspectives into your process of meaning making and trust your own instincts and insights?"
These interpretations and perspectives can be related to the culture and society COVID-19 has created. 
One piece that stands out in this regard is Liz Magor's "Keep," conveying the idea of a natural retreat, particularly as a last resource. "Keep" consists of a bronze cast of a willow tree trunk with a rubber sleeping bag protruding from one end.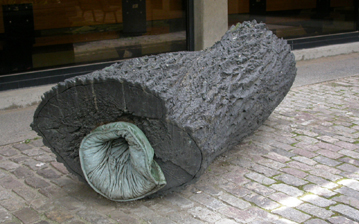 Liz Magor's "Keep" is located in the Central Square courtyard. (Courtesy of AGYU)
"The piece speaks of the need to escape from densely inhabited urban settings and find refuge in nature," Adley explains . 
"I think in the current climate and context of the pandemic, social distancing and isolation has not been freely chosen but rather encouraged in communities across the world in an effort to protect people's health and slow the spread of the virus."